Special Price WR49X10107 GE Refrigerator Damper Control Assembly Kit Assembly Parts. Suitable for ZISS420NMA ZISS480DMD ZISW360DRJ ZISB480DRB ZISW420DRB ZISS360NRJSS ZISS360NRBSS ZISS420DRDSS ZSGS420DMESS  assembly parts and more. Buy Today!
WR49X10107 GE Refrigerator Damper Control Assembly Kit
Part No: WR49X10107
Replaces Parts: WR2X11246 WR60X10111 WR02X11241 EAP966618 WR2X11205 PS966618 1092760 WR60X10112 WR09X10084 WR9X10084 WR02X11246 WR60X10085 AP3796992 WR2X11241 WR02X11205
Compatible Brands: GE, General Electric
Product Type: Fridge Replacement Parts, Refrigerator Damper Control Assembly, GE Refrigerator Replacement Parts, GE Refrigerator Damper Control Kit
Price: See more product descriptions and Compare Prices Below.
==> Click Here to Compare Prices TODAY! <==
Fit Appliance Types:
This part fits the following home appliance types: Built In S X S, Built-In Side-By-Side Refrigerator, Refrigerator – R Series, Refrigerator B Series, Refrigerator C Series, Refrigerator M Series, Refrigerator R Series, Refrigerator T Series, and Refrigerator X Series Refrigerators.
Fits Models:
This WR49X10107 GE Refrigerator Damper Control Assembly Kit suits the following models. Use Ctrl-F to check your appliance model listed below.
ZISB360DRH ZISW360DRI ZISB360DRA ZISW360DRK ZISB480DMD ZISB420DMC ZISS360DRDSS ZISS480DMA ZISS360NXASS ZIS420NRF ZISS360NMA ZISS360DRCSS ZISS480DRGSS ZIS360NRB ZISS480DRDSS ZISS360NRKSS ZISW420DRG ZISS360NRDSS ZSGB420DMA ZSGB420DMC ZISW360DRB ZISB420DRC ZISW480DRJ ZISB420DRG ZSGW420DMC ZIS480NRF ZIS360NRG ZISW360DXA ZISS480DRBSS ZSGS420DMDSS ZISW480DRD ZISS420NRKSS ZISS480DRCSS ZISS360NMB ZISS420DXBSS ZISS480NRDSS ZISS420DRESS ZISS480NRESS ZIS480NMB ZISB420DRF ZISW420DMC ZISS480DRKSS ZISW480DRA ZISS480NRBSS ZISS480NMB ZISB420DXA ZISW360DMB ZSGW420DME
ZISS360NMD ZISS480DRJSS ZIS420NRI ZISS480NMD ZISW360DMD ZISW480DRK ZSGS420DMCSS ZISS360DRASS ZISB420DRJ ZISB420DRE ZISW480DMB ZISB360DRB ZISB480DRF ZISS360NRGSS ZIS360NRF ZISW420DRB ZISW480DRH ZISB360DRF ZISS480NRCSS ZISW360DRE ZIS420NRK ZISS480DRHSS ZIS360NMD ZISS420DRDSS ZISB420DRB ZISS480NRJSS ZISS360NMC ZISS360DRGSS ZISS360DMB ZISS480DMB ZIS420NRG ZIS360NMC ZIS360NMA ZISB480DRI ZISB360DRI ZISB360DMA ZISS420DRCSS ZISP420DTASS ZSGB420DMD ZISS480NMC ZIS360NXA ZISB360DRK ZIS480NRG ZIS360NRJ ZSGS420DMASS ZISB420DXB ZISB420DRH ZIS360NRD ZSGB420DMB
ZISB420DMD ZIS420NRC ZIS420NMD ZISS480NRASS ZISB480DMC ZISS360DXBSS ZISP420DTBSS ZIS420NRJ ZISW480DMC ZISS360DRJSS ZISS360DRKSS ZIS420NMC ZISB480DRJ ZISB480DRE ZIS420NRD ZISB480DXA ZISW480DRG ZIS360NRK ZISS420NRHSS ZISW480DXA ZISS360DRESS ZISS420NRFSS ZIS480NRE ZISW480DRF ZSGW420DMA ZISS480NRGSS ZISS480DRISS ZIS420NRA ZISS420DRASS ZISW420DRJ ZISW420DRA ZISS420DRKSS ZISS420DMB ZISS360NRHSS ZISS360DRISS ZIS480NRK ZISS360NRFSS ZISS420NRBSS ZISS480NRKSS ZISB480DRC ZISS360NRESS ZISS420DXASS ZISB480DMA ZISB420DRI ZIS480NRC ZISS420DRISS ZIS480NXA ZISP480DXBSS
ZIS360NRC ZIS420NRE ZIS420NRB ZIS420NXA ZISS420NRASS ZISS420NRGSS ZSGW420DMD ZISB420DRA ZISP480DTBSS ZIS480NRB ZSGB420DME ZISB420DMB ZISW360DRA ZISS480DRESS ZIS480NXB ZISS420NMC ZIS420NRH ZISB480DRK ZISP480DXASS ZISS480NRHSS ZSGW420DMB ZIS480NMD ZISS420DMC ZISB420DRD ZIS420NXB ZISW420DRI ZIS420NMB ZISW480DRE ZISS420DRBSS ZISW420DMD ZISS420DRFSS ZISB360DMD ZISS360DRHSS ZISS420NMA ZISS420NRESS ZISB480DRD ZISB360DMC ZISW360DRH ZISB360DRE ZISS360DMD ZISB480DXB ZISS420DMD
ZISW480DRB ZISB480DRH ZISB360DRD ZISB360DRJ ZISW420DRF ZIS480NMC ZIS360NRA ZISS360DRFSS ZISS420NRJSS ZISS360DMA ZISW480DRI ZISW360DRG ZISS360NRBSS ZISS420NRDSS ZISW420DMA ZISS360NRJSS ZISW360DRC ZISW360DRF ZISS360NRCSS ZISS360DMC ZIS360NMB ZSGS420DMESS ZISB480DRB ZISB480DRA ZISS480NMA ZISW360DMA ZISS360DRBSS ZISS480NRFSS ZISB360DMB ZISW480DMD ZISB360DRG ZIS480NRA ZISS420DRJSS ZIS480NRD ZISS480DMD ZISS420NXASS ZISS420NMB
ZISB420DRK ZISW360DRD ZISS420DRGSS ZISW420DMB ZIS360NRH ZISW480DRC ZISW360DRJ ZIS480NRH ZISW420DRD ZIS480NRJ ZISB480DRG ZISW420DRE ZISS480DRASS ZISW420DRH ZIS360NRE ZSGS420DMBSS ZISS420NMD ZISP480DTASS ZISS420NRCSS ZISS420DRHSS ZISW420DRK ZISW480DMA ZISB360DRC ZISW360DMC ZIS480NMA ZISS360NRASS ZISB480DMB ZISS480DRFSS ZISS420DMA ZISB420DMA ZISS480DMC ZIS420NMA ZISW420DRC
Compare Best Deals
Get the Best Price! See deals more product details, item conditions, shipping information, exchange, returns & customer satisfaction policy, and other important details. There are a number of sellers selling this part online. Please view the prices below.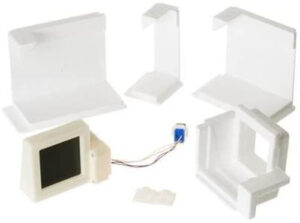 ==> Click Here to Check the Lowest Prices on eBay Today! <==
More Appliance Information
In addition to the WR49X10107 GE Refrigerator Damper Control Assembly Kit, there are other appliance parts promoted on the market, such as Whirlpool Refrigerator Dispenser Control Board, Kenmore Elite Oasis Washing Machine Control Board, Kenmore Refrigerator Compressor Replacement, and How to Replace Main Control Board on Samsung Refrigerator.
For more big appliance brands, e.g. KitchenAid, you are able to view its products, accessories, and services on the Internet.
More Appliance Parts:
Don't give up! If you have any problem with finding the right part for your appliance model, please notify us by leaving a message in the comment section below. We will search for the part and respond to you as soon as possible. Thank you very much.