This is a new GENUINE replacement part, GE Dishwasher Electronic Control Board WD21X24798. If your dishwasher will not start, then replacing the main control board could solve the problem. Check your model and compare lowest prices here!
GE Dishwasher Electronic Control Board WD21X24798
Product: Main Control Board for Dishwasher
Appliance Part: Dishwasher Electronic Replacement Parts
Part Number: WD21X24798
Compatible Brands: GE
Compatible Part Numbers: 4863040 AP6783320 PS12582730 EAP12582730 WD21X23717 WD21X23096
Fits GE Dishwasher Models:
This part fits GE dishwasher GDF520 GDF610, GDF620, GDT535, GDT545, GDT625, GDT 635 models, and more. Use Ctrl+F to find your model listed below.
GDF520PGJ4BB GDF520PGJ4CC GDF520PGJ4WW GDF520PMJ4ES GDF520PSJ2SS GDF520PSJ4SS GDF610PGJ2BB GDF610PGJ2WW GDF610PGJ4BB GDF610PGJ4WW GDF610PMJ4ES GDF610PSJ4SS GDF620HGJ4BB GDF620HGJ4WW GDF620HMJ4ES GDF620HSJ4SS
GDT535PGJ4BB GDT535PGJ4WW GDT535PGJ5BB GDT535PGJ5WW GDT535PSJ4SS GDT535PSJ5SS GDT545PGJ4BB GDT545PGJ4WW GDT545PSJ2SS GDT545PSJ4SS GDT625PGJ4BB GDT625PGJ4WW GDT625PSJ2SS GDT625PSJ4SS GDT635HGJ4BB GDT635HGJ4WW GDT635HMJ4ES GDT635HSJ4SS
How To Replace Dishwasher Main Dishwasher Control Board
Watch this video, created by RepairClinic.com. It shows easy step-by-step instructions for replacing the electronic control board on GE dishwasher.
Tools Needed:
1/4" socket or nut driver
5/16" socket or nut driver
Pliers
Compare Lowest Prices
Read more details on Main Control Board WD21X24798 for GE dishwasher. View shipping information, check warranty & return policy, and compare lowest prices on eBay here!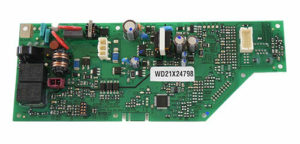 More Information
In addition to the GE Dishwasher Electronic Control Board WD21X24798, you can find more parts for GE dishwasher, main control boards for dishwasher, and other GE dishwasher replacement parts.
If you are looking for other appliance parts, such as refrigerator parts, washer parts, dryer parts, or stove parts, a number of online stores offer these items online. You may check your model, find the part, and compare lowest price here!
If you need help please do not hesitate to contact us at any time.