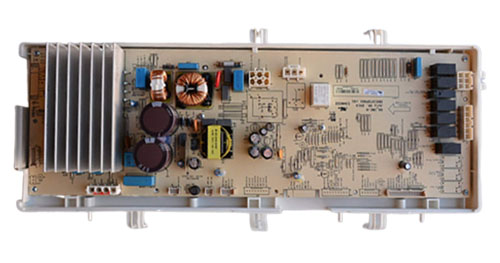 This is a new GENUINE GE replacement part, GE Washer Control Board WH12X26034. It fits GE washing machine specific models.
If your washer would not start or not work properly, then replacing the main electronic control board could solve the problem. Check your model, find the right part, and compare lowest price here.
GE Washer Control Board WH12X26034
Product: Main Control Board
Appliance Part: Washer Washing Machine Electronic Replacement Parts
Part Number: WH12X26034
Compatible Brands: GE
Compatible Part Numbers: 4467251 AP6039466 PS11772127 EAP11772127 WH12X22115 WH12X10596 WH12X10598 WH12X10601 WH12X10602 WH12X10605 WH12X10606 WH12X20506
Fits GE Washer Models:
This part fits GE washing machine models. Use Ctrl+F to find your specific model listed below.
GFW480SPK0DG GFW480SPK0RR GFW480SSK0WW GFW490RPK0DG GFW490RPK0RR GFW490RSK0WW
GFWR2700H0WW GFWR2700H1WW GFWR2700H2WW GFWR2705H1MC GFWR2705H2MC GFWR4800F0WW GFWR4800F1WW GFWR4800F2WW GFWR4800F3WW GFWR4805F0MC GFWR4805F0RR GFWR4805F1MC GFWR4805F1RR GFWR4805F2MC GFWR4805F2RR GFWR4805F3MC GFWR4805F3RR
GFWS2500F0WW GFWS2505F0MC GFWS2505F0RR GFWS2600F0WW GFWS2600F1WW GFWS2600F2WW GFWS2605F0MC GFWS2605F0RR GFWS3700F0WW GFWS3705F0MC GFWS3705F0RR GHWS3600F0WW GHWS3605F0MC GHWS3605F0RR
Compare Lowest Prices
Read more product details, customer service information, shipping options, return & warranty policy, and compare lowest prices here!
More Information
As well as the GENUINE GE Washer Control Board WH12X26034 washing machine electronic replacement part, you can search for more useful information, including GE washer parts, GE Control Boards, GE washer control board reset, and GE front load washer control panel problems.
If you are not quite sure exactly what part you need for your home appliance, please do not hesitate to contact us at any time.