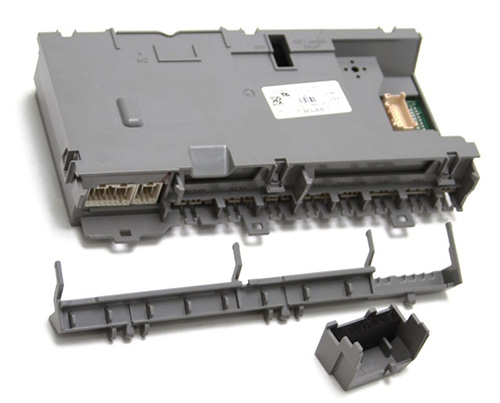 This is a new GENUINE replacement part, Maytag Dishwasher Electronic Control Board W10595568. It fits Maytag under-counter dishwashers, MDB4709, MDB6769, MDB7749, MDB7759, MDB8949, MDB8959, MDBH949, and more. If your unit would not start, then replacing the main control board could solve the problem. Check your model and compare lowest prices here!
Maytag Dishwasher Electronic Control Board W10595568
Product: Main Control Board for Dishwasher
Appliance Part: Dishwasher Electronic Replacement Parts
Part Number: W10595568
Compatible Brands: Maytag
Compatible Part Numbers: 3023122 AP5688868 EAP8260218 PS8260218 W10539778
Fits Maytag Dishwasher Models:
This main control board fits Maytag undercounter dishwasher and other models. Use Ctrl+F to find your model listed below.
MDB4709PAB2 MDB4709PAB3 MDB4709PAB4 MDB4709PAM2 MDB4709PAM3 MDB4709PAM4 MDB4709PAQ2 MDB4709PAQ3 MDB4709PAQ4 MDB4709PAW2 MDB4709PAW3 MDB4709PAW4
MDB6769PAB2 MDB6769PAB3 MDB6769PAB4 MDB6769PAS2 MDB6769PAS3 MDB6769PAS4 MDB6769PAW2 MDB6769PAW3 MDB6769PAW4
MDB7749SBB0 MDB7749SBB1 MDB7749SBB2 MDB7749SBB3 MDB7749SBM0 MDB7749SBM1 MDB7749SBM2 MDB7749SBM3 MDB7749SBQ0 MDB7749SBQ1 MDB7749SBQ2 MDB7749SBQ3 MDB7749SBW0 MDB7749SBW1 MDB7749SBW2 MDB7749SBW3 MDB7759SAB2 MDB7759SAB3 MDB7759SAB4 MDB7759SAS2 MDB7759SAS3 MDB7759SAS4 MDB7759SAW2 MDB7759SAW3 MDB7759SAW4
MDB8949SBB0 MDB8949SBB1 MDB8949SBB2 MDB8949SBB3 MDB8949SBM0 MDB8949SBM1 MDB8949SBM2 MDB8949SBM3 MDB8949SBW0 MDB8949SBW1 MDB8949SBW2 MDB8959SBB1 MDB8959SBB2 MDB8959SBB3 MDB8959SBS1 MDB8959SBS2 MDB8959SBS3 MDB8959SBW1 MDB8959SBW2 MDB8959SBW3
MDBH949PAB2 MDBH949PAB3 MDBH949PAB4 MDBH949PAM2 MDBH949PAM3 MDBH949PAM4 MDBH949PAQ2 MDBH949PAQ3 MDBH949PAQ4 MDBH949PAW2 MDBH949PAW3 MDBH949PAW4
How To Replace Dishwasher Main Control Board
Watch this video, created by AppliancePartsPros. The video shows simple step-by-step instructions for replacing the electronic control board for dishwasher. These steps can be applied on on Whirlpool, Maytag, KitchenAid, Jenn-Air, Amana, Magic Chef, Admiral, Norge, Roper, Sears and Kenmore Dishwashers.
Tools needed:
Torx-15 screwdriver
Flathead screwdriver
Compare Lowest Prices
Read more details of the Control Board W10595568 for dishwasher. View shipping information, warranty & return policy, and customer services. Check the lowest price on eBay here!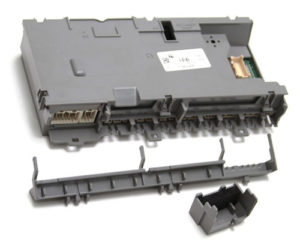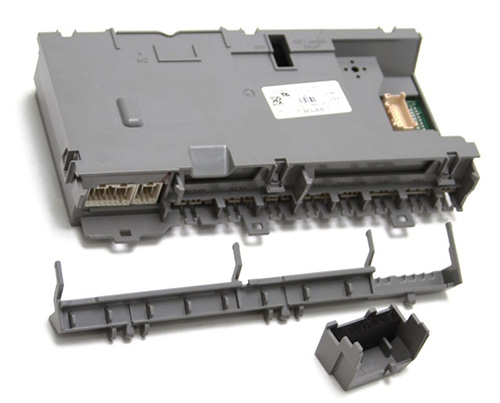 More Information
Further the Maytag Dishwasher Electronic Control Board W10595568, you can find other control boards for dishwasher, Maytag control boards, and Maytag dishwasher replacement parts.
If you are looking for other appliance parts, such as washer parts, refrigerator parts, or dryer parts, there are a number of suppliers offering these items online. You may check your part and compare lowest price here.
Please do not hesitate to contact us if you need help to find your correct part.