Low Price refrigerator fresh meat drawer pan fits GE Hotpoint Americana RCA DSS25JFPMCC GSH22JFXNWW GSS22JETCCC GSL25JFTBBS GSS25KGMAWW PSA25MIPCFBB HSS25GFPCWW and more.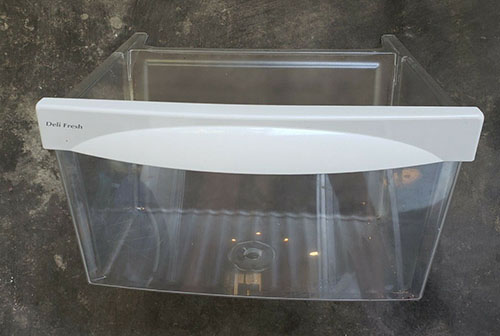 Refrigerator Meat Drawer
Product: Refrigerator Fresh Meat Drawer Pan
Part Number: WR32X10835
Replace Parts: WR32X10131 1812381 AP4981597 EAP3487933
Fits Brands: GE Hotpoint Americana RCA
Fits Refrigerator Models
This refrigerator fresh meat pan part works for the following GE Hotpoint Americana RCA models.
A4425GDTABB GSH25JSDBSS BSS25JFTJWW ESL22JFXJLB GSA22KBPCFBB GSE22KETAFSS GSE22KEWPFWW GSF25IGZDWW GSG22KBSAFWW GSG25MIPDFWW GSH22JFXJCC GSH22JFXMWW GSH22JSBBSS GSH25GGCBBB GSH25KGMBCC GSH25VGPDWW GSS22IBPDCC GSS22IBTJCC GSS22JEPHBB GSS22JFPHCC GSS22JFPKBB GSS22QFMBCC GSS22SGMFBS GSS22VGMBWW GSS22WGPBCC GST22IBPDCC GST22KGMACC GST25KGPCWW ESL25XGPABS GSH22KGREBB GSH25JFPCCC GSH25JSTDSS GSL25JFRFBS GSS22UFMABB GSS25JEMDBB GSS25JETCCC GSS25JETDWW GSS25JFPJBB GSS25KGPCCC GSS25QGMDCC GSS25UFMDCC GSS25UFPDCC PSA22MIMDFBB PSG22MIPAFWW PSG22SIPHFBS HSS22IFMCWW HSM22IFTBSA HSS22IFPCWW HSS25IETAWW HST25IFPAWW HSS25GFPEWW and more.
Compare Best Prices
The right product number is WR32X10835. See the refrigerator meat pan item description, item condition, shipping & payment methods, and shop the item on eBay.