Search for refrigerator fresh meat drawer fits GE Hotpoint Americana RCA ESS22XGMACC GSL22JFXPLB GSS22VFPHCC GSH25SGRESS GSS25UFMBCC HSS25IFMAWW HSS25GFTCWW and more.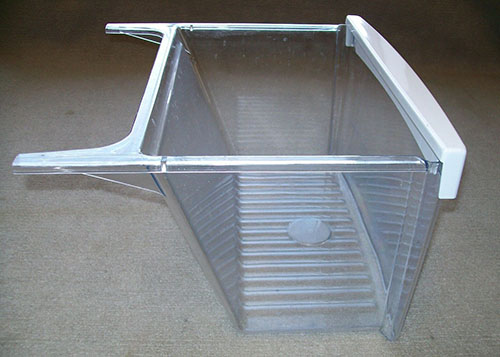 Refrigerator Meat Pan
Product: Refrigerator Fresh Meat Drawer Pan
Part Number: WR32X10835
Replace Parts: WR32X10131 1812381 AP4981597 PS3487933 EAP3487933
Fits Brands: GE Hotpoint Americana RCA
Fits Refrigerator Models
This refrigerator meat pan product fits the following GE Hotpoint Americana RCA models.
GSE22ETHBBB GSH25VGRBWW BSS25JSTHSS DSS25JFPHCC ESS25XGMDWW GSE22KETEFBB GSE22KEWAFBB GSF25JGCEBB GSG22KBPAFWW GSG25IEPHFWW GSH22JFTDCC GSH22JFZCBB GSH22KGMBBB GSH22KGPDCC GSH25JGCBCC GSL22JFTDBS GSS22IBTAWW GSS22IBTJCC GSS22JEPACC GSS22JFMAWW GSS22KGPJWW GSS22QGPBWW GSS22UFMDCC GSS22VFPACC GSS22WGPHBB GST22JEPCCC GST22KGPHBB GST25KGMBWW ESL25JFWEBS GSH22SGPDSS GSH25JFRFBB GSH25KGRBBB GSH25VGPDCC GSS25GFXNBB GSS25JEMDCC GSS25JEPHBB GSS25JFMBCC GSS25JFPBBB GSS25QFMACC GSS25QGPECC GSS25SGMCBS GSS25UFPJBB GSS25VGMCCC PSG22MIMCFWW PSG22SIREFSS HSH22IFTCCC HSM25GFRJSA HSS25GDPHWW HSS25IFPCWW HST25IFPACC HSM25GFRASA and more.
Compare Best Prices
The item number is WR32X10835. Read the refrigerator fresh meat drawer pan part description, and compare prices on eBay here.