If you're in search of the WR55X10996 GE Refrigerator Control Board, look no further! Find the perfect replacement to restore optimal functionality to your GE refrigerator and ensure efficient cooling and performance.
WR55X10996 GE Refrigerator Electronic Control Board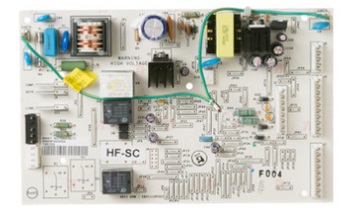 The WR55X10996 GE Refrigerator Control Board is a vital component that controls and regulates the various functions of your GE refrigerator. This high-quality control board ensures precise temperature settings, efficient defrost cycles, and overall reliable operation.
If you're experiencing issues with your refrigerator, replacing the control board can restore its functionality and keep your food fresh. Find the best deals on eBay and get your GE refrigerator back on track.
Descriptions:
Part Number: WR55X10996
Replacement Parts: PS2371164, WR55X10980, EAP2371164, AP4485248, 1557318
Part Types: Refrigerator Electronic Control Board, Fridge Main Control Board Assembly
Compatible Brands: GE, General Electric
Fits Appliance Models: Please see the list below.
Price: Check price on eBay.
Fits Appliance Models
This part fits the following GE refrigerator models:
PFSS2MIYJSS, PFSF2MJYAWW, PFSF2MJYHWW, PFSF2MIYHWW, PFSS2MJYCSS, PFSW2MIYCSS, GFSF2KEYHBB, PFSF2MJYGBB, PFSS2MIYCSS, GDSS3KCYCRSS, PFSF2MJYCWW, PFSW2MIYASS, GFSL2KEYCLS, GDSC3KCYCWW, PFSS2MIYHSS, GFSS2HCYJSS, GFSS2KEYHSS, GFSF2HCYCBB, GFSF2KEYACC, GDE23ETEARWW, PFSF2MIYGBB, GNE22GGEBFBB, GNS22EGEAFWW, PFSF2MJYGWW, GDSC3KCYBBB, GDE23ESEARSS, GDE23ETEARBB, GFSF2KEYCWW, GDE23ETEBRWW, GNE22GGEAFWW, GFSS2HCYCSS, PFSF2MIYCBB, PFSF2MJYFBB, GFSF2KEYABB, GNE22GMEBFES, GFSS2KEYASS, GDE23ESEBRSS, GDSL3KCYBLLS, PFSF2MIYAWW, PFSS2MJYASS, PFSF2MJYABB, GDSL3KCYBRLS, GDSL3KCYCLLS, GNE22GSEBFSS, PFSS2MJYDSS, GFSS2HCYHSS, GFSF2KEYCBB, GNE22GGEBFWW, GNE22GGEAFBB, PFSS2MJYISS, PFSF2MIYABB, PFSF2MIYGWW, PFSF2MIYFWW, GNS22EGEBFBB, GFSS2HCYASS, GFSL2KEYHLS, PFSF2MJYHBB, PFSF2MJYCBB, PFSS2MJYHSS, GFSF2KEYCCC, GNE22GMECFES, GNS22EGEBFWW, PFE22KSEAFSS, GFSF2HCYHWW, PFSS2MJYGSS, GFSF2HCYAWW, GDE23ETEBRBB, GDSS3KCYBRSS, GFSF2HCYABB, GDSC3KCYBWW, PFSS2MIYISS, GNS22ESEAFSS, CNE22SSEAFSS, GNS22ESEBFSS, GFSF2KEYHWW, GFSS2KEYCSS, GNE22GMEAFES, GDSC3KCYCBB, GFSL2KEYALS, GDSL3KCYCRLS, GFSF2HCYCWW, PFSF2MIYHBB, PFSS2MIYGSS, PFSS2MJYJSS, GNE22GSEAFSS, PFSS2MIYDSS, PFSF2MIYFBB, GFSF2KEYAWW, PFSS2MIYASS, GFSF2HCYHBB, GNS22EGEAFBB, PFSF2MIYCWW, PFSF2MJYFWW, GFSF2KEYHCC, and more.
Functions:
The WR55X10996 GE Refrigerator Control Board is responsible for controlling and regulating various functions of the refrigerator, including temperature settings, defrost cycles, and overall operation.
Common Symptoms:
Inconsistent temperature inside the refrigerator.
Unresponsive control panel or display.
Failure to start or stop cooling.
Error codes or flashing lights.
How to Replace:
Unplug the refrigerator and locate the control board, usually found behind the control panel or at the back of the fridge.
Disconnect any wires or connectors attached to the control board.
Remove any screws or clips securing the control board in place.
Take out the old WR55X10996 control board carefully.
Position the new control board in the correct orientation.
Secure the board using screws or clips.
Reconnect the wires and connectors, ensuring they are properly attached.
Plug in the refrigerator and test the functionality of the new control board.
Compare Prices on eBay – WR55X10996
To find the best prices for the WR55X10996 GE Refrigerator Control Board, compare listings on eBay. Shop now and ensure the smooth and efficient operation of your refrigerator.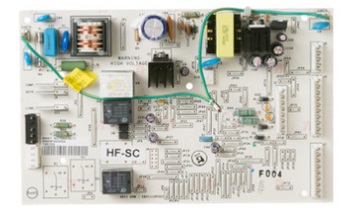 Other Home Appliance Parts:
More Information
Don't lose hope! If you're unable to find the correct part for your appliance model, don't hesitate to reach out to us anytime. We'll gladly assist you by checking the part and providing a prompt response. Let's fix it without delay!