Get Low Price GENUINE WPW10565996 Whirlpool Refrigerator Main Control Board part. Fits EAP11756363 W10565996 AP6023023 PS11756363 3281144 appliance parts and others. Shop Now!
Genuine Whirlpool WPW10565996 Fridge Circuit Board
Part Number: WPW10565996
Replacement Parts: PS11756363 W10565996 AP6023023 EAP11756363 3281144
Compatible Brands: Whirlpool
Product Type: Fridge Electronic Control Board Replacement Parts
Item Price: Read more part information and Compare Prices Below.
==> Click Here to Compare the Latest Prices Today! <==
Fits Models:
The WPW10565996 Whirlpool Refrigerator Electronic Control Board fits the following models. Hit Ctrl-F to search your specific model listed below.
WRF989SDAB00 WRF989SDAH02 WRF989SDAB02 WRF989SDAW03 WRF989SDAF00 WRF990SLAM01 WRF989SDAM02 WRF997SDDM02 WRF990SLAM02 WRF989SDAF01 WRF990SLAM00 WRF989SDAM01 WRF991BOOM01 WRF991BOOM00 WRF989SDAM03 WRF989SDAF03 WRF989SDAE01 WRF989SDAF02 WRF989SDAE00 WRF989SDAE03 WRF989SDAM00 WRF990SLAB00 WRF990SLAW00 WRF989SDAW02 WRF989SDAH03 WRF989SDAH01 WRF990SLAM03 WRF997SDDM00 WRF989SDAW00 WRF989SDAB03 WRF989SDAB01 WRF989SDAE02 WRF989SDAH00
Compare Best Deals
Read more product details, customer reviews, terms and conditions (new brand, used, or refurbished), shipping & handling options, parts warranty, and payment available options. There are a number of sellers offering this part on the market. Please compare the prices below.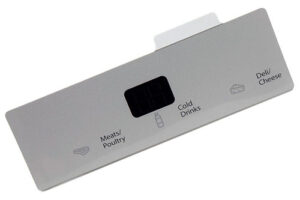 ==> Click Here to Compare Prices on eBay! <==
More Appliance Information
On the Internet, there are many sellers promoting a number of appliance replacement parts, including LG Refrigerator Control Panel Display, Frigidaire Gallery Dishwasher Problems, Maytag Washing Machine Transmission Replacement, and Siemens Dishwasher Problems, also including the WPW10565996 Whirlpool Refrigerator Circuit Board .
For other famous home appliance brands, e.g. Amana, you are able to search for its products, parts, and services on the store online.
Other Whirlpool Refrigerator Electronic Board Replacement Parts:
In addition to the Whirlpool Refrigerator Control Board replacement part. If you have any problem with searching for the correct part for your appliance model or have any message, please feel free to contact us at any time. We will find the part and respond to you ASAP. Many Thanks.