Check Low Price Genuine WPW10503833 Whirlpool Fridge Control Board assembly part. Fits AP6022410 EAP11755743 4447819 PS11755743 W10503833 repair parts and others. Fast Shipping.
Genuine WPW10503833 Whirlpool Refrigerator Main Control Board Part
Part No: WPW10503833
Replacement Part No: W10503833 AP6022410 4447819 EAP11755743 PS11755743
Compatible Brands: Whirlpool
Product or Service Type: Refrigerator Circuit Board Assembly Parts
Item Price: See more item details and Compare the Lowest Prices Below.
==> Click Here to Compare the Lowest Prices on eBay! <==
Fits Refrigerator Models:
Find the correct replacement item. The WPW10503833 Whirlpool Fridge Replacement Parts PCB Control Board fits the following models. Press Ctrl-F to search your appliance model as shown.
WRX988SIBW01 WRX988SIBM01 WRX988SIBE01 WRX988SIBE00 WRX988SIBE03 WRX988SIBW00 WRX988SIBB00 WRX988SIBB01 WRX986SIHZ01 WRX988SIBH03 WRX988SIBE02 WRX988SIBH01 WRX988SIBM03 WRX988SIBH02 WRX988SIBM02 WRX988SIBM00
Compare Lowest Prices
Find out more product description, customer reviews, terms and conditions (new brand, used, or refurbished), shipping options, parts warranty, and other important information. There are a number of sellers promoting this new or used part at the store online. You can view the prices below.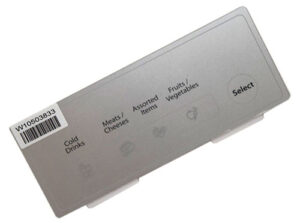 ==> Click Here to Compare the Latest Prices on eBay! <==
More Home Appliance Information
Besides the Whirlpool WPW10503833 Fridge Replacement Parts Circuit Board, there are other home appliance parts promoted on the market, e.g. Electrolux Oven Fan Motor Replacement, Samsung Washer Control Board, GE Dishwasher Circulation Pump, and Amana Dishwasher Control Board Replacement. For more main appliance brands, like Crosley, you can find its products, and services on the Internet.
Popular Whirlpool Refrigerator Control Board Parts:
Contact Us! If you need any help with finding the right part for your appliance model, please feel free to contact us at any time. We will find the part and respond to you ASAP. Thank you very much.