Best Price Whirlpool WP61003421 Refrigerator Main Control Board assembly part. Suitable for AP4068351 665292 61003421 PS2059064 EAP2059064 repair parts and more. Buy Now!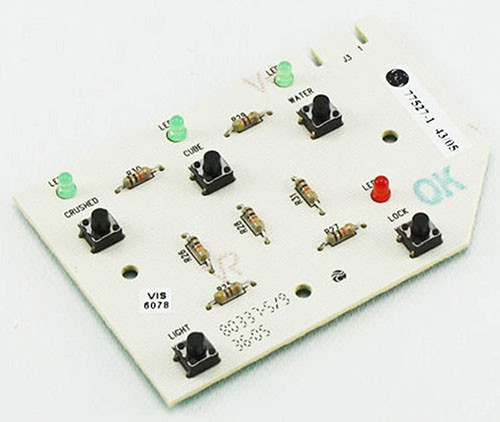 Genuine WP61003421 Whirlpool Fridge Circuit Board Part
Part No: WP61003421
Replacement Parts: AP4068351 665292 EAP2059064 61003421 PS2059064
Fits Brands: Whirlpool Bosch Jenn-Air Admiral Maytag Whirlpool
Product or Service Type: Refrigerator PCB Board Appliance Parts, Refrigerator Ice and Water Dispenser Electronic Control Board
Price: View more product information and Get the Lowest Price Below.
==> Click Here to Compare Prices on eBay TODAY! <==
Fits Fridge Models:
Recheck the right appliance replacement part. This Whirlpool WP61003421 Refrigerator Main Board can be used for the following Maytag Admiral Whirlpool Jenn-Air Bosch models. Hit Ctrl-F to find your appliance model as follows.
GS2728EEDW JSD2388AEB GC2228EED5 JCD2289AEW JSD2789AEB MSD2756AEB MSD2556AEW MSD2354FRA JSD2388AEA KGU66920 MSD2356AEW GS2788EKDQ TRIS245FBW JSD2588AEW SRA22B JSD2789AES GS2588EKFQ GS2928EEDB MSD2555DRA GC2228EEDB JCD2289AEA MSD2556AEB JSD2989AEA JSD2588AEA JCD2289AES MZ2727EEGW MSD2756AEA S60STRP GS2727EED3 MSD2354ARW MSD2748DRQ MSD2654FRQ MSD2757AEW MSD2757AEA GS2727EEDB K3965X0 GS2727EED1 JSD2789AEW MSD2554ARW KF57U56 JSD2588AEB TRIS245BBW JCD2289AEQ GC2227EED5 MSD2554FRA JCD2289ATB MSD2754ARA JCD2289ATW MSD2754DRW MSD2556AEA GS2787EKDA GS2727EAD1 KGU57990KD MSD2448DRQ MSD2757AEB JSD2789AEA KG66U55 JCD2289AER MSD2354DRW JCD2289AEF JSD2789ATB GC2227EAD5 GS2728EEDB MSD2754DRA
MSD2356AEB JCD2289AEK MSD2555DRW MSD2454FRQ JSD2789ATW MSD2957AEA GS2788EKDA GC2227EAD3 MZ2727EEGB MSD2957AEB GS2727EED5 KG57U95SKD GS2727EEDW KFU5755 GC2228EED9 GC2227EED0 JSD2989AEW MSD2754FRQ MSD2356AEA KGU6655 GC2228EEDW MSD2354FRW MSD2957AEW GS2327EADW MSD2554FRW GC2227DEDB GS2327EEDW MSD2354DRA GC2227EED3 GC2228EED3 MSD2654FRW MSD2754FRA JCD2289AEB MSD2354ARA GC2227EED1 MSD2448DRW GS2987EKDA GC2220DEGB SRA23BN KF57U55 JCD2289AEG MSD2454FRW GS2928EEDW MSD2754FRW JSD2388AEW KGU66990 KGU6695 GC2227DEDW JSD2989AEB JCD2289AEU MSD2554DRW MSD2756AEW MSD2554ARA GS2727EADW MSD2754ARW
Compare Best Prices
Learn more product details, customer reviews, item conditions, shipping & handling information, returns & money-back guarantee policy, and payment available options. There are a number of sellers offering this part on the market. You can see the prices below.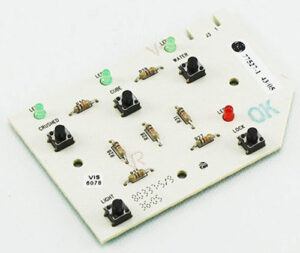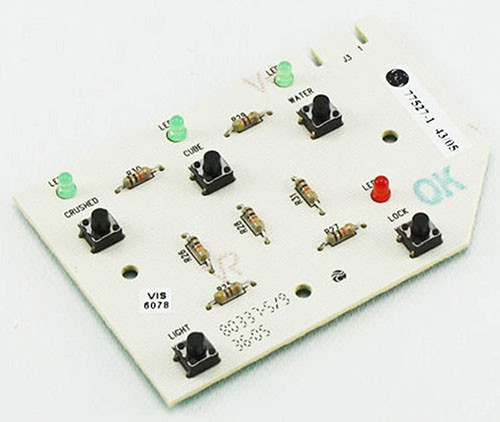 ==> Click Here to Compare the Lowest Prices TODAY! <==
Other Information
On the Internet, there are many sellers offering a number of home appliance parts, covering Oven Heating Element, Amana Refrigerator Circuit Board, LG Refrigerator Display Board, and GE Refrigerator Control Board Troubleshooting, also including the WP61003421 Whirlpool Refrigerator Main Control Board.
For more leading home appliance brands, for example, Maytag, you can view its products, accessories, and services on its website.
More Whirlpool Refrigerator Electronic Board Parts:
Don't give up! In addition to the Whirlpool WP61003421 Fridge Circuit Board part. If you can not find the right part for your appliance model or have any message, please feel free to contact us at any time. We will check the part and give some advice to you very soon. Fix it and save your money today!