Get Lowest Price W10195347 Whirlpool KitchenAid Dishwasher Control Board Parts. Suits for KUDS30CXBL0 KUDC10IXBL4 KUDS30FXSS2 KUDC10IXWH4 KUDS30FXPA0 KUDC10FXSS1 KUDS30IXBL2 KUDS30FXWH2 KUDS30CXBL3 KUDS30IXBL0 parts and others. Shop Now.
W10195347 Whirlpool KitchenAid Dishwasher Control Board
Part Number: W10195347
Replaces Part Number: W10380685 W10195347 PS3495100 W10380684 W10195348 EAP3495100 1938381 AP5177918
Fits Brands: Whirlpool, KitchenAid
Product or Service Type: Undercounter Dishwasher Electronic Main Control Board Replacement Parts, KitchenAid Dishwasher Control Board, Whirlpool Dishwasher Control Board
Product Price: View more part details and Compare the Best Prices Below.
Fits Models:
The W10195347 Whirlpool KitchenAid Dishwasher Control Board can be used for the following models. Use Ctrl-F to check your specific model as follows.
KUDC10FXSS3 KUDS30FXWH1 KUDS35FXBL1 KUDS30IXWH1 KUDS30CXBL4 KUDS30IXSS0 KUDS35FXSS0 KUDS30CXWH2 KUDC10FXWH1 KUDS35FXWH2 KUDS30CXBL3 KUDC10IXSS4 KUDC10FXBL3 KUDS30CXSS0 KUDS30FXWH3 KUDS30CXSS1 KUDC10FXSS4 KUDC10FXBL0 KUDS30FXSS2 KUDC10FXWH2 KUDS30IXBL4 KUDS30IXWH4 KUDS30FXBL3 KUDC10FXBL4 KUDC10FXSS1 KUDS30FXBL2 KUDC10FXWH3 KUDC10IXWH1 KUDC10IXWH3 KUDS30CXSS3 KUDS30FXSS0 KUDS30IXBL1 KUDC10IXWH2 KUDS30CXWH1 KUDS35FXSS4 KUDS30FXWH2 KUDS30IXBT2 KUDS30CXSS5 KUDS30HXSS0 KUDC10IXSS0 KUDS35FXWH0 KUDS30IXBL2 KUDS30CXBL5 KUDC10IXBL0 KUDS30IXSS2 KUDS30CXBL0 KUDC10FXBL1 KUDS30FXSS4 KUDS30CXWH3 KUDS30CXWH5 KUDC10FXWH4 KUDS30FXBL4 KUDC10FXBL2 KUDC10IXBL2
KUDS30IXBT4 KUDS30IXBL0 KUDS30IXBL3 KUDS30CXBL1 KUDC10IXBL1 KUDS30IXWH0 KUDS35FXBL2 KUDS30IXWH3 KUDS30FXBL1 KUDS35FXWH4 KUDS30CXWH0 KUDS35FXWH1 KUDS30IXSS1 KUDS35FXBL4 KUDC10IXSS2 KUDS30CXSS2 KUDS30IXSS3 KUDC10IXBL4 KUDC10FXSS2 KUDS30FXWH0 KUDS30FXSS1 KUDS30FXBL0 KUDS30FXWH4 KUDS35FXSS2 KUDS30CXWH4 KUDS35FXWH3 KUDS35FXSS1 KUDC10IXBL3 KUDS35FXBL3 KUDS30FXSS3 KUDC10IXSS1 KUDC10FXWH0 KUDS30CXBL2 KUDS30IXBT3 KUDS30IXWH2 KUDC10FXSS0 KUDS30IXSS4 KUDC10IXWH0 KUDS35FXSS3 KUDS30IXBT0 KUDS30FXPA0 KUDC10IXSS3 KUDS30IXBT1 KUDS30CXSS4 KUDC10IXWH4 KUDS35FXBL0 and more.
Compare Best Prices
Learn more product details, terms and conditions, shipping options, parts warranty, and payment available options. Many sellers promote this new part at the store online. Please view the prices below.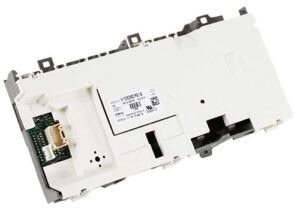 ==> Click Here to Compare Prices on eBay TODAY! <==
How To Replace Dishwasher Control Board
Visit this video, KitchenAid Dishwasher Control Board Replacement W10909702 , to get idea for replacing the dishwasher control board. The video, created by RepairClinic, provides step-by-step repair instructions for replacing the control board on KitchenAid dishwasher (model KDTE204EPA3). The most common reason for replacing the board is if the dishwasher will not work at all.
More Dishwasher Control Board
Find other dishwasher control board, such as GE dishwasher main control board, Whirlpool dishwasher electronic control board, KitchenAid dishwasher control board, Viking dishwasher control board, Kenmore dishwasher control board replacement, and wd21x24900 GE dishwasher control board.
More Information
Further the W10195347 Whirlpool KitchenAid Dishwasher Control Board, there are more appliance parts promoted on the market, for instance, Whirlpool Dishwasher Motor Assembly, Bosch Oven Fan Motor, Kitchenaid Double Oven Control Board, and Electrolux Washer Control Board Replacement. For other famous appliance brands, such as Maytag, you are able to view its products, parts, and services on its website.
More Replacement Parts:
Contact Us! Please do not hesitate to leave your content in the comment section if you have any problems with searching for the compatible part for your appliance model. We will check the part and give some advice to you very soon. Have a Nice Day!