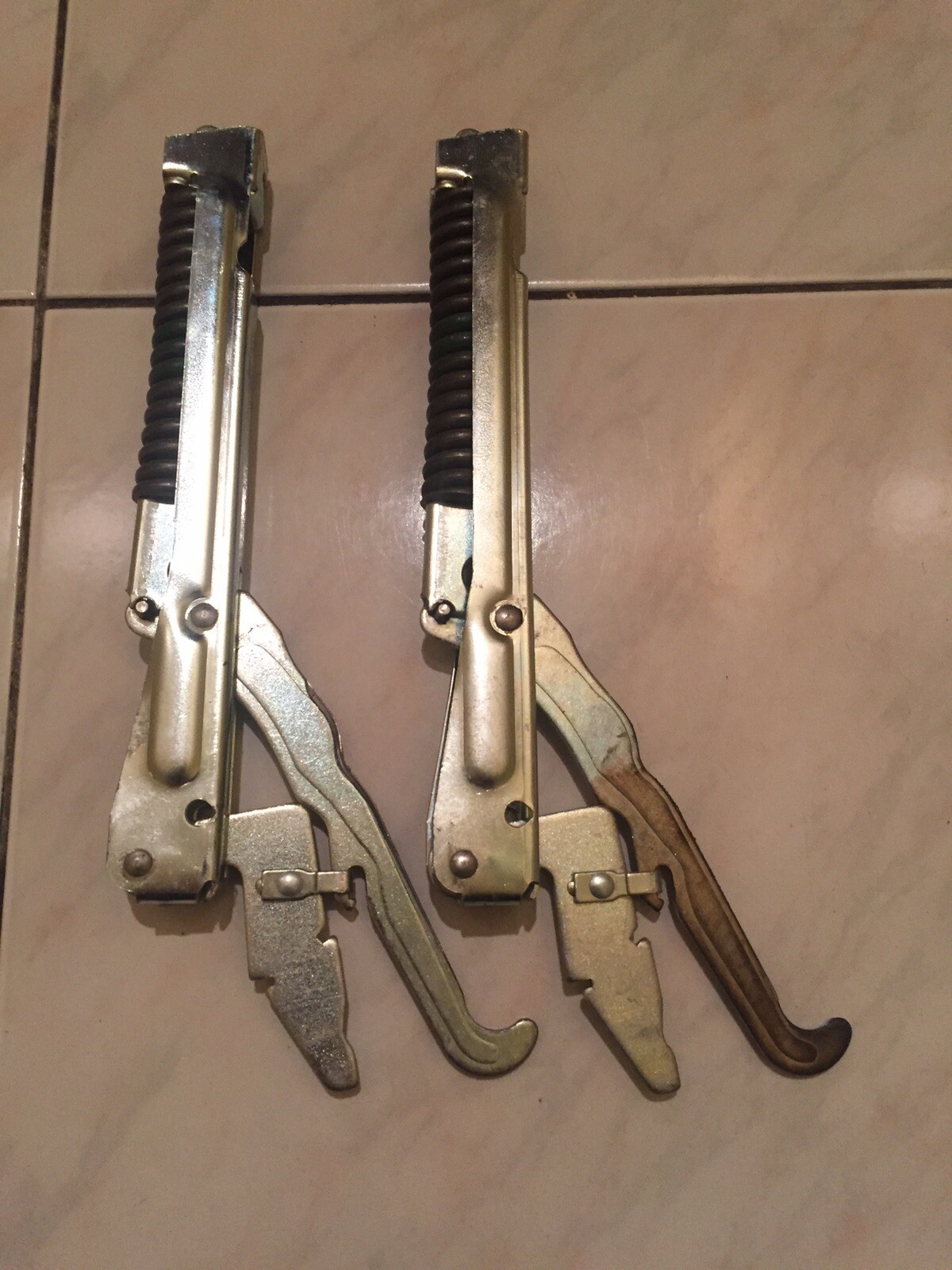 Range Oven Cooking Door Hinge 318024749
Product: 2X OEM Frigidaire Oven Stove Door Hinge SET 318024749 318024724 318024751
Type: Range Oven Door Hinge
Part Number: 318024749
Replaces Parts: 318024720 318024722 318024724 318024751
Fits Brands: Frigidaire, Kenmore, Crosley
Item Location: Montreal, Quebec, Canada
Return Policy: Seller does not accept returns
Condition: Used
Price: US $112.90 Check Latest Price on eBay
Fits Oven Models:
This range oven door hinge 318024749 part fits the following Frigidaire, Kenmore, and Crosley models. Use Ctrl+F to find your specific model listed below.
BEC358ES1 BEC358ES3 BES374ES1 BES374ES2 BES374ES3 BES374ES4 BES375ES1 BES375ES3 BES375ES4 BES375ES5 BES375ES6 BES384EB1 BES384EB2 BES384EB3 BES384EB4 BES384ES1 BES384ES2 BES384ES3 BES384ES4 BFEF374EB1 BFEF374EB2 BFEF374EB3 BFEF374EB4 BFEF374ES1 BFEF374ES2 BFEF374ES3 BFEF374ES4 BFES368ES1 BFES368ES2 BFES368ES3 BFES368ES4 BFES368ES5 BFES368ES6
CBES365FS1 CFCS366EB1 CFCS366EB2 CFCS366EB3 CFCS366ES1 CFCS366ES2 CFCS366ES3 CFEB30S5DB6 CFEB30S5DB7 CFEB30S5DS6 CFEB30S5DS7 CFEF357GS1 CFEF357GS2 CFEF358EB1 CFEF358EB2 CFEF358EB3 CFEF358EQ1 CFEF358ES1 CFEF358ES2 CFEF358ES3 CFEF370GS1 CFEF370GS2 CFEF372EB1 CFEF372EB2 CFEF372EB3 CFEF372EB4 CFEF372EB5 CFEF372EQ1 CFEF372EQ2 CFEF372EQ3 CFEF372EQ4 CFEF372EQ5 CFEF372ES1 CFEF372ES2 CFEF372ES3 CFEF372ES4 CFEF372ES5 CFES355EB1 CFES355EB2 CFES355EB3 CFES355ES1 CFES355ES2 CFES355ES3 CFES365EB1 CFES365EB2 CFES365EB3 CFES365EB4 CFES365EQ1 CFES365EQ2 CFES365EQ3 CFES365EQ4 CFES365ES1 CFES365ES2 CFES365ES3 CFES365ES4 CFES366FB1 CFES366FB2 CFES366FS1 CFES366FS2 CFGS365EB1 CFGS365EB5 CFGS365ES1 CFGS365ES5 CGCS389EB1 CGCS389EB2 CGCS389ES1 CGCS389ES2 CGCS389FB1 CGCS389FB2 CGCS389FB3 CGCS389FS1 CGCS389FS2 CGCS389FS3 CGEB30S9FB1 CGEB30S9FB2 CGEB30S9FB3 CGEB30S9FS1 CGEB30S9FS2 CGEB30S9FS3 CGLES385EB1 CGLES385EB2 CGLES385ES1 CGLES385ES2 CGLES385FB1 CGLES385FB2 CGLES385FB3 CGLES385FB4 CGLES385FS1 CGLES385FS2 CGLES385FS3 CGLES385FS4 CGLES389EB1 CGLES389EB2 CGLES389EB3 CGLES389EB4 CGLES389EB5 CGLES389ES1 CGLES389ES2 CGLES389ES3 CGLES389ES4 CGLES389ES5 CGLES389FB1 CGLES389FB2 CGLES389FB3 CGLES389FB4 CGLES389FS1 CGLES389FS2 CGLES389FS3 CGLES389FS4 CPEB27S9DC1 CPEB27S9DC2 CPEB27S9FC1 CPEB27S9FC2 CPEB27S9FC3 CPEB27S9FC4
FCS366EBA FCS366EBB FCS366EBC FCS366ESA FCS366ESB FCS366ESC FEB27S5DBA FEB27S5DBB FEB27S5DBE FEB27S5DBF FEB27S5DCA FEB27S5DCB FEB27S5DCC FEB27S5DSA FEB27S5DSB FEB27S5DSE FEB27S5DSF FEB27S5GCA FEB27S5GCB FEB27S5GCC FEB27S6DBA FEB27S6DBB FEB27S6DCA FEB27S6DCB FEB27S6DQA FEB27S6DQB FEB27S6DSA FEB27S6DSB FEB27S6FCA FEB27S6FCB FEB27S7DCA FEB27S7DCB FEB27S7FCA FEB27S7FCB FEB27S7FCC FEB27S7FCD FEB27T5DBA FEB27T5DBB FEB27T5DBC FEB27T5DBE FEB27T5DCA FEB27T5DCB FEB27T5DCC FEB27T5DCD FEB27T5DSA FEB27T5DSB FEB27T5DSC FEB27T5DSE FEB27T5GCA FEB27T5GCB FEB27T6DBA FEB27T6DBB FEB27T6DBC FEB27T6DCA FEB27T6DCB FEB27T6DCC FEB27T6DQA FEB27T6DQB FEB27T6DQC FEB27T6DSA FEB27T6DSB FEB27T6DSC FEB27T6FCA FEB27T6FCB FEB27T7DCA FEB27T7DCB FEB27T7DCC FEB27T7FCA FEB27T7FCB FEB27T7FCC FEB30S5DBF FEB30S5DBG FEB30S5DSF FEB30S5DSG FEB30T5DBF FEB30T5DSF FED355EBA FED355EBB FED355EBC FED355ESA FED355ESB FED355ESC FED365EBA FED365EBB FED365EBC FED365EBD FED365EQA FED365EQB FED365EQC FED365EQD FED365ESA FED365ESB FED365ESC FED365ESD FES355EBA FES355EBB FES355EBC FES355ESA FES355ESB FES355ESC FES365EBA FES365EBB FES365EBC FES365EBD FES365EQA FES365EQB FES365EQC FES365EQD FES365ESA FES365ESB FES365ESC FES365ESD FES366EBA FES366EBB FES366EBC FES366EQA FES366EQB FES366EQC FES366ESA FES366ESB FES366ESC FGS365EBA FGS365EBE FGS365EBF FGS365EBG FGS365EQA FGS365EQE FGS365EQF FGS365ESA FGS365ESE FGS365ESF FGS365ESG FGS366EBA FGS366EQA FGS366ESA
GLCS389EBA GLCS389EBB GLCS389EBC GLCS389EQA GLCS389EQB GLCS389EQC GLCS389ESA GLCS389ESB GLCS389ESC GLCS389FBA GLCS389FBB GLCS389FBC GLCS389FQA GLCS389FQB GLCS389FQC GLCS389FSA GLCS389FSB GLCS389FSC GLEB27M9EBA GLEB27M9EBB GLEB27M9EQA GLEB27M9EQB GLEB27M9ESA GLEB27M9ESB GLEB27M9FBA GLEB27M9FBB GLEB27M9FBC GLEB27M9FQA GLEB27M9FQB GLEB27M9FSA GLEB27M9FSB GLEB27M9FSC GLEB27S9DBA GLEB27S9DBB GLEB27S9DQA GLEB27S9DQB GLEB27S9DSA GLEB27S9DSB GLEB27S9FBA GLEB27S9FBB GLEB27S9FBC GLEB27S9FQA GLEB27S9FQB GLEB27S9FSA GLEB27S9FSB GLEB27S9FSC GLEB27T9DBA and more.
Compare Lowest Price
Read more door hinge product information, shipping & payment methods, return & warranty policy, and Compare Latest Price on eBay HERE!
Other Appliance Replacement Parts: