Looking for refrigerator fresh meat pan drawer works for GE Hotpoint Americana RCA GSA22KEPHFWW GSH22JFRIWW GSS22KGMDWW GST25KGMDWW GSS25JETJWW HSM25GFRJSA RSG25KEMBFWW and more.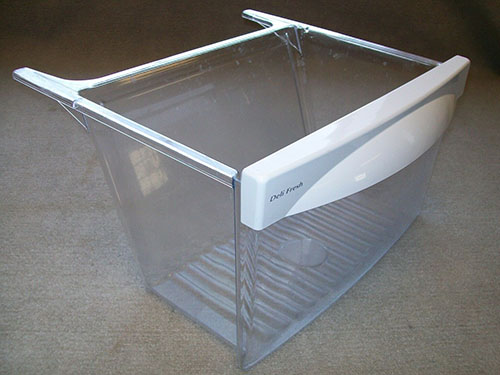 Refrigerator Meat Pan Drawer
Product: Refrigerator Fresh Meat Drawer Pan
Part Number: WR32X10835
Replace Parts: WR32X10131 1812381 AP4981597
Fits Brands: GE Hotpoint Americana RCA
Fits Refrigerator Models
This refrigerator fresh meat pan drawer product fits the following GE Hotpoint Americana RCA models.
A4425GDTAWW GSL25JGCCLS GSF25IGZBWW DSS25JFPEWW GSA22KBMDFWW GSE22ESHDSS GSE22KEWAFSS GSF25IGXJWW GSG22KEMDFWW GSG25IEPHFWW GSH22JFPHWW GSH22JFXMCC GSH22JSRJSS GSH25JFTDCC GSH25KGMABB GSL22JFXJLB GSL22JGDDLS GSS22IFRFCC GSS22JEMCCC GSS22JFPHBB GSS22KGMCCC GSS22QGMCBB GSS22SGMFBS GSS22VGMCWW GST22IBMBWW GST22IBMDWW GST25IFPAWW GST25KGMDCC ESL25XGPCBS GSH22UFRECC GSH25JFRHWW GSH25KGRECC GSL25IGXBLS GSS22WGMDCC GSS25JEPACC GSS25JERFBB GSS25JETNWW GSS25JFPCWW GSS25KGPHWW GSS25QFMDCC GSS25SGPABS GSS25VFPECC GSS25WGMAWW PSA25MIMCFWW PSG22SIRBFSS HSH25IFTAWW HSS22GFTNWW HSS25GFPMWW HSS25IFPDCC HST22IFMDCC HSS25IFMDWW and more.
Compare Lowest Prices
Shop Now! Your correct product number is WR32X10835. Read the refrigerator meat drawer item information, delivery & checkout methods, return & refund services, and buy this product on eBay here.