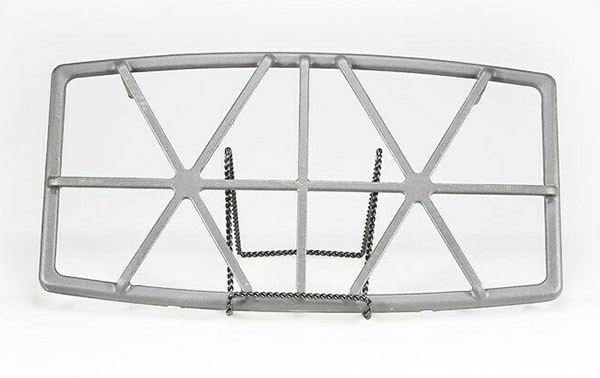 Range Oven Grill Burner Grate 9759505
Product: NEW Whirlpool 9759505 GRATE – MAIN KA MBLACK FACTORY AUTHORIZED
Part Number: 9759505
Replaces Parts: 3192485 4456438 9759505 1166056 AP6014020 PS11747253 EAP11747253
Fits Brands: KitchenAid Whirlpool
Item Location: US, United States
Return Policy: 60-day returns. Buyer pays for return shipping
Condition: New
Price: US $68.35 Check Latest Price on eBay
Fits Range Models:
This range cartridge burner grate 9759505 part fits the following KitchenAid and Whirlpool gas cooktop models. Use Ctrl+F to find your particular model listed below.
FFGF3052TSD FFGF3052TWC FFGF3052TWD FFGF3054TSD FFGF3054TWD FFGF3056TSC FFGF3056TSD FFLF3052USA FFLF3052USB GLS3074VS00 GLS3074VS01 GLS3074VS02 GLS3675VS00 GLS3675VS01 GLS3675VS02 KGCS105GAL0 KGCS105GAL1 KGCS105GAL2 KGCS105GBL0 KGCS105GBL05 KGCS105GBL06 KGCS105GBL1 KGCS105GBL2 KGCS105GBL3 KGCS105GBL4 KGCS105GBT0 KGCS105GBT05 KGCS105GBT06 KGCS105GBT1 KGCS105GBT2 KGCS105GBT3 KGCS105GBT4 KGCS105GSS0 KGCS105GSS05 KGCS105GSS06 KGCS105GSS07 KGCS105GSS08 KGCS105GSS09 KGCS105GSS1 KGCS105GSS10 KGCS105GSS11 KGCS105GSS2 KGCS105GSS3 KGCS105GSS4 KGCS105GWH0 KGCS105GWH05 KGCS105GWH06 KGCS105GWH1 KGCS105GWH2 KGCS105GWH3 KGCS105GWH4
KGCS127GAL1 KGCS127GBL1 KGCS127GBL2 KGCS127GBT1 KGCS127GBT2 KGCS127GSS0 KGCS127GSS05 KGCS127GSS1 KGCS127GSS2 KGCS127GWH1 KGCS127GWH2 KGCS166GAL0 KGCS166GAL1 KGCS166GBL0 KGCS166GBL04 KGCS166GBL05 KGCS166GBL1 KGCS166GBL2 KGCS166GBL3 KGCS166GBT0 KGCS166GBT04 KGCS166GBT05 KGCS166GBT1 KGCS166GBT2 KGCS166GBT3 KGCS166GSS0 KGCS166GSS04 KGCS166GSS05 KGCS166GSS06 KGCS166GSS07 KGCS166GSS08 KGCS166GSS09 KGCS166GSS1 KGCS166GSS10 KGCS166GSS2 KGCS166GSS3 KGCS166GWH0 KGCS166GWH04 KGCS166GWH05 KGCS166GWH1 KGCS166GWH2 KGCS166GWH3 and more.
Compare Lowest Price
Read more stove rangetop burner grate part information, return & warranty policy, and Compare Lowest Price on eBay HERE!