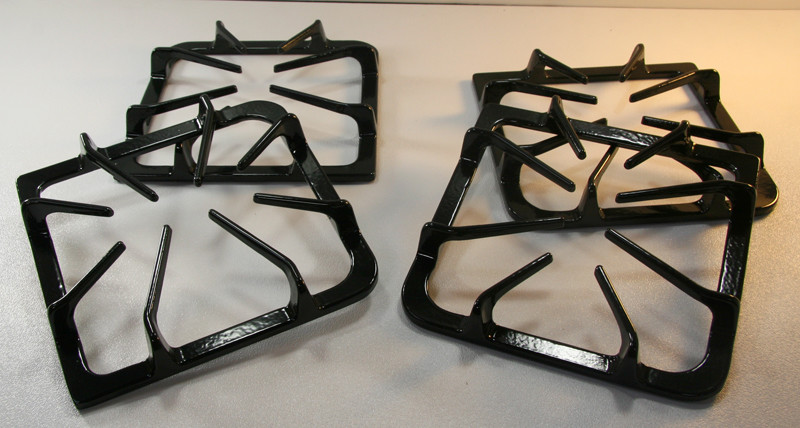 Frigidaire Oven Range Rangetop Burner Grate 316252642
Product: 316252642 Frigidaire Set Of Burner Grates Genuine OEM 316252642
Item Location: Chicago, Illinois, United States
Return Policy: Free 30 day returns
Condition: New
Price: US $145.85
Fits Oven Models:
This range cooktop burner grate 316252642 item fits the following Frigidaire and Crosley gas cooktop range models. Use Ctrl+F to find your appliance model listed below.
CFGF366DBB CFGF366DBD CFGF366DBF CFGF366DCC CFGF366DCD CFGF366DCF CFGF366DCG CFGF366FBA CFGF366FBB CFGF366FBC CFGF366FBD CFGF366FBE CFGF366FCA CFGF366FCB CFGF366FCC CFGF366FCD CFGF366FCE CFGF368GBA CFGF368GBB CFGF368GBC CFGF368GBD CFGF368GBE CFGF368GBF CFGF368GBG CFGF368GCA CFGF368GCC CFGF368GCD CFGF368GCE CFGF368GCF CFGF368GCG CFGF368GCH CFGF368GCJ CFGF368GMA CFGF368GMB CFGF368GMC CFGF368GME CFGF368GMG CFGF368GMH CFGFL79GBA CFGFL79GBD CFGFL79GCA
CRG3140GBBC CRG3140GBBD CRG3140GBBE CRG3140GBBF CRG3140GBBG CRG3140GQQC CRG3140GQQD CRG3140GQQE CRG3140GQQF CRG3140GQQG CRG3140GWBC CRG3140GWBD CRG3140GWBE CRG3140GWBF CRG3140GWBG CRG3140GWWC CRG3140GWWD CRG3140GWWE CRG3140GWWF CRG3140GWWG CRG3160GBBA CRG3160GBBB CRG3160GBBC CRG3160GBBD CRG3160GBBE CRG3160GBBF CRP3160GBBA CRP3160GBBB CRP3160GBBC
FFGF3021ZWB FGF337ABA FGF337ABB FGF337ABC FGF337ABD FGF337ABE FGF337ABF FGF337ABH FGF337ABJ FGF337ABL FGF337AUA FGF337AUC FGF337AUD FGF337AUE FGF337AUF FGF337AUH FGF337AUJ FGF337AUL FGF337AWA FGF337AWC
Compare Lowest Price
View more range cartridge burner grate item details, return & warranty services, and Check Latest Price on eBay HERE!