Looking for new refrigerator crisper pan fits GE Hotpoint RCA ESS25KSTBSS GSG25SISACSS GSS23HGHECBB GSS25GGHFCWW PSHS6RGXCDSS PSS26MGSBB
and more.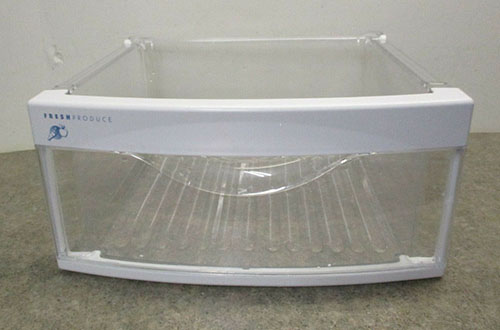 Refrigerator Crisper Drawer Pan
Product: Refrigerator Vegetable Middle Crisper Drawer Pan
Part Number: WR32X22927
Replace Parts: WR32X10343 WR32X10370 WR32X10574 4454554 AP6027007 EAP11759183
Fits Brands: GE Hotpoint RCA
Fits Refrigerator Models
This refrigerator crisper pan drawer product fits the following GE Hotpoint RCA models.
DSE25JBLKCTS DSHF5PGXCEBB DSS25KGRAWW DSS25LGPACC ESF25LGRCBB ESF25QGWAWW ESS23XGSBCC ESS25LSRESS GCG21IESAFWW GCG23YESBFCC GSE23GSKECSS GSE25GGHKCWW GSE25HMHJHES GSE25MGTECWW GSE26HSEBHSS GSF25XGRAWW GSF25XGWABB GSHF5KGXCCCC GSHF5MGXBEWW GSHF6NGBBHBB GSHL6PHXBELS GSHS6HGDBCSS GSHS9NGYACSS GSL25XGWCSS GSS23HGHECWW GSS23KGSBWW GSS23QSTASS GSS23WSTLSS GSS23WSTMSS GSS25GGHHCBB GSS25KGSBWW GSS25LSPABS GSS25QSSASS GSS25TGPAWW GSS25TGPCWW GSS25WGSCCC GSS25WGTGCC GSS25XSNABS LSHS6LGZBCSS LSS25XSTESS PSHF6PGZBEBB PSHS9PGZBCSS PSR26LGPCBB PSR26MSPCSS PSS23MSTASS PSS26MGPACC PSS26MSRASS PSSS3RGXASS XSS23GGKBCWW HSK27MGWACCC RSK25LAPBCCC
and more.
Compare Best Prices
The right product number is WR32X22927. Read the refrigerator crisper drawer part details, return & warranty services, and buy the part on eBay.