Search for refrigerator meat drawer pan fits GE Hotpoint Americana RCA GSH25JGBBWW GSH22JGCECC GSS22VFPJWW GSH25SGPASS GSS25QFMABB HSS25IFPDWW HSS25GFTABB and more.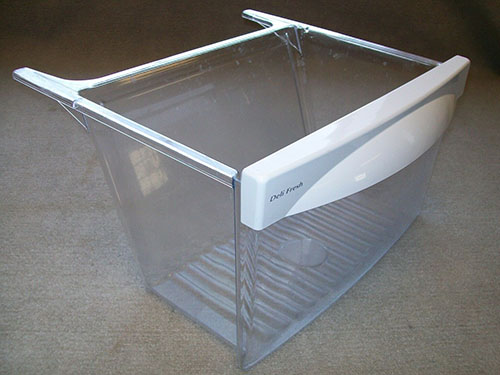 Refrigerator Meat Drawer
Product: Refrigerator Fresh Meat Drawer Pan
Part Number: WR32X10835
Replace Parts: WR32X10131 1812381 AP4981597
Fits Brands: GE Hotpoint Americana RCA
Fits Refrigerator Models
This refrigerator meat pan part fits the following GE Hotpoint Americana RCA models.
GSH25JGDCCC BSS25JFTCWW GSH22JGDDWW DSS25JFPHWW ESS25XGMDWW GSE22KETCFSS GSE22KETEFWW GSF25IGXNBB GSG25IEMAFWW GSH22JFPAWW GSH22JFXJBB GSH22JGCEWW GSH22JSXKSS GSH25JFTFCC GSH25JGCBBB GSH25VGPCCC GSS22IBPDWW GSS22JEBBBB GSS22JEMBBB GSS22JETGBB GSS22KGMBWW GSS22QFMDWW GSS22SGMDBS GSS22VFPHCC GSS22WGPHWW GST22JEPAWW GST22JEPDCC GST25KGPCWW ESL25JFXBLB GSH22KGMCAA GSH25IFTBWW GSH25JSXBSS GSH25VGPDCC GSS25GFXNWW GSS25JEMAWW GSS25JEPHBB GSS25JFMBCC GSS25JFPKWW GSS25KGPDCC GSS25QGPCCC GSS25SGRBSS GSS25UFPECC GSS25WGMBCC PSG22MIMDFBB PSG22SIMCFBS HSH22IFTECC HSH25IFTECC HSS22IFMAWW HSS25IFPAWW HST22IFMCWW HSS22GFTAWW and more.
Compare Lowest Prices
Your right product number is WR32X10835. View the refrigerator meat drawer pan part information, delivery & payment options, and compare lowest prices on eBay here.