Check Price refrigerator meat pan works for GE Hotpoint Americana RCA BSY25GFMCWW GSH22IFTBCC GSS22QFMDCC GSH25JSRFSS GSS25JFPCCC HSS25GFTBWW RSG25KEPHFWW and more.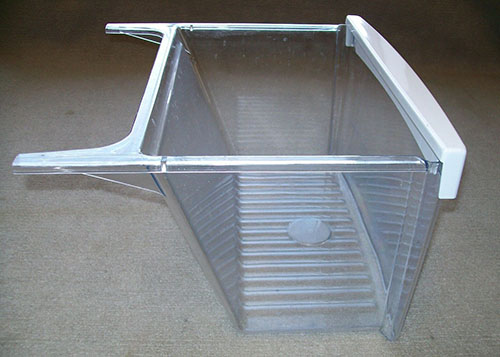 Refrigerator Meat Drawer Pan
Product: Refrigerator Fresh Meat Drawer Pan
Part Number: WR32X10835
Replace Parts: WR32X10131 1812381 AP4981597 PS3487933 EAP3487933
Fits Brands: GE Hotpoint Americana RCA
Fits Refrigerator Models
This refrigerator meat pan part works for the following GE Hotpoint Americana RCA models.
GSH25JGDBBB BSS25JFRFWW GSH25KGPCBB ESS22XGMDBB GSA22KBPCFWW GSE22KEBBFWW GSE22KEWAFSS GSF25IGZDWW GSG22KEPAFBB GSH22JFPCCC GSH22JFRIBB GSH22JGCBBB GSH22JSTBSS GSH25JFTCCC GSH25KGMDBB GSL22JFXNLB GSS22IBMACC GSS22IBTJCC GSS22JEPDCC GSS22JETNWW GSS22KGPJWW GSS22QFMBWW GSS22UFPCBB GSS22VGMCCC GSS22WGMCBB GST22IBMDCC GST25IFPCCC GST25IFPECC ESL25JFWFBS GSH22JFZBWW GSH25JFRHBB GSH25KGRBCC GSS22JEMABB GSS22SGRFSS GSS25JEMAWW GSS25JEPHCC GSS25JFMDCC GSS25KGMAWW GSS25KGPJWW GSS25QGMDWW GSS25UFMCBB GSS25UFPCBB PSA22SIMCFBS PSA22SIMDFBS SSS25KFMAWW HSH22IFTEWW HSM25IFTESA HSS22IFMDCC HST22IFMACC HST22IFPAWW HSS25IFMDCC and more.
Compare Best Prices
The item number is WR32X10835. View the refrigerator meat pan item description, item condition, shipping & checkout options, return & warranty services, and compare lowest prices on eBay below.