Buy refrigerator meat drawer fits GE Hotpoint Americana RCA GSE25ETHDCC GSH22JSCESS GSS22VGMACC GSH25KGREBB GSS25KGPACC PSA22MIMCFBB RSG25KEPDFWW and more.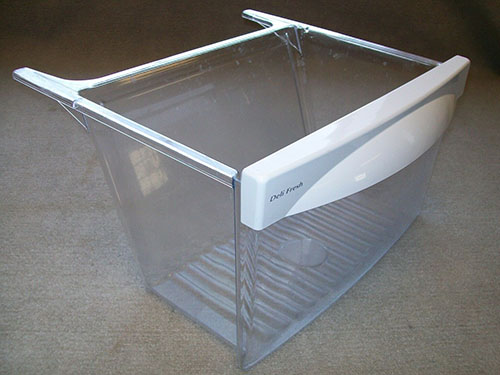 Refrigerator Meat Pan Drawer
Product: Refrigerator Fresh Meat Drawer Pan
Part Number: WR32X10835
Replace Parts: WR32X10131 1812381 AP4981597 PS3487933 EAP3487933
Fits Brands: GE Hotpoint Americana RCA
Fits Refrigerator Models
This refrigerator fresh meat pan part works for the following GE Hotpoint Americana RCA models.
GSS25ETHBBB BSS25GFPECC BSY25GFMCCC ESS22XGMABB ESS25XGMACC GSE22ETHDWW GSE22KEWHFSS GSG22KBMCFBB GSG22KEPAFWW GSG25IESAFWW GSH22JFTEBB GSH22JGDCCC GSH22KGMBCC GSH25JFTBCC GSH25JGCBWW GSL22JFXKLB GSS22IBMACC GSS22JEBBBB GSS22JEREWW GSS22JETNCC GSS22KGMCCC GSS22QGMCWW GSS22UFMBCC GSS22VFPJWW GSS22WGMACC GST22JEMCWW GST22JEPDWW GST25IFPDWW GSG25MIPCFBB GSH22KGMCAA GSH25JFRHWW GSH25JSTFSS GSS22IBPAWW GSS22QGMDWW GSS25IFPEBB GSS25JETAWW GSS25JETNCC GSS25JFPHCC GSS25KGPHCC GSS25QFMDWW GSS25SGRBSS GSS25UFPEWW GSS25VGMACC PSA22SIREFSS SSS25KFPDWW HSH22IFTACC HSS22GFTGWW HSS22IFPDCC HSS25GFTNBB HST25IFMCWW RSG22IBMDFWW and more.
Compare Best Prices
Shop Now! Your right part number is WR32X10835. See the refrigerator meat pan drawer item description, shipping & payment methods, return & warranty services, and compare best prices on eBay here.