Buy Best Price WP71001799 Jenn-Air Oven Control BoardParts. Suits for SVD48600WC SVE47600WC SVD48600W SVE87600W SCE30600WC SVD48600B SCE70600B W30400WC W30400PF SVE47600B SVD48600BC SVE87600B W30400BC home appliance parts and others. 100% Customer Satisfaction Guarantee!
WP71001799 Jenn-Air Oven Control Board
Part No: WP71001799
Replacement Part No: AP6010674 71001799R 71001799 695128 EAP11743858 PS11743858
Fits Brands: Whirlpool, Jenn-Air
Product or Service Type: Range/Oven Electronic Board Replacement Parts, Electronic Oven Clock Control Board Assembly
Fits Appliance Type: Electric Slide-In Range, Dual-Fuel Slide-In Range, Electric Wall Oven
Item Price: See more descriptions and Check the Latest Price Below.
Fits Range/Oven Models:
Check the right product. The WP71001799 Jenn-Air Oven Control Board fits the following models. Hit Ctrl-F to check your specific model as you see.
WM27460W SVE87600W W30400BC W30400B W30400PU SVE47500B W30400PK SVD48600BC WM27460B W30400PC W30400PG W30400WC W30400PV SVD48600B SVE87600B SCE70600B W30400W SCE30600WC SCE30600W SCE30600BC SVE47600W WM30460W SVE47500W W27400B W30400PR W30400PF SCE70600W SVE47600B SVD48600W W27400W SCE30600B SVD48600WC SVE47600WC W30400P SVE47600BC WM30460B and more.
Compare Best Prices – WP71001799 Control Board
Study how to replace a repair part for your appliance. See more product descriptions, item conditions, shipping & handling information, parts warranty, and payment available options. There are a number of sellers offering this part at the store online. You can check the best prices below.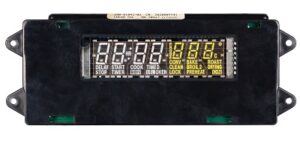 ==> Click Here to Check the Lowest Prices Today! <==
More Oven Control Boards on eBay
There are many diffent types of range/oven electronic circuit control board parts of other brands, covering Frigidaire, Maytag, Kenmore, Samsung, LG, and more. Find the part that fits with your appliance and check the lowest prices below.
019089000 Viking Control Unit Board Oven Range Part 019089-000
316272204 Clock Timer Control Board Frigidaire Range Oven
316557115 Frigidaire Oven Control board 5304509493
5304518661 Frigidaire Oven Electronic Main Control Board
Amana Range Oven Clock & Overlay 12002795 202052 31-315568-07-0 ASMN
Dacor Built-In Oven Control Board Main PCB # 111782 DE92-03960M
EBR80595701 | LG OVEN RANGE PCB ASSEMBLY POWER BOARD
Electrolux 5304518660 Frigidaire Oven Range Main Control Board
ES105 Oven Range Stove Clock Timer Control Board Fits Kenmore Sears 316455420
Frigidaire 316557115 Oven Control Board 5304509493 316418200
Frigidaire FCRG3052ASC Oven Electronic Control Board (A12736408) 5304521341
Frigidaire Range Oven, Control Board # 316207507 316220805
Frigidaire Single Wall Oven 27″ Control Panel Only 318274413 3182659
GE 183D8193P002 Oven Range 032941671 Control Board RET90XP002CN-AB
GE Built-In Oven Board # WB27T11407 191D5679G006 WB27T11232 BSQ
GE Double Oven, Control Board # WB27T10430 191D3675P003
GE General Electric Oven Range Control Board WB27T11311
GE Oven Electronic Control Board – Part # WB27T10467, 191D3776P002
GE Range Oven Control Board Part # 191D3776P008/ WB27T10817
KitchenAid Range Oven Electronic Control Board 4448871
LG Range Oven Circuit Control Board EBR60969201
Maytag Range Control Board # 8507P208-60 74008655
Range Oven Electronic Control Board 316455430 316455520 for Frigidaire
SAMSUNG Range Oven, Touch Panel Assy # DG34-00043A DE94-03926B
Thermador Bosch Oven Range Control Board P# 12022212
and more.
>> Check Prices on eBay HERE! <<
Other Home Appliance Information
On the Internet, many sellers offer a number of appliance parts, such as Whirlpool Washer Drive Motor, Whirlpool Refrigerator Control Board Replacement, LG Refrigerator Compressor Replacement, and Whirlpool Dishwasher Pump Assembly, also including the WP71001799 Jenn-Air Oven Control Board assembly parts.
For other famous appliance brands, for example, Whirlpool, you can view its products, parts, and services on the store online.
Other Replacement Parts:
Need support now? In addition to the WP71001799 Jenn-Air Oven Control Board replacement parts, please do not hesitate to contact us if you can not find the compatible item for your appliance model. We will check the part and respond to you ASAP. Fix-It Today!