Get Best Price Whirlpool W10586737 Range Oven Control Board Replacement Assembly Parts. Fits W10586737 4448642 W10349740 PS11756564 AP6023223 EAP11756564 WPW10349740 assembly parts and more. Shop Here!
Whirlpool W10586737 Range Oven Control Board
Part Number: Whirlpool W10586737
Replacement Parts: W10349740 WPW10349740 PS11756564 W10586737 AP6023223 EAP11756564 4448642
Fits Brands: Whirlpool
Product or Service Type: Range Oven Replacement Parts, Electronic Circuit PCB Control Board Assembly Parts
Item Price: View more product descriptions and Check the Latest Price Below.
==> Click Here to Compare the Lowest Prices Today! <==
Fits Models:
The Whirlpool W10586737 Range Oven Control Board fits the following models. Hit Ctrl-F to find your appliance model shown below.
WFE540H0EE0 YWFE540H0EE0 YWFE540H0AS0 YWFE540H0BW1 WFE540H0EW1 WFE540H0AB1 YWFE540H0AB0 YWFE540H0EB0 YWFE540H0ES1 WFE540H0EB0 WFE540H0EH0 YWFE540H0EH0 WFE540H0ES2 WFE540H0EB1 WFE540H0AE1 WFE540H0EE1 YWFE540H0BS1 YWFE540H0AW0 WFE540H0ES0 YWFE540H0BW0 WFE540H0EW0 WFE540H0AH1 YWFE540H0ES0 YWFE540H0BB0 YWFE540H0EW0 WFE540H0ES1 WFE540H0EH1 WFE540H0AB0 WFE540H0AH0 YWFE540H0BS0 WFE540H0AW1 WFE540H0AE0 YWFE540H0BB1 WFE540H0AW0 WFE540H0AS1 WFE540H0AS0
Compare Best Deals
Learn how to test and fix a replacement part for your appliance. View features more product descriptions, item conditions (new, pre-owned, or refurbished), delivery options, returns and customer satisfaction policy, and payment available options. Many sellers promote this new or used part online. Please check the lowest prices below.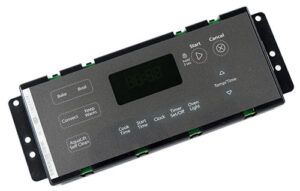 ==> Click Here to Check Best Prices on eBay TODAY! <==
More Information
On the Internet, many sellers promote a wide range of appliance parts, e.g. Kenmore Refrigerator Defrost Control Board, How to Replace Dacor Oven Relay Board, Whirlpool Side-By-Side Refrigerator Control Board, and GE Dishwasher Control Board Cost, also including the Whirlpool W10586737 Range Oven Control Board.
For more famous home appliance brands, e.g. KitchenAid, you are able to see its products, and services on its website.
More Replacement Parts:
Do you need help? Please feel free to contact us if you have any problems with finding the compatible part for your model. We will find the part and respond to you as soon as possible. Many Thanks.