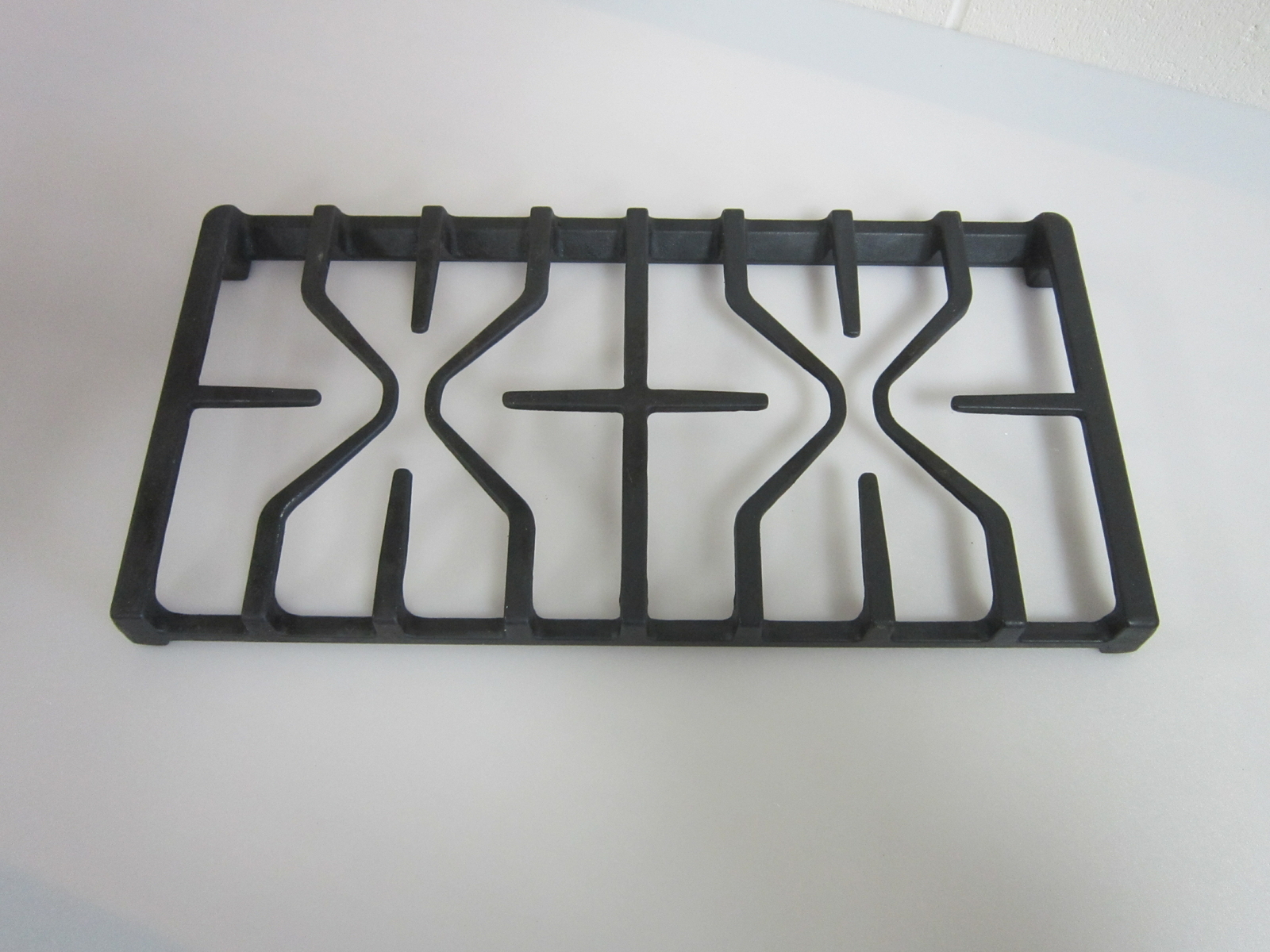 GE Oven Range Cooktop Burner Grate WB31X24736
Product: GE JGBS66REK3SS Oven Grate WB31X24736
Part Number: WB31X24736
Replaces Parts: 4324968 AP5986290 PS11726688 EAP11726688
Fits Brands: GE, Hotpoint
Item Location: Lansing, Michigan, United States
Return Policy: Free 30 day returns
Condition: Used
Price: US $79.95 Check Latest Price on eBay
Fits Stove Models:
This range cooktop burner grate WB31X24736 product fits the following GE and Hotpoint gas range models. Use Ctrl+F to find your specific model listed below.
JGB660DEJ1BB JGB660DEJ1WW JGB660DEJ2BB JGB660DEJ2WW JGB660DEJ3BB JGB660DEJ3WW JGB660DEJ4BB JGB660DEJ4WW JGB660EEJ1ES JGB660EEJ2ES JGB660EEJ3ES JGB660EEJ4ES JGB660FEJ1DS JGB660SEJ1SS JGB660SEJ2SS JGB660SEJ3SS JGB660SEJ4SS JGB700BEJ1TS JGB700DEJ1BB JGB700DEJ1WW JGB700DEJ2BB JGB700DEJ2WW JGB700DEJ3BB JGB700DEJ3WW JGB700DEJ4BB JGB700DEJ4WW JGB700EEJ1ES JGB700EEJ2ES JGB700EEJ3ES JGB700EEJ4ES JGB700FEJ1DS JGB700SEJ1SS JGB700SEJ2SS JGB700SEJ3SS JGB700SEJ4SS JGB720BEJ1TS JGB720DEJ1BB JGB720DEJ1WW JGB720DEJ2BB JGB720DEJ2WW JGB720EEJ1ES JGB720EEJ2ES JGB720EEJ3ES JGB720EEJ4ES JGB720FEJ1DS JGB720SEJ1SS JGB720SEJ2SS JGB720SEJ3SS JGB720SEJ4SS JGB860DEJ1BB JGB860DEJ1WW JGB860EEJ1ES JGB860SEJ1SS JGBS66DEK1BB JGBS66DEK1WW JGBS66DEK2BB JGBS66DEK2WW JGBS66DEK3BB JGBS66DEK3WW JGBS66EEK1ES JGBS66EEK2ES JGBS66EEK3ES JGBS66REK1SS JGBS66REK2SS JGBS66REK3SS
P2B940SEJ1SS P2B940SEJ2SS P2B940SEJ3SS P2B940SEJ4SS P2B940SEJ5SS PGB911BEJ1TS PGB911DEJ1BB PGB911DEJ1WW PGB911DEJ2BB PGB911DEJ2WW PGB911DEJ3BB PGB911DEJ3WW PGB911EEJ1ES PGB911EEJ2ES PGB911EEJ3ES PGB911EEJ4ES PGB911FEJ1DS PGB911SEJ1SS PGB911SEJ2SS PGB911SEJ3SS PGB911SEJ4SS PGB911ZEJ1SS PGB911ZEJ2SS PGB911ZEJ3SS PGB911ZEJ4SS PGB930SEJ1SS PGB930SEJ2SS PGB930SEJ3SS PGB930SEJ4SS PGB930SEJ5SS PGB940SEJ1SS PGB940SEJ2SS PGB940SEJ3SS PGB940SEJ4SS PGB940SEJ5SS PGB940ZEJ1SS PGB940ZEJ2SS PGB940ZEJ3SS PGB960BEJ1TS PGB960EEJ1ES PGB960EEJ2ES PGB960EEJ3ES PGB960EEJ4ES PGB960FEJ1DS PGB960SEJ1SS PGB960SEJ2SS PGB960SEJ3SS PGB960SEJ4SS PGB980ZEJ1SS PGB980ZEJ2SS PGB980ZEJ3SS PGB980ZEJ4SS PGB980ZEJ5SS and more.
Compare Lowest Price
Read more stove cooking burner grate product information, shipping & payment options, return & warranty policy, and Compare Lowest Price on eBay HERE!