Compare Price Oven Stove Control Board for Crosley Frigidaire Kenmore Tappan CRG3150LBA CRG3160GQQB FGF328FBA FGF337ASL 79075193301 Buy Here!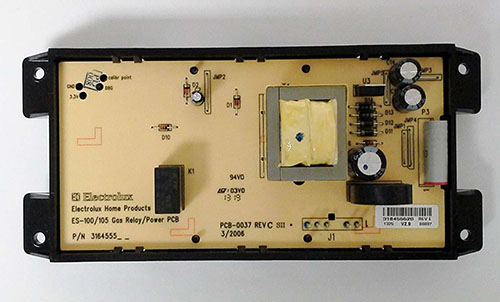 Oven Stove Control Board Repair
Product: Oven Range Stove Circuit Control Board PCB Assembly
Part Number: 316455410
Replace Parts: 316222800 316222802 316222802R 316455410 5304427745
Fits Brands: Crosley Frigidaire Kenmore Tappan White-Westinghouse
Fits Oven Models:
This product 316455410 fits the following Crosley Frigidaire Kenmore Tappan White-Westinghouse oven stove models. Use Ctrl+F to find your specific model below.
CRG3140GWBB CRG3140GWWE CRG3150LBB CRG3150LQE CRG3150PSA CRG3150PWD CRG3160GQQA CRG3160GWWF CRP3160GQQB LFGF3052TFC CFGF337ESC FFGF3011LBA FFGF3011LBH FFGF3011LWJ FFGF3013LWC FFGF3013ZWA FFGF3015LMG FFGF3015LWD FFGF3016TWB FFGF3017LBH FFGF3019LBB FFGF3019LBD FFGF3047LSG FFGF3049LSK FFGF3052TSB FFLF3047LSB FGF319KSA FGF326ASG FGF326AUF FGF326FSA FGF328FMA FGF328GBG FGF328GMG FGF337ABA FGF337ABJ FGF337AUD FGF337AUF FGF337BCG FGF337EBA FGF337EWD FGF337GCG FGF337GSG FGF337GUB FGF348KCB FGF348KCM FGF348KSF FGF348KSG FGFS36FWC FGFS36FWF FLF337AUH FLF337ECJ FLF337ECM FLF337EWC LFGF3014LBC 79070419501 79071412400 79071412404 79071421401 79071441600 79071512400 79071514401 79071521403 79071523403 79071523405 79071551600 79075193301 TGF320DWC TGF336AUA TGF336AUG TGF336AWH TGF351RBC TGFS26CQC and more.
Compare Lowest Price
IMPORTANT! Your part number is 316455410. See more Stove Oven 33003028 Circuit Board part information, shipping & payment methods, return & warranty policy, and Compare Best Prices on eBay HERE!
Other Appliance Parts: