Shop for Oven Circuit Board for Crosley Frigidaire Kenmore Tappan CRG3150LWA CRGE3455TSA FFLF3047LSC FGF337ABA FLF337AWC and more.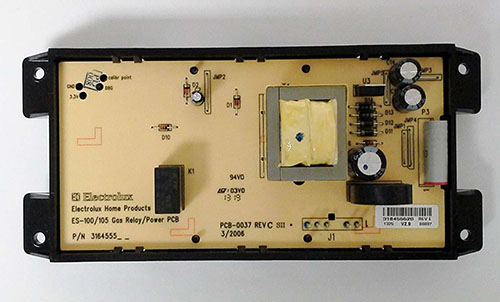 Oven Stove Electronic Control Board
Product: Oven Range Stove Circuit Control Board PCB Assembly
Part Number: 316455410
Replace Parts: 316222800 316222802 316222802R 316455410 5304427745
Fits Brands: Crosley Frigidaire Kenmore Tappan White-Westinghouse
Fits Oven Models:
This part 316455410 fits the following Crosley Frigidaire Kenmore Tappan oven stove models. Use Ctrl+F to find your specific model below.
CRG3140GBBG CRG3140GWBC CRG3140GWWD CRG3150LBD CRG3150LWB CRG3150PBD CRG3150PWD CRG3160GQQB CRG3180LWA CRP3160GQQB FFGF3012TBD CFGF337ESD CFGF337GSD FFGF3011LWB FFGF3012TBB FFGF3013LWC FFGF3013ZWC FFGF3015LMC FFGF3015LWE FFGF3016TWB FFGF3017LSG FFGF3017LWG FFGF3019LBE FFGF3047LSD FFGF3051TWA FFGF3052TSC FFLF3047LSC FGF319KBA FGF326ASA FGF326AWA FGF326KBA FGF328GBA FGF328GMA FGF328GSA FGF337ABH FGF337AUD FGF337AWE FGF337BCF FGF337EBA FGF337EUD FGF337GBF FGF337GUA FGF337GUE FGF345GSD FGF348KCH FGF348KMB FGFB337GCC FGFS36FWD FLF326ASA FLF337AUD FLF337ECH FLF337ECM FLF337EUK FLF345HSA 79071410400 79071412400 79071420402 79071421404 79071451600 79071512400 79071513400 79071520401 79071522401 79071524403 79071533401 TGF320DWA TGF328GSC TGF336AUA TGF336AWC TGF336FSB TGF336FWE and more.
Compare Lowest Price
SHOP NOW! Your part number is 316455410. See more Oven 33003028 Main Control Board product description, item location, shipping & payment methods, and Compare Best Prices on eBay HERE!