Get the Best Deals! – Samsung Refrigerator Defrost Heater DA47-00322J, Defrost Thermostat Assembly replacement parts. It fits Samsung RS25H5111WW/AA-02 RS263TDWP/XAA RS25H5121SR/AA-02 RS25H5111SG/AA-01 RS263TDRS/XAA RS267TDBPXAA0000 RS265TDBP/XAA-01 RS25H5111WW/AA-01 side-by-side refrigerator models and more.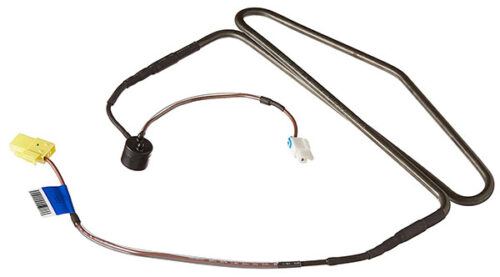 Samsung Refrigerator Defrost Heater DA47-00322J
Part Number: DA47-00322J
Replacement Parts: 2997730 AP5588402 EAP4140683 PS4140683
Fits Brands: Samsung
Product Type: Fridge Refrigerator Defrost Heater & Defrost Thermostat Assembly Replacement Parts
Price: US $65.00
Check your model and compare the lowest prices below.
Fits Samsung Models:
This Defrost Heater DA47-00322J assembly replacement part fits the following Samsung 24.7 Cu. Ft. Side-By-Side Refrigerator, 24.5 Cu. Ft. Side-By-Side Refrigerator, 26 Cu. Ft. Side By Side Refrigerator, 25.5 Cu Ft Side-By-Side Refrigerator models, and more. Hit Ctrol+F to check your model number listed below.
RH25H5611BC/AA-00 RH25H5611BC/AA-01 RH25H5611BC/AA-02 RH25H5611SG/AA-00 RH25H5611SG/AA-01 RH25H5611SR/AA-00 RH25H5611SR/AA-01 RH25H5611SR/AA-02 RH25H5611SR/AA-03 RH25H5611WW/AA-00 RH25H5611WW/AA-01 RH25H5611WW/AA-02 RH25H5611WW/AA-03 RS25H5111BC/AA-00 RS25H5111BC/AA-01 RS25H5111BC/AA-02 RS25H5111SG/AA-00 RS25H5111SG/AA-01 RS25H5111SG/AA-02 RS25H5111SG/AA-03 RS25H5111SR/AA-00 RS25H5111SR/AA-01 RS25H5111SR/AA-02 RS25H5111SR/AA-03 RS25H5111SR/AA-04 RS25H5111WW/AA-00 RS25H5111WW/AA-01 RS25H5111WW/AA-02 RS25H5111WW/AA-03 RS25H5111WW/AA-04 RS25H5121BC/AA-00 RS25H5121SR/AA-00 RS25H5121SR/AA-01 RS25H5121SR/AA-02 RS25H5121WW/AA-00
RS263TDBP/XAA-01 RS263TDRS/XAA RS263TDWP/XAA RS265TDBP/XAA-00 RS265TDBP/XAA-01 RS265TDBP/XAA-02 RS265TDRS/XAA-00 RS265TDRS/XAA-01 RS265TDRS/XAA-02 RS265TDRS/XAA-03 RS265TDRS/XAA-IN01 RS265TDWP/XAA-00 RS265TDWP/XAA-01 RS267TDBP/XAA-00 RS267TDBPXAA0000 RS267TDPN/XAA-00 RS267TDRS/XAA-00 RS267TDRS/XAA-01 RS267TDRS/XAA-02 RS267TDRS/XAA-03 RS267TDWP/XAA-00 RS267TDWP/XAA-01
Compare Lowest Prices
There are many sellers selling this part on the market online. Check your appliance model, find the correct part, view shipping information, item condition, and returns & refund policy. You can ==> Click Here to Compare the Lowest Price on eBay.
More Information
Instead of the Samsung Refrigerator Defrost Heater DA47-00322J replacement part, you can see more products, accessories, and services on the Samsung website or view more Samsung appliance parts here. If you have any problem, please do not hesitate to contact us by leaving your comment at the box below at any time. All the best!
Related Parts:
Whirlpool Refrigerator Defrost Heater 61001846 – Fits NDNS229JH/8L38A NDNS229JH/8N44A NENS207G/7L31A NENS207GA/7L31A NENS207GH/7L31A NENS208GZA/7L32A NENS208GZH/7L32A NENS208GZW/7L32A NENS227F/5M50B NENS227FH/5M50B NENS227G/5N63A NENS227GA/5N63A models and more.
Samsung Refrigerator Defrost Heater DA47-00244U – Fits RF261BEAESR/AA-04 RF261BEAESR/AA-05 RF261BEAESR/AA-06 RF263BEAEBC/AA-03 RF263BEAEBC/AA-04 RF263BEAEBC/AA-05 RF263BEAEBC/AA-06 RF263BEAEBC/AA-07 and more.