Cheap Price Frigidaire Refrigerator Freezer Fridge Door Handle Assembly 241977901. Fits FGHT2042TF1 FGUI2149LR1 FGHT2144KF2 CGTR1825SF3A FGHI2164QF0 FGHT2144PF0 FGHT2042TF0 LGHT2046QF0 models and more. Customer Satisfaction Guarantee on eBay!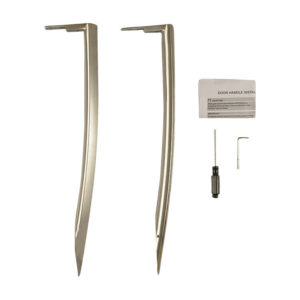 Frigidaire Refrigerator Freezer Fridge Door Handle 241977901
Product: Electrolux 241977901 HANDLE KIT STAINLESS NEW GENUINE
Type: Fridge Door Handle
Item Location: US, United States
Ship To: United States
Policy: 60-day returns. Buyer pays for return shipping
Condition: New
Price: US $131.38
Read more details and Save Today on eBay Here! or Get Lowest Price Below.
Fits Frigidaire Refrigerator Models:
The Fridge Door Handle 241977901 assembly part fits the following Frigidaire models. Use Ctrl-F to find your specific model below.
CGHT1846MF2 CGHT1846MF4 CGHT1846MF5 CGHT1846PF0 CGTR1825SF0 CGTR1825SF1 CGTR1825SF2 CGTR1825SF3A CGTR1825SF4A DGHT1844KF1 DGHT1844KF2 DGHT1844KF4 DGHT1844KF5 DGHT1844KF7 DGHT1844KF8 DGHT1844KR0 DGHT1844KR2 DGHT1844KR4 DGHT1844KR5 DGHT1844KR7 DGHT1844KR8 DGHT1844PF0 DGHT1844PF1 DGHT2144KF0 DGHT2144KF3 DGHT2144KF4 DGHT2144KR0 DGHT2144KR1 DGHT2144KR3 DGHT2144KR4 FGHI1864QF0 FGHI1865SF0 FGHI1865SF4 FGHI1865SF5 FGHI2164QF0 FGHI2164QF1 FGHI2164QF3 FGHI2164QF5 FGHI2164TF0 FGHT1832PF0 FGHT1832PF1 FGHT1832PF2 FGHT1832PF3 FGHT1832PF4 FGHT1832PF5 FGHT1835SF0 FGHT1835SF1 FGHT1837TF0 FGHT1842TF0 FGHT1844KF0 FGHT1844KF1 FGHT1844KF2 FGHT1844KF4 FGHT1844KF5 FGHT1844KF6 FGHT1844KF7 FGHT1844KF8 FGHT1844KR0 FGHT1844KR1 FGHT1844KR2 FGHT1844KR4 FGHT1844KR5 FGHT1844KR6 FGHT1844KR7 FGHT1844KR8 FGHT1844PF0 FGHT1846KF0 FGHT1846KF1 FGHT1846KF2 FGHT1846KF4 FGHT1846KF5 FGHT1846KF7 FGHT1846KR0 FGHT1846KR1 FGHT1846KR2 FGHT1846KR4 FGHT1846KR5 FGHT1846KR7 FGHT1846PF0 FGHT1846QF0 FGHT1846QF1 FGHT1846QF3 FGHT1846QF4 FGHT1848PF0 FGHT1848PF1 FGHT1848PF2 FGHT1848PF3 FGHT1848PF4 FGHT1848PF5 FGHT2042TF0 FGHT2042TF1 FGHT2046QF0 FGHT2046QF1 FGHT2046QF3 FGHT2132PF0 FGHT2132PF1 FGHT2132PF2 FGHT2144KF0 FGHT2144KF1 FGHT2144KF2 FGHT2144KF3 FGHT2144KF4 FGHT2144KF5 FGHT2144KF6 FGHT2144KF7 FGHT2144KR0 FGHT2144KR1 FGHT2144KR2 FGHT2144KR3 FGHT2144KR4 FGHT2144KR5 FGHT2144KR6 FGHT2144KR7 FGHT2144PF0 FGHT2144PF1 FGHT2146KF0 FGHT2146KF1 FGHT2146KF2 FGHT2146KR0 FGHT2146KR1 FGHT2148PF0 FGTR1835QF0 FGTR1837TF0 FGTR1837TF1 FGTR1837TF2 FGTR1842TF0 FGTR1842TF1 FGTR1844QF0 FGTR1845QF0 FGTR1845QF1 FGTR1845QF2 FGTR1845QF3 FGTR2037TF0 FGTR2037TF1 FGTR2042TF0 FGTR2042TF1 FGTR2044QF1 FGTR2045QF1 FGTR2045QF2 FGTR2045QF4 FGTR2045QF5 FGUI1849LF0 FGUI1849LF1 FGUI1849LF2 FGUI1849LR0 FGUI1849LR1 FGUI1849LR2 FGUI1849PF0 FGUI2149LF0 FGUI2149LF1 FGUI2149LF2 FGUI2149LF3 FGUI2149LR0 FGUI2149LR1 FGUI2149LR2 FGUI2149LR3 FGUI2149PF0 FGUI2149PF1 LGHT1837NF1 LGHT1837NF3 LGHT1846QF0 LGHT1846QF1 LGHT1846QF4 LGHT2046QF0 LGHT2046QF1 LGHT2137NF0 LGHT2137NF1 LGHT2137NF2 LGHT2137NF3 LGHT2137NF4 LGHT2137NF5 LGHT2137NF6 LGTR1842TF0 LGTR2042TF0 LGUI1849LF0 LGUI1849LF1 LGUI1849LF2 LGUI1849LR0 LGUI1849LR1 LGUI1849LR2 LGUI2149LF0 LGUI2149LF1 LGUI2149LF2 LGUI2149LR0 LGUI2149LR1 LGUI2149LR2 MRTG23V9RF0 XGTI1845KF0 XGTI1845KR0 XGTI2145KF0 XGTI2145KR0
Compare Lowest Prices
Get more Fridge Door Handle 241977901 product description, item conditions, shipping information, return & refund policy, and shop on eBay HERE!

In addition to the fridge door handle 241977901, if you need any help with finding the right part for your appliance model, please write a message at the comment box below. We will search the part and get back to you soon. Thank you.
Related Refrigerator Door Handle Parts: