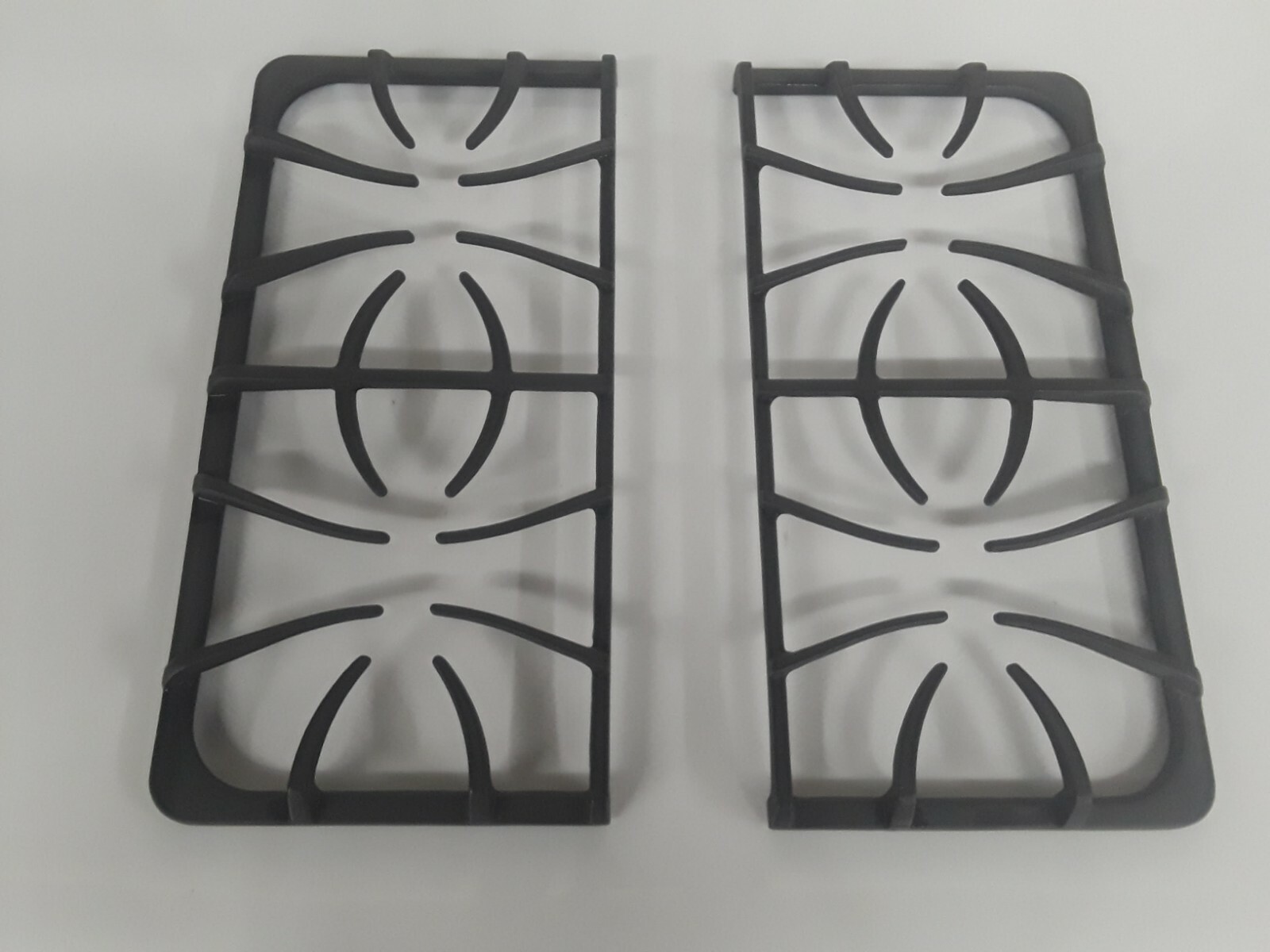 Frigidaire Range Cooking Burner Grate 318560460
Product: Frigidaire grate 318560460
Part Number: 318560460
Replaces Parts: 318560260
Fits Brands: Frigidaire
Item Location: Denver, Colorado, United States
Return Policy: 30 day returns. Buyer pays for return shipping
Condition: Open box
Price: Check Latest Price on eBay
Fits Range Models:
This oven cooktop burner grate 318560460 product fits the following Frigidaire gas range models. Use Ctrl+F to find your particular model listed below.
CFDS3035LS1 CFDS3035LS2 CFDS3035LS3 CFGS3035LS1 CFGS3035LS2 CFGS3035LS3 CGDS3065KB1 CGDS3065KB2 CGDS3065KF1 CGDS3065KF2 CGDS3065KF3 CGDS3065KF5 CGDS3065KF6 CGDS3065KF7 CGDS3065KW1 CGDS3065KW2 CGDS3065PFB CGDS3065PFC CGDS3065PFD CGDS3065PFG CGDS3065PFH CGDS3065PFJ CGDS3065PFK CGDS3065PFN CGDS3065PFP CGDS3065PFR
FFGS3025LBA FFGS3025LBB FFGS3025LBC FFGS3025LBD FFGS3025LBE FFGS3025LSA FFGS3025LSB FFGS3025LSC FFGS3025LSD FFGS3025LSE FFGS3025LWA FFGS3025LWB FFGS3025LWC FFGS3025LWD FFGS3025LWE FFGS3025PBA FFGS3025PBB FFGS3025PBC FFGS3025PBE FFGS3025PBF FFGS3025PBG FFGS3025PBH FFGS3025PBJ FFGS3025PSB FFGS3025PSC FFGS3025PSD FFGS3025PSE FFGS3025PSF FFGS3025PSG FFGS3025PSH FFGS3025PSJ FFGS3025PSK FFGS3025PWA FFGS3025PWB FFGS3025PWC FFGS3025PWE FFGS3025PWF FFGS3025PWG FFGS3025PWH FFGS3025PWJ
FGDS3065KBA FGDS3065KBB FGDS3065KBC FGDS3065KBE FGDS3065KBF FGDS3065KFA FGDS3065KFB FGDS3065KFC FGDS3065KFD FGDS3065KFE FGDS3065KFF FGDS3065KFG FGDS3065KWA FGDS3065KWB FGDS3065KWC FGDS3065KWD FGDS3065KWE FGDS3065KWF FGDS3065PFB FGDS3065PFC FGDS3065PFD FGDS3065PFE FGDS3065PFG FGDS3065PFH FGDS3065PFJ FGDS3065PFK FGDS3065PFM FGDS3065PFN FGDS3065PFP FGDS3065PFR FGDS3065PFS FGDS3075KBA FGDS3075KBB FGDS3075KBD FGDS3075KBE FGDS3075KWA FGDS3075KWB FGDS3075KWD FGDS3075KWE
FGGS3045KBA FGGS3045KBB FGGS3045KBC FGGS3045KBD FGGS3045KBE FGGS3045KFA FGGS3045KFB FGGS3045KFC FGGS3045KFD FGGS3045KWA FGGS3045KWB FGGS3045KWC FGGS3045KWD FGGS3045KWE FGGS3065KBA FGGS3065KBB FGGS3065KBC FGGS3065KBF FGGS3065KBG FGGS3065KBH FGGS3065KFA FGGS3065KFB FGGS3065KFC FGGS3065KFE FGGS3065KFF FGGS3065KFG FGGS3065KFH FGGS3065KWA FGGS3065KWB FGGS3065KWD FGGS3065KWE FGGS3065KWF FGGS3065KWH FGGS3065PBA FGGS3065PBC FGGS3065PBE FGGS3065PBF FGGS3065PBJ FGGS3065PBK FGGS3065PBM FGGS3065PBU FGGS3065PFA FGGS3065PFC FGGS3065PFD FGGS3065PFE FGGS3065PFF FGGS3065PFG FGGS3065PFH FGGS3065PFJ FGGS3065PFK FGGS3065PFM FGGS3065PFN FGGS3065PFP FGGS3065PFR FGGS3065PFS FGGS3065PFT FGGS3065PFU FGGS3065PWA FGGS3065PWC FGGS3065PWD FGGS3065PWE FGGS3065PWF FGGS3065PWG FGGS3065PWJ FGGS3065PWK FGGS3065PWM FGGS3065PWU FGGS3075KBA FGGS3075KBB FGGS3075KBD FGGS3075KBE FGGS3075KBF FGGS3075KWA FGGS3075KWB FGGS3075KWC FGGS3075KWE FGGS3075KWF LFGS3025PFA LFGS3025PFB LFGS3025PFC LFGS3025PFD LFGS3025PFF LFGS3025PFG LFGS3025PFH LFGS3025PFJ and more.
Compare Lowest Price
Read more range rangetop burner grate product information, shipping & payment methods, return & warranty services, and Check Best Price on eBay HERE!
More Burner Grate Parts:
If you need any help, please leave your message in the comment below. Thank you very much.