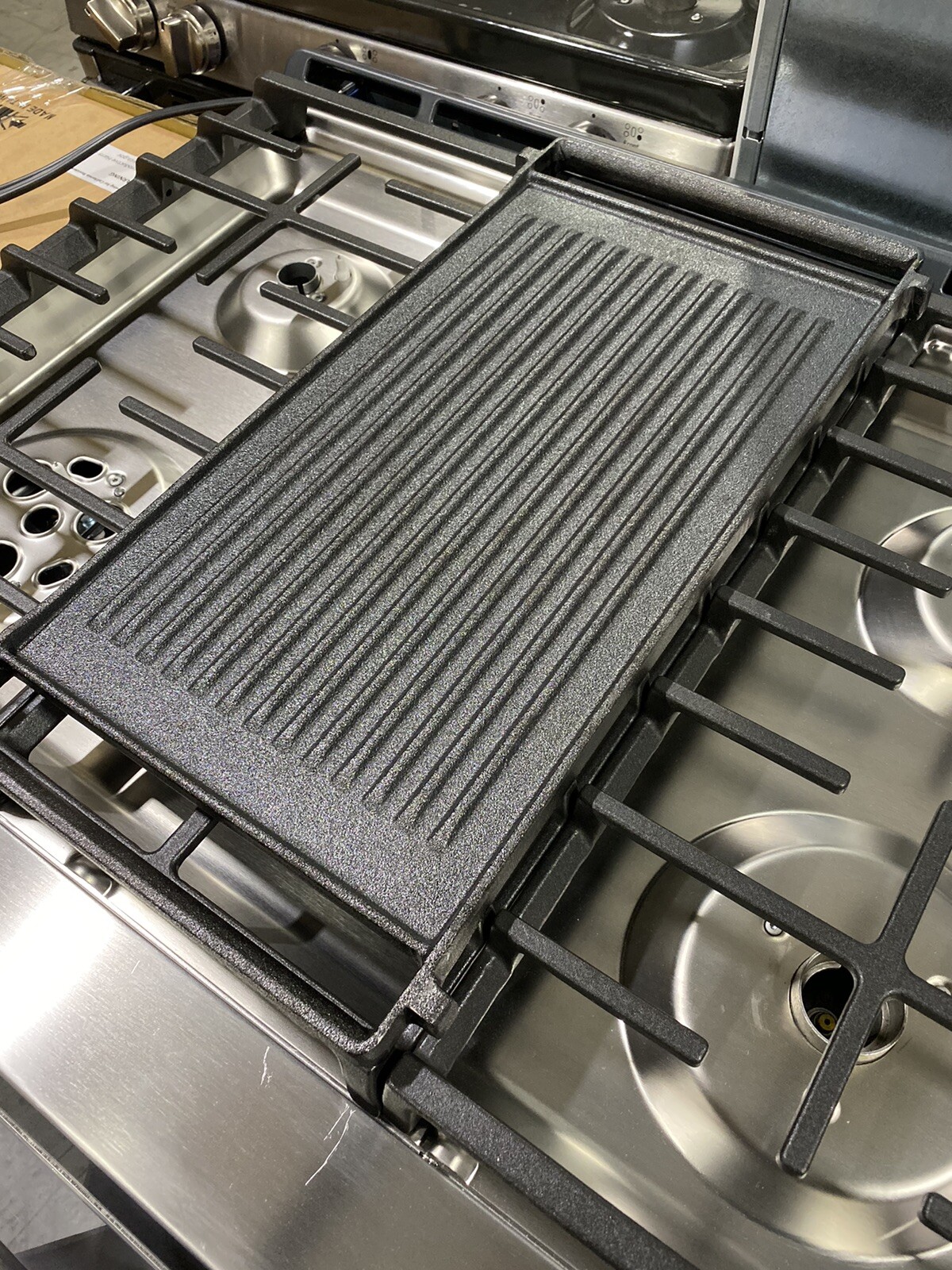 GE Oven Burner Griddle WB31X24998
Product: GE Profile Cooktop Reversible Grill/Griddle WB31X24998 For Gas Ranges
Type: Range Griddle Pan Top
Item Location: Kenosha, Wisconsin, United States
Return Policy: Seller does not accept returns
Condition: New
Price: US $84.00
Fits GE Range Oven Models:
This Range Griddle WB31X24998 product fits the following GE gas range models. Use Ctrl+F to find your appliance model below.
CGB500P3M1D1 CGB550P3M1D1 P2B940SEJ1SS P2B940SEJ2SS P2B940SEJ3SS P2B940SEJ4SS P2B940SEJ5SS P2S930SEL1SS P2S930SEL2SS PGB911BEJ1TS PGB911DEJ1BB PGB911DEJ1WW PGB911DEJ2BB PGB911DEJ2WW PGB911DEJ3BB PGB911DEJ3WW PGB911EEJ1ES PGB911EEJ2ES PGB911EEJ3ES PGB911EEJ4ES PGB911FEJ1DS PGB911SEJ1SS PGB911SEJ2SS PGB911SEJ3SS PGB911SEJ4SS PGB911ZEJ1SS PGB911ZEJ2SS PGB911ZEJ3SS PGB911ZEJ4SS PGB930SEJ1SS PGB930SEJ2SS PGB930SEJ3SS PGB930SEJ4SS PGB930SEJ5SS PGB940SEJ1SS PGB940SEJ2SS PGB940SEJ3SS PGB940SEJ4SS PGB940SEJ5SS PGB940ZEJ1SS PGB940ZEJ2SS PGB940ZEJ3SS PGB960BEJ1TS PGB960EEJ1ES PGB960EEJ2ES PGB960EEJ3ES PGB960EEJ4ES PGB960FEJ1DS PGB960SEJ1SS PGB960SEJ2SS PGB960SEJ3SS PGB960SEJ4SS PGB980ZEJ1SS PGB980ZEJ2SS PGB980ZEJ3SS PGB980ZEJ4SS PGB980ZEJ5SS PGS930BEL1TS PGS930BEL2TS PGS930EEL1ES PGS930FEL1DS PGS930FEL2DS PGS930SEL1SS PGS930SEL2SS PGS960BEL1TS PGS960BEL2TS PGS960EEL1ES PGS960EEL2ES PGS960FEL1DS PGS960FEL2DS PGS960SEL1SS PGS960SEL2SS
Compare Lowest Price
Read more Range Burner Griddle product details, shipping & payment methods, return & refund services, and Compare Latest Price on eBay HERE!