Best Deals new refrigerator meat pan for GE Hotpoint Americana RCA BSS25GFPACC GSG25MIPAFBB GSS22UFMCBB GSH25JSRISS GSS25SGMABS PSG22MIMCFWW RSG25KEPDFWW and more.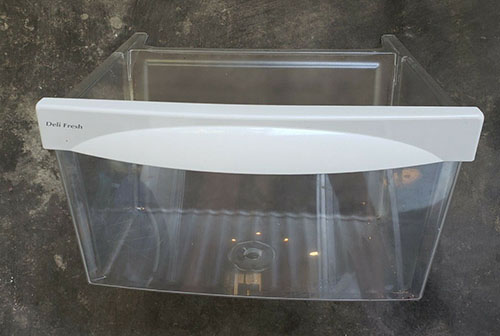 Refrigerator Meat Drawer
Product: Refrigerator Fresh Meat Drawer Pan
Part Number: WR32X10835
Replace Parts: WR32X10131 1812381 AP4981597
Fits Brands: GE Hotpoint Americana RCA
Fits Refrigerator Models
This refrigerator fresh meat drawer part fits the following GE Hotpoint Americana RCA models.
GSH25JGBBWW GSH25JSDBSS BSY25GFMCWW ESS22XGMDCC ESS25XGMDWW GSE22KETAFSS GSE22KEWNFWW GSF25IGZDBB GSG25IEMDFWW GSH22JFPCCC GSH22JFREBB GSH22JFXKWW GSH22KGPBWW GSH25GGCEWW GSH25JFXLWW GSL22JFXMLB GSL22QGPDBS GSS22JEBBWW GSS22JETECC GSS22JETFBB GSS22KGPHCC GSS22QGPABB GSS22SGPABS GSS22WGMABB GST22IBMACC GST22IBPCWW GST22KGPDCC GST25KGMBWW DSS25PFMDCC GSH22VGRBWW GSH25JFRGWW GSH25KGREBB GSS22JEMAWW GSS22KGPHBB GSS25JEMBWW GSS25JEPDCC GSS25JFMDCC GSS25JFPDWW GSS25KGPECC GSS25QGPHBB GSS25SGPASS GSS25VFPCWW PSA22MIPHFBB PSA22SIPDFSS PSG22MIPDFBB SSS25SGPCSS HSS22GFTGWW HSS22IFMDWW HSS25GFTHCC HST25IFPDCC HSS25GDMDWW and more.
Compare Best Prices
Order Now! The right item number is WR32X10835. View the refrigerator fresh meat pan product details, item location, delivery & payment options, return services & refund policy, and buy the product on eBay here.