Buy new refrigerator fresh meat pan drawer works for GE Hotpoint Americana RCA GSG22KBPAFWW GSH22KGRBCC GSS22UFPJCC GSL25IGXLLS GSS25JFPCWW HST22IFPHCC HSS25GDMDWW and more.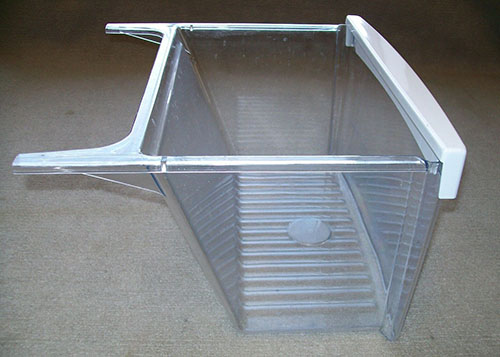 Refrigerator Meat Pan
Product: Refrigerator Fresh Meat Drawer Pan
Part Number: WR32X10835
Replace Parts: WR32X10131 1812381 AP4981597
Fits Brands: GE Hotpoint Americana RCA
Fits Refrigerator Models
This refrigerator fresh meat drawer part works for the following GE Hotpoint Americana RCA models.
GSH25JGDDWW BSS25GFPDCC BSS25JSTISS DSS25JFPEWW ESS25XGMCWW GSE22KEBBFWW GSE25ETHB CC GSG22KBMDFBB GSG22KBPCFBB GSG25IEPDFWW GSH22JFRHWW GSH22JGCBWW GSH22JSTBSS GSH25GGCBBB GSH25JGCBBB GSL22JGCELS GSL22QGPJBS GSS22IFREBB GSS22JETCWW GSS22JETNBB GSS22KGMBWW GSS22QGMDCC GSS22UFMCCC GSS22VFPHWW GSS22WGPEWW GST22JEMBCC GST22KGMBWW ESL25JFWABS GSH22JFZBCC GSH22KGRBWW GSH25JFRFWW GSH25KGREWW GSH25VGPDCC GSS25IFPAWW GSS25IFPDBB GSS25JEPEBB GSS25JETIWW GSS25KGMABB GSS25KGMDBB GSS25QGPBWW GSS25UFMCBB GSS25UFPHBB GSS25VGMCWW PSA22SIMDFBS SSL25KFPEBS HSH22IFTCBB HSS22GFTNWW HSS25GFTECC HSS25GFTIWW HST25IFPECC HSS25GDMDWW and more.
Compare Best Prices
Best Deals! The right part number is WR32X10835. Read the refrigerator meat pan drawer item information, item condition, delivery & payment options, return services & refund services, and compare lowest prices on eBay below.