Find genuine refrigerator meat pan drawer fits GE Hotpoint Americana RCA ESS22XGMABB GSG25MIMCFBB GSS22QGPACC GSH22KGMCCC GSS25JETNCC HST22IFMDCC RSG25KEPDFWW and more.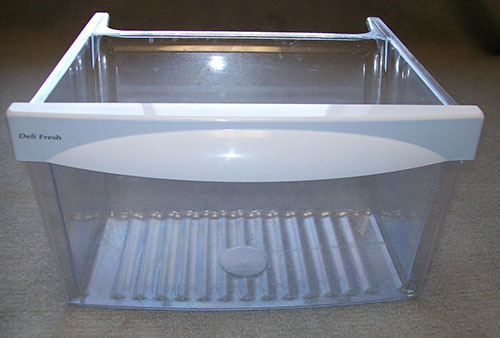 Refrigerator Meat Pan
Product: Refrigerator Fresh Meat Drawer Pan
Part Number: WR32X10835
Replace Parts: WR32X10131 1812381 AP4981597 EAP3487933
Fits Brands: GE Hotpoint Americana RCA
Fits Refrigerator Models
This refrigerator meat pan item fits the following GE Hotpoint Americana RCA models.
GSH25JGDDWW BSS25JFTCWW BSS25JFTNWW ESL22XGREBS ESS25XGMBWW GSE22KEBBFWW GSE22KEWJFSS GSG22KBMDFBB GSG22KEPCFBB GSG25MISAFBB GSH22JFXAWW GSH22JFXLCC GSH22KGPBCC GSH25GGCBBB GSH25JGBCWW GSL22JFTDBS GSS22IBPHCC GSS22IFPJBB GSS22JEPDBB GSS22JFPCCC GSS22JFPJCC GSS22QFMABB GSS22UFMBBB GSS22UFPCWW GSS22WGMCWW GST22IFPCCC GST22KGMAWW GST25IFPHWW DSS25PFMDWW GSH22SGRBSS GSH25JFPHCC GSH25KGMCBB GSL25JFXALB GSS22WGPJWW GSS25IFPJCC GSS25JERFBB GSS25JETDWW GSS25KGMAAA GSS25KGPECC GSS25QGPCWW GSS25SGPCBS GSS25UFPEWW PSA22MIPCFWW PSA22SIPHFBS SSL25KFPEBS SSS25KFPHWW HSM25IFTESA HSS25GDPCWW HSS25IFPCCC HST22IFMDWW HSS25GFPEWW and more.
Compare Best Prices
Best Deals! Your item number is WR32X10835. See the refrigerator meat pan item details, item condition, delivery & checkout methods, return & refund policy, and compare lowest prices on eBay here.