If the error code F-01 showing on the display, replacing the electronic control board could solve the problem. Looking for Kenmore Dryer Replacement Parts – Kenmore Dryer Control Board WPW10141671. Compatible with AP4310600 W10119241 1451295 W10141671R W10141671 PS1961223 EAP1961223 models and more. Shop low prices!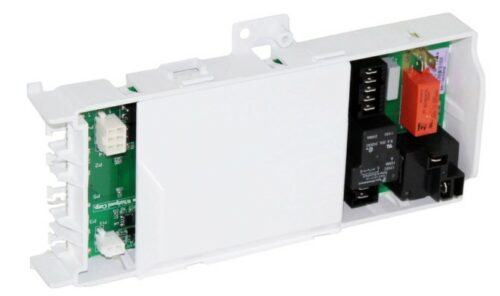 Kenmore Dryer Main Control Board WPW10141671
Part Number: WPW10141671
Replacement Parts: W10141671 AP4310600 W10119241 W10141671R EAP1961223 1451295 PS1961223
Fits Brands: Kenmore, Whirlpool
Item Type: Dryer Control Board Replacement Parts
Price: View more item descriptions and Check the Latest Price Below.
Fits Dryer Models:
Find the right appliance replacement part. This dryer control board WPW10141671 suits for the following Kenmore residential dryer and Whirlpool dual gas dryer models. Press Ctrl-F to check your appliance model as you see.
11097721700 11086762700 YWED9600TW0 WGD9600TU0 11087701700 YWED9600TB0 WED9500TC0 YWED9500TU0 11087709700 YWED9600TU0 11096762700 YWED9600TZ0 11086747700 WED9600TW0 WGD9600TZ0 11087729700 11096742700 11086742700 WGD9500TW0 WGD9500TU0 11087721700 11097731700 11097701700 WED9600TZ0 WGD9500TC0 WED9500TW0 WGD9600TB0 WED9600TB0 WED9600TA0 YWED9600TA0 WGD9600TA0 WED9600TU0 11097729700 WGD9600TW0 11097709700 11087731700
Compare Lowest Prices
Learn more Kenmore dryer control board WPW10141671 replacement part description, customer notes, item conditions (new, pre-owned, or refurbished), standard shipping information, returns & refund policy, and payment options. There are a number of sellers offering this new or used part on the market. Please view the prices below.
==> Click Here to Compare the Updated Prices Today! <==
Other Appliance Information
Moreover the WPW10141671 Kenmore dryer main control board assembly product, there are a number of home appliance parts promoted on the market, like Kenmore Elite HE3 dryer control board, oven control board, refrigerator water filter, dishwasher control panel, range replacement parts, affinity washer control board, and washer gearcase.
For more famous appliance brands, e.g. Inglis, you are able to view its products, accessories, and services on the store online.
More Kenmore Dryer Control Board Parts:
Let us help you! Please feel free to leave your content in the comment box if you have any problems with searching for the right item for your model. We will search for the part and respond to you ASAP. Many Thanks.