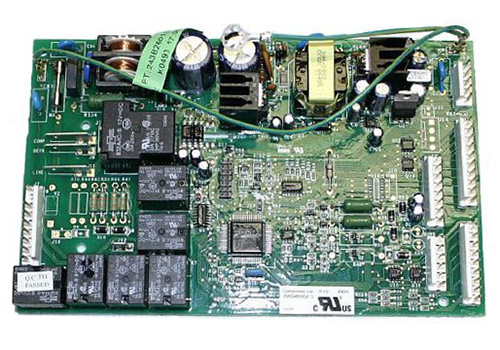 This is a genuine OEM home appliance replacement part, WR55X10942 electronic main control board or motherboard for GE refrigerators. It also fits Americana and Hotpoint fridges. This part fixes the following problems: refrigerator not start, freezer section too warm, fridge too warm, and clicking sound.
GE WR55X10942 Refrigerator Main Control Board
Product: Electronic Main Control Board or Motherboard for Refrigerator
Appliance Part: Refrigerator Replacement Parts
Part Number: WR55X10942
Symptoms: Fridge will not start, Freezer section too war, Fridge too warm, and Clicking sound.
Compatible Brands: GE Americana Hotpoint
Compatible Part Numbers:
4512753 200D2259G017 200D4850G022 200D4852G018 200D4854G008 200D4854G013 200D6221G013 AP6048447 EAP12069099 PS12069099
WR55X10024 WR55X10037 WR55X10045 WR55X10056 WR55X10056 WR55X10065 WR55X10079 WR55X10083 WR55X10086 WR55X10090 WR55X10097 WR55X10109 WR55X10110 WR55X10110 WR55X10151 WR55X10151 WR55X10160 WR55X10171 WR55X10174 WR55X10177 WR55X10187 WR55X10188 WR55X10210 WR55X10228 WR55X10289 WR55X10294 WR55X10297 WR55X10314 WR55X10328 WR55X10333 WR55X10335 WR55X10336 WR55X10339 WR55X10358 WR55X10366 WR55X10372 WR55X10379 WR55X10381 WR55X10385 WR55X10396 WR55X10413 WR55X10416 WR55X10426 WR55X10427 WR55X10432 WR55X10436 WR55X10456 WR55X10473 WR55X10474 WR55X10523 WR55X10524 WR55X10526 WR55X10529 WR55X10543 WR55X10552 WR55X10554 WR55X10558 WR55X10589 WR55X10597 WR55X10603 WR55X10606 WR55X10614 WR55X10616 WR55X10626 WR55X10656 WR55X10659 WR55X10699 WR55X10712 WR55X10715 WR55X10722 WR55X10942
Fits GE Refrigerator Models
This part fits the following GE refrigerator models:
GE Refrigerator B Series
GE Refrigerator D Series
GE Refrigerator M Series
GE Refrigerator N Series
GE Refrigerator P Series
GE Refrigerator Q Series
GE Refrigerator R Series
GE Refrigerator S Series
GE Refrigerator T Series
GE Refrigerator W Series
GE Refrigerator X Series
GE Refrigerator Y Series
GE Refrigerator Z Series
GE Side Refrigerator
GE Top-mount Refrigerator
GE Bottom Mount Refrigerator
Note: Use Ctrl+F to find your model.
GE Bottom Mount Refrigerators:
GBS20HBSCWW GBS20KBPABB GBS20KBPACC GBS20KBRBBB GBS20KBRBCC GBS20KBRBWW GBS20KBRCBB GBS20KBRCCC GBS20KBRCWW GBS20KBRDWW GBS22HBPABB GBS22HBPACC GBS22HBPAWW GBS22HBRABB GBS22HBRACC GBS22HBRAWW GBS22HBRBBB GBS22HBRBWW GBS22HBSCWW GBS22HCPABB GBS22HCPAWW GBS22HCRABB GBS22HCRACC GBS22HCRAWW GBS22HCRBBB GBS22HCRBCC GBS22HCRBWW GBS22KBPABB GBS22KBPACC GBS22KBPAWW GBS22KBRABB GBS22KBRACC GBS22KBRAWW GBS22KBRBBB GBS22KBRBCC GBS22KBRBWW GBS22KBSCCC GBS22KBSCWW GDL22KCWASS GDL22KCWCSS GDS20KBSABB GDS20KBSACC GDS20KBSAWW GDS20KBSCBB GDS20KBSCCC GDS20KBSCWW GDS20KCSBBB GDS20KCSCBS GDS20SCSASS GDS20SCSDSS GDS22KCWAWW GDS22KCWBWW
GE Refrigerators:
ESS25XGMCBB ESS25XGMCCC ESS25XGMCWW GSE26GGEBCCC GSE26GGEBCWW GSE26GSEBCSS GSE26GSEDCSS GSE26HGEBHBB GSE26HGEBHWW GSE26HMEBHES GSE26HMECHES GSE26HMEDHES GSE26HSEBHSS GSE26HSEDHSS GSH25KGMCAA GSH25KGMCCC GSH25KGMCWW GSH25KGMDBB GSHL6KGZCCLS GSHS6KGZCCSS GSS20DBMCCC GSS20DBMCWW GSS20IBMCCC GSS20IBMCWW GSS22IBMCCC GSS22IBMCWW GSS22JEMCBB GSS22JEMCCC GSS22JEMCWW GSS22JFMCCC GSS22JFMCWW GSS22KGMCAA GSS22KGMCBB GSS22KGMCCC GSS22KGMCWW GSS22QFMCBB
GE Refrigerator B Series:
GSHF6LGBBHBB GSHF6LGBBHWW GSHF6LGBCHBB GSHF6LGBCHWW GSS22JEBBBB GSS22JEBBCC GSS22JEBBWW
GE Refrigerator D Series:
GSHF6HGDBCBB GSHF6HGDBCCC GSHF6HGDBCWW
GE Refrigerator M Series:
BSY25GFMCCC BSY25GFMCWW BSY25GFMDCC BSY25GFMDWW DSS25PFMCCC DSS25PFMCWW ESS22XGMABB ESS22XGMACC ESS22XGMAWW ESS22XGMBBB ESS22XGMBCC ESS22XGMBWW ESS22XGMDBB ESS22XGMDCC ESS22XGMDWW ESS25LGMABB ESS25LGMAWW ESS25LGMBBB ESS25LGMBCC ESS25LGMBWW ESS25LGMEBB ESS25LGMECC ESS25LGMEWW ESS25LSMEBS ESS25SGMABS ESS25SGMBBS ESS25XGMABB ESS25XGMACC ESS25XGMAWW ESS25XGMBBB ESS25XGMBCC ESS25XGMBWW ESS25XGMDBB ESS25XGMDCC ESS25XGMDWW ETS22SBMBRBS ETS22XBMBRBB ETS22XBMBRCC ETS22XBMBRWW GSH22KGMAAA GSH22KGMABB GSH22KGMACC GSH22KGMAWW GSH22KGMBAA GSH22KGMBBB GSH22KGMBCC GSH22KGMBWW GSH25KGMAAA GSH25KGMABB GSH25KGMACC GSH25KGMAWW GSH25KGMBAA GSH25KGMBBB GSH25KGMBCC GSM20IEMCWW GSM20IEMDWW GSS20DBMACC GSS20DBMAWW GSS20DBMBCC GSS20DBMDCC GSS20DBMDWW GSS20IBMACC GSS20IBMAWW GSS20IBMBCC GSS20IBMBWW GSS20IBMDCC GSS20IBMDWW GSS20IEMAWW GSS20IEMBCC GSS20IEMBWH GSS20IEMDWH GSS22IBMACC GSS22IBMAWW GSS22IBMBCC GSS22IBMBWW GSS22IBMDCC GSS22IBMDWW GSS22JEMBBB GSS22JEMBCC GSS22JEMBWW GSS22JEMDBB GSS22JEMDCC GSS22JEMDWW GSS22JFMACC GSS22JFMAWW GSS22JFMBCC GSS22JFMBWW GSS22JFMDWW GSS22KGMAAA GSS22KGMABB GSS22KGMACC GSS22KGMAWW GSS22KGMBAA GSS22KGMBBB GSS22KGMBCC GSS22KGMBWW GSS22KGMDCC GSS22KGMDWW GSS22QFMABB GSS22QFMACC GSS22QFMAWW GSS22QFMBBB GSS22QFMBCC GSS22QFMBWW
GE Refrigerator N Series:
ESS25LGNABB ESS25LGNACC ESS25LGNAWW ESS25LSNABS
GE Refrigerator P Series:
BSS25GFPACC BSS25GFPAWW BSS25GFPCCC BSS25GFPCWW BSS25GFPDCC BSS25GFPDWW BSS25GFPECC BSS25GFPEWW BSS25GFPHCC BSS25GFPHWW DSS25JFPACC DSS25JFPAWW DSS25JFPCCC DSS25JFPCWW DSS25JFPDCC DSS25JFPDWW DSS25JFPECC DSS25JFPEWW DSS25JFPHCC DSS25JFPHWW DSS25JFPMCC DSS25JFPMWW DSS25LGPABB DSS25LGPACC DSS25LGPAWW DSS25LSPABS ESH22XGPABB ESH22XGPACC ESH22XGPBBB ESH22XGPBCC ESH22XGPBWW ESH22XGPCBB ESH22XGPCCC ESH22XGPCWW ESH22XGPDBB ESH22XGPDCC ESH22XGPDWW ESH25XGPABB ESH25XGPACC ESH25XGPAWW ESH25XGPCBB ESH25XGPCCC ESH25XGPCWW ESH25XGPDBB ESH25XGPDCC ESH25XGPDWW ESL22XGPCBS ESL22XGPDBS ESL25XGPABS ESL25XGPDBS ESS25LGPABB ESS25LGPACC ESS25LGPAWW ESS25LSPABS GBS22HCPACC GCR23UDPCWW GCR23UDPDWW GSC23LGPABB GSC23LGPACC GSC23LGPAWW GSH22JFPACC GSH22JFPAWW GSH22JFPBCC GSH22JFPBWW GSH22JFPCCC GSH22JFPCWW GSH22JFPDCC GSH22JFPDWW GSH22JFPHCC GSH22JFPHWW GSH22KGPABB GSH22KGPACC GSH22KGPAWW GSH22KGPBCC GSH22KGPBWW GSH22KGPCBB GSH22KGPCCC GSH22KGPCWW GSH22KGPDBB GSH22KGPDCC GSH22KGPDWW GSH25KGPABB GSH25KGPACC GSH25KGPCBB GSH25KGPCCC GSH25KGPCWW GSH25KGPDBB GSH25KGPDWW GSH25SGPDSS GSH25VGPABB GSH25VGPACC GSH25VGPAWW GSH25VGPCBB GSH25VGPCCC GSH25VGPCWW GSH25VGPDBB GSH25VGPDWW GSL22JFPDBS GSL22JFPHBS GSL22JFPJBS GSL22QGPDBS GSL22QGPHBS GSL22QGPJBS GSL22WGPDBS GSL22WGPEBS GSL22WGPHBS GSL22WGPJBS GSL25JFPBBS GSL25JFPCBS GSL25JFPDBS GSL25JFPHBS GSL25JFPJBS GSL25QGPDBS GSL25QGPHBS GSL25QGPJBS GSL25WGPABS GSL25WGPBBS GSL25WGPCBS GSL25WGPDBS GSL25WGPEBS GSL25WGPHBS GSL25WGPJBS GSR23YBPAWW GSS20DBPACC GSS20DBPAWW GSS20DBPCCC GSS20DBPCWW GSS20DBPDCC GSS20DBPDWW GSS20DBPHCC GSS20DBPHWW GSS20IBPACC GSS20IBPAWW GSS20IBPCCC GSS20IBPCWW GSS20IBPDCC GSS20IBPDWW GSS20IBPHCC GSS20IBPHWW GSS20IBPJCC GSS20IBPJWW GSS20IEPCWW GSS20IEPDBB GSS20IEPDCC GSS20IEPDWH GSS20IEPJBB GSS20IEPJCC GSS22IBPCCC GSS22IBPCWW GSS22IBPDCC GSS22IBPDWW GSS22IBPHCC GSS22IBPHWW GSS22IBPJCC GSS22IBPJWW GSS22IFPACC GSS22IFPAWW GSS22IFPCBB GSS22IFPCCC GSS22IFPCWW GSS22IFPDBB GSS22IFPDCC GSS22IFPDWW GSS22IFPHBB GSS22IFPHCC GSS22IFPHWW GSS22IFPJBB GSS22IFPJCC GSS22IFPJWW GSS22JEPABB GSS22JEPACC GSS22JEPAWW GSS22JEPDBB GSS22JEPDCC GSS22JEPDWW GSS22JEPHBB GSS22JEPHCC GSS22JEPHWW GSS22JEPJBB GSS22JEPJCC GSS22JEPJWW GSS22JFPACC GSS22JFPAWW GSS22JFPCBB GSS22JFPCCC GSS22JFPCWW GSS22JFPDBB GSS22JFPDCC GSS22JFPDWW GSS22JFPHBB GSS22JFPHCC GSS22JFPHWW GSS22JFPJBB GSS22JFPJCC GSS22JFPJWW GSS22JFPKBB GSS22JFPKWW GSS22KGPABB GSS22KGPACC GSS22KGPAWW GSS22KGPCBB GSS22KGPCCC GSS22KGPCWW GSS22KGPDBB GSS22KGPDCC GSS22KGPDWW GSS22KGPHCC GSS22KGPHWW GSS22KGPJBB GSS22KGPJCC GSS22KGPJWW
GE Refrigerator Q Series:
ESS25LSQASS GSC23LGQABB GSC23LGQACC GSC23LGQCBB GSC23LGQCCC GSC23LGQCWW
GE Refrigerator R Series:
BSS25JFRFWW DSS25KGRACC DSS25KGRAWW DSS25KGRBBB DSS25KGRBCC DSS25KGRBWW DSS25KGRCBB DSS25KGRCCC DSS25KGRCWW DSS25KGRDBB DSS25KGRDCC DSS25KGRDWW DSS25KGREBB DSS25KSRASS DSS25KSRBSS DSS25KSRCSS DSS25KSRESS ESF25LGRABB ESF25LGRACC ESF25LGRAWW ESF25LGRBBB ESF25LGRBCC ESF25LGRBWW ESF25LGRCBB ESF25LGRCCC ESF25LGRCWW ESF25LGRDBB ESF25LGRDCC ESF25LGRDWW ESF25LGREBB ESF25LGRECC ESF25LGREWW ESH22XGRBBB ESH22XGRBCC ESH22XGRBWW ESH22XGREBB ESH22XGRECC ESH22XGREWW ESH25XGRABB ESH25XGRACC ESH25XGRAWW ESH25XGRBBB ESH25XGRBCC ESH25XGRBWW ESH25XGREBB ESH25XGRECC ESH25XGREWW ESL22XGRBBS ESL22XGREBS ESL25XGRBBS ESL25XGREBS ESS25LSRBSS ESS25LSRCSS ESS25LSRDSS ESS25LSRESS GBS20KBRABB GBS20KBRACC GBS20KBRAWW GCL22KGRESV GCR23YLRBWW GCR23YLRCWW GCR23YLRDWW GSC21KGRABB GSC21KGRAWW GSC21KGRBBB GSC21KGRBWW GSC21KGRCBB GSC21KGRCWW GSC22KGRABB GSC22KGRAWW GSC22KGRCBB GSC22KGRCWW GSC22KGRDBB GSC22KGRDWW GSF25XGRABB GSF25XGRACC GSF25XGRAWW GSF25XGRCBB GSF25XGRCCC GSF25XGRCWW GSF25XGRDBB GSF25XGRDCC GSF25XGRDWW GSF25XGREBB GSF25XGRECC GSF25XGREWW GSH22JFREBB GSH22JFRECC GSH22JFREWW GSH22JFRHBB GSH22JFRHWW GSH22JFRIBB GSH22JFRIWW GSH22JSRJSS GSH22KGRBBB GSH22KGRBCC GSH22UFREWW GSH25IGRBCC GSH25IGRBWW GSH25JFRFWW GSH25JFRIWW GSH25JSRFSS GSH25KGRBBB GSH25KGRBCC GSH25KGRBWW GSH25SGRBSS GSH25SGRESS GSH25UFRFBB GSH25UFRFCC GSH25UFRFWW GSH25VGRBCC GSH25VGRBWW GSH25VGREWW GSL22JFREBS GSL25IFRJBS GSL25IGRBBS GSL25JFRIBS GSL25KGRBBS GSL25KGREBS GSS22IFREBB GSS22IFRECC GSS22IFREWW GSS22IFRFBB GSS22IFRFCC GSS22IFRFWW GSS22JEREBB GSS22JEREWW GSS22JERFBB GSS22JERFCC GSS22JERFWW
GE Refrigerator S Series:
DSF25MGSBBB DSF25MGSBWW DSS25MGSCBB DSS25MGSCWW DSS25MSSFSS DSS25MSSGSS DSS25MSSHSS ESL23XGSBBS ESL25XGSBBS ESL25XGSCBS ESS23SGSASS ESS23XGSABB ESS23XGSACC ESS23XGSAWW ESS23XGSBBB ESS23XGSBCC ESS23XGSBWW ESS25XGSABB ESS25XGSACC ESS25XGSAWW ESS25XGSBBB ESS25XGSBCC ESS25XGSBWW ESS25XGSCBB ESS25XGSCCC ESS25XGSCWW GBS20HBSAWW GBS20HBSBWW GBS22HBSAWW GBS22KBSABB GBS22KBSACC GBS22KBSBBB GBS22KBSBCC GBS22KBSBWW GDS20KBSBBB GDS20KBSBCC GDS20KCSABB GDS20SCSBSS GSL25KGSBBS GSL25KGSCBS GSL25WGSABS GSL25WGSBBS GSL25WGSCBS
GE Refrigerator T Series:
BSS25JFTAWW BSS25JFTBWW BSS25JFTCWW BSS25JFTDWW BSS25JFTEWW BSS25JFTGWW BSS25JFTHWW BSS25JFTIWW BSS25JFTJWW BSS25JFTNWW BSS25JSTASS BSS25JSTBSS BSS25JSTCSS BSS25JSTDSS BSS25JSTESS BSS25JSTGSS BSS25JSTHSS BSS25JSTISS BSS25JSTJSS BSS25JSTNSS DSS25KGTABB DSS25KGTAWW DSS25KGTBBB DSS25KGTBWW DSS25KSTASS DSS25KSTBSS ESF25KGTABB ESF25KGTACC ESF25KGTAWW ESF25KGTBBB ESF25KGTBCC ESF25KGTBWW ESS25KSTASS ESS25KSTBSS ESS25KSTFSS ESS25KSTISS ESS25KSTMSS GCL22QGTASV GCL22QGTGSV GSC22QGTABB GSC22QGTAWW GSC22QGTGBB GSC22QGTGWW GSC22QGTIBB GSC22QGTIWW GSC22QGTLBB GSC22QGTLWW GSC22QGTMBB GSC22QGTMWW GSC23KGTAWW GSC23KGTEWW GSC23KSTASS GSC23KSTESS GSF25TGTABB GSF25TGTAWW GSF25TGTBBB GSF25TGTBWW GSF25TGTEBB GSF25TGTEWW GSH22IFTBBB GSH22IFTBCC GSH22IFTBWW GSH22IFTEBB GSH22IFTECC GSH22IFTEWW GSH22JFTABB GSH22JFTACC GSH22JFTAWW GSH22JFTBBB GSH22JFTBCC GSH22JFTBWW GSH22JFTCBB GSH22JFTCCC GSH22JFTCWW GSH22JFTDBB GSH22JFTDCC GSH22JFTDWW GSH22JFTEBB GSH22JFTECC GSH22JFTEWW GSH22JSTASS GSH22JSTBSS GSH22JSTCSS GSH22JSTESS GSH25JFTABB GSH25JFTBBB GSH25JFTBCC GSH25JFTBWW GSH25JFTCBB GSH25JFTCCC GSH25JFTCWW GSH25JFTDBB GSH25JFTDCC GSH25JFTDWW GSH25JFTEBB GSH25JFTECC GSH25JFTEWW GSH25JFTFBB GSH25JFTFCC GSH25JFTFWW GSH25JSTASS GSL22JFTBBS GSL22JFTCBS GSL22JFTDBS GSL22JFTEBS GSL25JFTBBS GSL25JFTCBS GSL25JFTDBS GSL25JFTEBS GSL25JFTFBS GSL25LGTBBS GSL25LGTCBS GSL25LGTDBS GSL25LGTEBS GSS20DBTACC GSS20DBTAWW GSS20DBTBCC GSS20DBTBWW GSS20DBTECC GSS20DBTEWW GSS20DBTGCC GSS20DBTGWW GSS20DBTJCC GSS20DBTJWW GSS20DBTNCC GSS20DBTNWW GSS20IBTACC GSS20IBTAWW GSS20IBTBCC GSS20IBTBWW GSS20IBTECC GSS20IBTEWW GSS20IBTGCC GSS20IBTGWW GSS20IBTJCC GSS20IBTJWW GSS20IBTNCC GSS20IBTNWW GSS22IBTACC GSS22IBTAWW GSS22IBTBCC GSS22IBTBWW GSS22IBTFCC GSS22IBTFWW GSS22IBTGCC GSS22IBTGWW GSS22IBTJCC GSS22IBTJWW GSS22IBTNCC GSS22IBTNWW GSS22JETABB GSS22JETACC GSS22JETAWW GSS22JETCBB GSS22JETCCC GSS22JETCWW GSS22JETECC GSS22JETEWW GSS22JETFBB GSS22JETFCC GSS22JETFWW GSS22JETGBB GSS22JETGCC GSS22JETGWW GSS22JETJBB GSS22JETJCC GSS22JETJWW GSS22JETNBB GSS22JETNCC GSS22JETNWW
GE Refrigerator W Series:
CSW25LSWASS DSD26DGWABG DSD26DGWCBG DSD26DHWCBG DSF26DHWABB DSF26DHWAWW DSF26DHWCBB DSL26DHWASS DSS26DHWASS DSS26DHWCSS ESF25QGWABB ESF25QGWACC ESF25QGWAWW ESH22JFWABB ESH22JFWAWW ESH22JFWBBB ESH22JFWBWW ESH22JFWCBB ESH22JFWCWW ESH22JFWDBB ESH22JFWDWW ESH22JFWEBB ESH22JFWEWW ESH22JSWASS ESH22JSWBSS ESH22JSWCSS ESH22JSWDSS ESH22JSWESS ESH25JFWABB ESH25JFWAWW ESH25JFWBWW ESH25JFWDBB ESH25JFWDWW ESH25JFWFBB ESH25JFWFWW ESH25JSWASS ESH25JSWBSS ESH25JSWDSS ESH25JSWESS ESH25JSWFSS ESL22JFWABS ESL22JFWBBS ESL22JFWCBS ESL22JFWDBS ESL22JFWEBS ESL25JFWABS ESL25JFWBBS ESL25JFWDBS ESL25JFWEBS ESL25JFWFBS ESS25QSWASS GCF23KGWABB GCF23KGWAWW GCF23KGWCBB GCF23KGWCWW GCF23KGWDBB GCF23KGWDWW GSF25KGWABB GSF25KGWAWW GSF25KGWCBB GSF25KGWCWW GSF25LGWABB GSF25LGWACC GSF25LGWAWW GSF25LGWCBB GSF25LGWCWW GSF25TGWABB GSF25TGWAWW GSF25TGWCBB GSF25TGWCWW GSF25XGWABB GSF25XGWAWW GSF26KHWABB GSF26KHWAWW GSL25LGWABS GSL25LGWASS GSL25LGWCSS GSL25XGWASS
GE Refrigerator X Series:
DSHS5PGXAESS DSHS5PGXCESS ESH22JFXABB ESH22JFXAWW ESH22JFXJBB ESH22JFXJWW ESH22JFXKBB ESH22JFXKWW ESH22JSXASS ESH22JSXJSS ESH22JSXKSS ESH25JFXABB ESH25JFXAWW ESH25JFXBBB ESH25JFXBWW ESH25JFXJBB ESH25JFXJWW ESH25JSXASS ESH25JSXBSS ESH25JSXJSS ESHF5MGXBEBB ESHF5MGXBEWW ESHF5MGXCEBB ESHF5MGXCEWW ESHF5MGXGEBB ESHF5MGXGEWW ESHS5MGXBESS ESHS5MGXCESS ESHS5MGXGESS ESL22JFXALB ESL22JFXJLB ESL22JFXKLB ESL25JFXALB ESL25JFXBLB ESL25JFXJLB GSCF3PGXAFBB GSCF3PGXAFWW GSCF3PGXCFBB GSCF3PGXCFWW GSCF3PGXGFBB GSCF3PGXGFWW GSCS3PGXAFSS GSCS3PGXBFSS GSCS3PGXGFSS GSF25IGXBBB GSF25IGXBWW GSF25IGXJBB GSF25IGXJWW GSF25IGXNBB GSF25IGXNWW GSH22JFXABB GSH22JFXACC GSH22JFXAWW GSH22JFXJBB GSH22JFXJCC GSH22JFXJWW GSH22JFXKBB GSH22JFXKCC GSH22JFXKWW GSH22JFXNBB GSH22JFXNCC GSH22JFXNWW GSH22JSXASS GSH22JSXJSS GSH22JSXKSS GSH22JSXNSS GSH25JFXABB GSH25JFXACC GSH25JFXAWW GSH25JFXJCC GSH25JFXJWW GSHF3KGXBCBB GSHF3KGXBCCC GSHF3KGXBCWW GSHF3KGXCCBB GSHF3KGXCCCC GSHF3KGXCCWW GSHF3KGXFCBB GSHF3KGXFCCC GSHF3KGXFCWW GSHF3KGXGCBB GSHF3KGXGCCC GSHF3KGXGCWW GSHF3KGXHCBB GSHF3KGXHCCC GSHF3KGXHCWW GSHF5KGXBCBB GSHF5KGXBCCC GSHF5KGXCCBB GSHF5KGXCCWW GSHF5KGXDCBB GSHF5KGXDCWW GSHF5KGXECBB GSHF5KGXECCC GSHF5KGXECWW GSHF5KGXFCBB GSHF5KGXFCCC GSHF5KGXFCWW GSHF5KGXGCBB GSHF5KGXGCCC GSHF5MGXBEBB GSHF5MGXBEWW GSHF5MGXCEBB GSHF5MGXCEWW GSHF5MGXGEBB GSHF5MGXGEWW GSHF5PGXAEBB GSHF5PGXAEWW GSHF5PGXCEBB GSHF5PGXCEWW GSHL5KGXCCLS GSHL5KGXECLS GSHL5KGXGCLS GSHL5MGXBELS GSHL5MGXGELS GSHS3KGXBCSS GSHS3KGXCCSS GSHS3KGXGCSS GSHS3KGXHCSS GSHS5KGXBCSS GSHS5MGXBESS GSHS5MGXCESS GSHS5MGXGESS GSHS5PGXAESS GSHS5PGXCESS GSL22JFXALB GSL22JFXJLB GSL22JFXKLB GSL22JFXNLB GSL25JFXJLB
GE Refrigerator Y Series:
ESHF6PGYAEBB ESHF6PGYAEWW ESHF6PGYCEBB ESHF6PGYCEWW ESHS6PGYAESS ESHS6PGYCESS GSCS3KGYAFSS GSCS3KGYCFSS GSCS3KGYDFSS GSHF6PGYAEWW GSHS6PGYAESS
GE Refrigerator Z Series:
GSF25IGZBBB GSF25IGZBWW GSH22JSZBSS GSHF6KGZBCBB GSHF6KGZBCCC GSHF6KGZBCWW GSHF6LGZBCBB GSHF6LGZBCWW GSHS6KGZBCSS GSHS6LGZBCSS GSL22JFZBLB GSL25IGZBLS
GE Side Refrigerators:
GSE26HSECHSS
GE Top-mount Refrigerators:
ETS22SBMARBS ETS22XBMARBB
How To Replace WR55X10942 Refrigerator Main Control Board
Watch this video, created by PartSelect. Steve shows you simple and easy step-by-step on how to replace WR55X10942 electronic main control board on GE refrigerator.
Replace electronic main control board If your refrigerator is having any of these problems: no water or ice, constant ticking or wooing sounds, and fridge not running or not cooling.
Learn more how to troubleshoot, test, diagnose and repair your home appliance with user-generated installation instructions, and hundreds of simple step-by-step repair videos from PartSelect.com
Compare Prices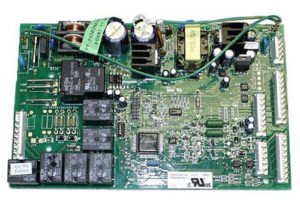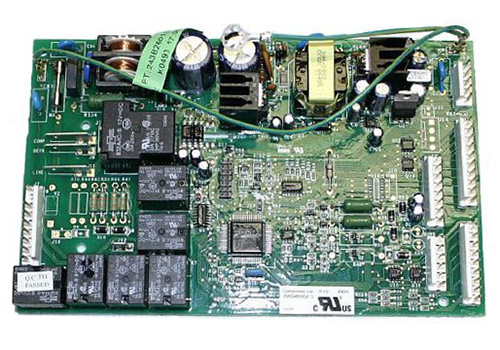 GE WR55X10942 Refrigerator Main Control Board
You can compare the best prices for WR55X10942 Fridge Main Control Board from the following online stores:
More Information
In addition to GE WR55X10942 Refrigerator Main Control Board, find more genuine and high-quality home appliance parts, including GE parts, refrigerator control boards, refrigerator parts, and other control boards. If you need more information or have any message, please feel free to contact us by filling the comment below.