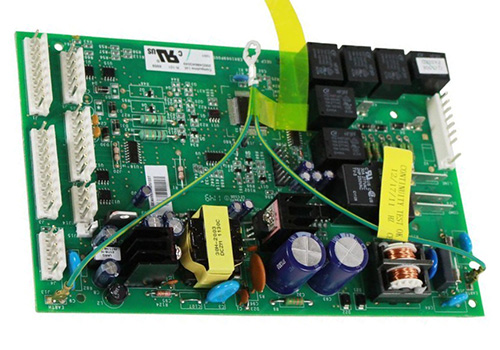 This is a genuine OEM home appliance replacement assembly part, electronic main control board WR55X10956 for GE refrigerator. The part fixed the following problems: freezer section too warm, refrigerator too warm, fridge and freezer are too warm, or your refrigerator will not start.
GE WR55X10956 Refrigerator Main Control Board
Product: Electronic Main Control Board or Motherboard
Appliance Part: Refrigerator Appliance Replacement Parts
Part Number: WR55X10956
Compatible Brands: GE
Compatible Part Numbers:
1550509 200D4864G049 AP4481481 EAP2371144 PS2371144 WR55X10657 WR55X10658 WR55X10662 WR55X10697 WR55X10745 WR55X10774 WR55X10929 WR55X10943
Fits GE Models
This main control board WR55X10956 fits the following GE refrigerator types and models:
GE Bottom Mount Refrigerator
GE Profile French Door Refrigerator
GE Refrigerator W Series
GE Refrigerator X Series
GE Refrigerator Y Series
Note: Use Ctrl+F to find your model.
GE Bottom Mount Refrigerator Models:
CFCP1NIXBSS CFCP1NIXCSS CFCP1NIYASS CFCP1NIYCSS CFCP1ZIYASS CFCP1ZIYCSS PDCF1NBWABB PDCF1NBWAWW PDCF1NBXABB PDCF1NBXAWW PDCF1NBXBBB PDCF1NBXBWW PDCF1NBXCBB PDCF1NBXCWW PDCS1NBWALSS PDCS1NBWARSS PDCS1NBXALSS PDCS1NBXARSS PDCS1NBXBLSS PDCS1NBXBRSS PDCS1NBXCLSS PDCS1NBXCRSS PDCS1NCYALSS PDCS1NCYARSS PDCS1NCYCLSS PDCS1NCYCRSS PDSF5NBWABB PDSF5NBWAWW PDSF5NBXABB PDSF5NBXAWW PDSF5NBXBBB PDSF5NBXBWW PDSF5NBXCBB PDSF5NBXCWW PDSS5NBWALSS PDSS5NBWARSS PDSS5NBXALSS PDSS5NBXARSS PDSS5NBXBLSS PDSS5NBXBRSS PDSS5NBXCLSS PDSS5NBXCRSS PFCF1NFWABB PFCF1NFWAWW PFCF1NFXABB PFCF1NFXAWW PFCF1NFXBBB PFCF1NFXBWW PFCF1NFXCBB PFCF1NFXCWW PFCF1NFYABB PFCF1NFYAWW PFCF1NFYCBB PFCF1NFYCWW PFCF1NJWABB PFCF1NJWACC PFCF1NJWAWW PFCF1NJXABB PFCF1NJXACC PFCF1NJXAWW PFCF1NJXBBB PFCF1NJXBCC PFCF1NJXBWW PFCF1NJXCBB PFCF1NJXCCC PFCF1NJXCWW PFCF1PJXABB PFCF1PJXAWW PFCF1PJXBBB PFCF1PJXBWW PFCF1PJXCBB PFCF1PJXCWW PFCF1PJYABB PFCF1PJYAWW PFCF1PJYCBB PFCF1PJYCWW PFCS1NFWASS PFCS1NFXASS PFCS1NFXBSS PFCS1NFXCSS PFCS1NFYASS PFCS1NFYCSS PFCS1NJWASS PFCS1NJXASS PFCS1NJXBSS PFCS1NJXCSS PFCS1PJXASS PFCS1PJXBSS PFCS1PJXCSS PFCS1PJYASS PFCS1PJYCSS PFIC1NFWABV PFIC1NFWAWV PFIC1NFWBBV PFIC1NFWBWV PFIC1NFWCBV PFIC1NFWCWV PFIC1NFYABV PFIC1NFYAWV PFIC1NFYCBV PFIC1NFYCWV PFSF5NFWABB PFSF5NFXABB PFSF5NFXAWW PFSF5NFXBBB PFSF5NFXBWW PFSF5NFXCBB PFSF5NFXCWW PFSF5NFYABB PFSF5NFYACC PFSF5NFYAWW PFSF5NFYCBB PFSF5NFYCCC PFSF5NFYCWW PFSF5NJWABB PFSF5NJWACC PFSF5NJWAWW PFSF5NJXABB PFSF5NJXACC PFSF5NJXAWW PFSF5NJXBBB PFSF5NJXBCC PFSF5NJXBWW PFSF5NJXCBB PFSF5NJXCCC PFSF5NJXCWW PFSF5PJXABB PFSF5PJXAWW PFSF5PJXBBB PFSF5PJXCBB PFSF5PJYABB PFSF5PJYAWW PFSF5PJYCBB PFSF5PJYCWW PFSS5NFWASS PFSS5NFXASS PFSS5NFXBSS PFSS5NFXCSS PFSS5NFYASS PFSS5NFYCSS PFSS5NJWASS PFSS5NJXASS PFSS5NJXBSS PFSS5NJXCSS PFSS5PJXASS PFSS5PJXBSS PFSS5PJXCSS PFSS5PJYASS PFSS5PJYCSS PGCS1NFXASS PGCS1NFXBSS PGCS1NFXCSS PGCS1NFYASS PGCS1PJXASS PGCS1PJXBSS PGCS1PJXCSS PGCS1PJYASS PGSS5NFXASS PGSS5NFXBSS PGSS5NFXCSS PGSS5NFYASS PGSS5PJXBSS PGSS5PJXCSS PGSS5PJYASS ZFGB21HXASS ZFGB21HXCSS ZFGB21HYASS ZFGP21HXASS ZFGP21HXCSS ZFGP21HYASS
GE Profile French Door Refrigerator Models:
PFSF5NFWAWW
GE Refrigerator W Series Models:
PCF23PGWABB PCF23PGWAWW PCF23PGWCBB PCF23PGWCWW PCF23RGWABB PCF23RGWAWW PCF23RGWCBB PCF23RGWCWW PCF25MGWABB PCF25MGWACC PCF25MGWAWW PCF25MGWCBB PCF25MGWCCC PCF25MGWCWW PCF25NGWABB PCF25NGWAWW PCF25NGWCBB PCF25NGWCWW PCF25PGWABB PCF25PGWAWW PCF25PGWCBB PCF25PGWCWW PSC23PSWASS PSC23PSWCSS PSC25MSWASS PSC25MSWCSS PSC25NSWASS PSC25NSWCSS PSC25PSWASS PSC25PSWCSS PSF26PGWABB PSF26PGWASB PSF26PGWAWW PSF26PGWCBB PSF26PGWCWW PSF26RGWABB PSF26RGWAWW PSF26RGWCBB PSF26RGWCWW PSH23PGWABV PSH23PGWAWV PSH23PSWASS PSH23PSWASV PSH23PSWCSS PSH25MGWABV PSH25MGWACV PSH25MGWAWV PSH25MGWCBV PSH25MGWCCV PSH25MGWCWV PSH25MSWASV PSH25PGWABV PSH25PGWAWV PSH25PGWCBV PSH25PGWCWV PSH25PSWASS PSH25PSWASV PSH25PSWCSS PSS26PSWASS PSS26PSWCSS PSW23PSWASS PSW23PSWCSS PSW23RSWASS PSW23RSWCSS PSW26PSWASS PSW26PSWCSS PSW26RSWASS PSW26RSWCSS
GE Refrigerator X Series Models:
CFCP1NIXASS CSCP5UGXAFSS CSCP5UGXCFSS CSCP5UGXDFSS PSCF5RGXAFBB PSCF5RGXAFCC PSCF5RGXAFWW PSCF5RGXCFBB PSCF5RGXCFCC PSCF5RGXCFWW PSCF5TGXAFBB PSCF5TGXAFWW PSCF5TGXCFBB PSCF5TGXCFWW PSCF5VGXAFBB PSCF5VGXAFWW PSCF5VGXCFBB PSCF5VGXCFWW PSCS5RGXAFSS PSCS5RGXCFSS PSCS5TGXAFSS PSCS5TGXCFSS PSCS5VGXAFSS PSCS5VGXCFSS PSDF3YGXBFBB PSDF3YGXBFWW PSDF3YGXCFBB PSDF3YGXCFWW PSDF3YGXGFBB PSDF3YGXGFWW PSDF5RGXCFBB PSDF5RGXCFCC PSDF5RGXCFWW PSDF5YGXBFBB PSDF5YGXBFWW PSDF5YGXCFBB PSDF5YGXCFWW PSDS3YGXBFSS PSDS3YGXCFSS PSDS3YGXGFSS PSDS5RGXCFSS PSDS5YGXBFSS PSDS5YGXCFSS PSDW3YGXBFSS PSDW3YGXCFSS PSDW3YGXGFSS PSFW3YGXBGSS PSFW3YGXCGSS PSHF6YGXBDBB PSHF6YGXBDWW PSHF6YGXCDBB PSHF6YGXCDWW PSHS6YGXBDSS PSHS6YGXCDSS PSHW6YGXBDSS PSHW6YGXCDSS PSIC5RGXAFBV PSIC5RGXAFCV PSIC5RGXAFWV PSIC5RGXCFBV PSIC5RGXCFCV PSIC5RGXCFWV PSJC5YGXBFBV PSJC5YGXBFWV PSJC5YGXCFBV PSJC5YGXCFWV PSLS3YGXBFSS PSLS5YGXBFSS PSTW6YGXBGSS PSTW6YGXCGSS ZFSB23DXASS ZFSB23DXCSS ZFSB25DXASS ZFSB25DXCSS
GE Refrigerator Y Series Models:
DSHF9NGYACBB DSHF9NGYACWW DSHS9NGYACSS GSHF9NGYACBB GSHF9NGYACWW GSHS9NGYACSS
Other GE Refrigerator Models:
GSHS9NGYBCSS GSHS9NGYCCSS GSHS9NGYDCSS PSCS5RGDBFSS PZS25KSEBFSS PZS25KSECFSS
How To Replace GE Refrigerator Main Control Board
Watch this video, created by PartSelect. Steve shows you simple and easy step-by-step on how to replace the electronic main control board on GE refrigerator.
Replace electronic main control board If your refrigerator is having any of these problems: no water or ice, constant ticking or wooing sounds, and fridge not running or not cooling.
Learn more how to troubleshoot, test, diagnose and repair your home appliance with user-generated installation instructions, and hundreds of simple step-by-step repair videos from PartSelect.com
Compare Lowest Prices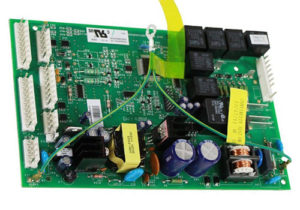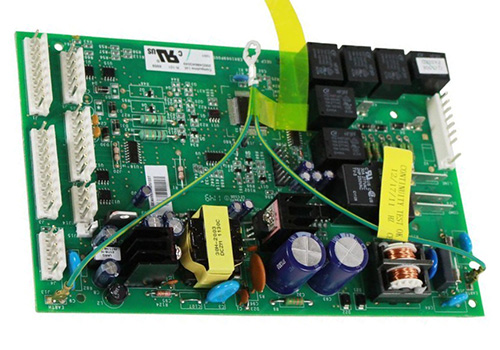 GE WR55X10956 Refrigerator Main Control Board
You can compare the best prices for GE WR55X10956 Refrigerator Main Control Board from the following online stores:
More Information
In addition to GE WR55X10956 Refrigerator Main Control Board, find more genuine and high-quality home appliance parts, including GE parts, refrigerator control boards, refrigerator parts, and other control boards. If you need more information or have any message, please feel free to contact us by filling the comment below.