Are you looking for GE WR55X10942 Refrigerator Main Control Board? This part can be replaced with WR55X10523, WR55X10086, WR55X10024, WR55X10151, and more. Fast shipping here and 100% customer satisfaction guarantee. Buy Now!
GE WR55X10942 Refrigerator Main Control Board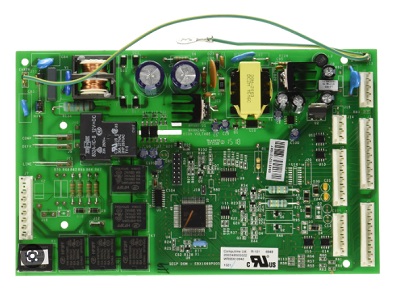 The GE WR55X10942 Refrigerator Main Control Board is an essential part of your GE refrigerator, responsible for controlling various functions such as temperature and defrost cycles.
If you're experiencing issues with your refrigerator, such as temperature control or power supply problems, it may be time to replace the control board.
Descriptions:
Part Number: WR55X10942
Replacement Parts: Pls seel list below.
Part Types:
Compatible Brands: GE, General Electric, Hotpoint, Americana
Fits Appliance Models: n/a
Price: Check price on eBay.
Replacement Part Numbers:
This part can be replaced with the following part numbers:
WR55X10942P, WR55X10416, WR55X11036, WR55X10177, WR55X10188, AP7188100, WR55X10722, WR55X10171, WR55X10228, WR55X10432, WR55X10436, WR55X10942, WR55X10616, WR55X10294, 200D2259G017, WR55X10379, WR55X10297, WR55X10079, 200D6221G016, WR55X10289, 200D4850G022, WR55X10614, WR55X10589, WR55X10427, WR55X10523, WR55X10086, WR55X10024, WR55X10151, WR55X10456, WR55X10554, WR55X10942CT, WR55X10358, WR55X10473, WR55X10543, 200D4852G018, WR55X10045, WR55X10413, WR55X10090, WR55X10699, WR55X10160, 200D6221G013, WR55X10110, WR55X10109, WR55X10314, WR49X10060, WR55X10524, WR55X10187, WR55X10339, WR55X10603, 200D4852G024, WR55X10606, WR55X10333, WR55X10712, WR55X10174, WR55X10552, 200D6221G015, WR55X10597, WR55X10065, WR55X10097, 200D4854G008, WR55X10381, WR55X10626, WR55X10558, WR55X10210, WR55X10526, WR55X10335, WR55X10083, WR55X10385, WR55X10328, WR55X10372, WR55X10529, WR55X10056, WR55X10474, WR55X10426, WR55X10396, WR55X10656, WR55X10366, WR55X10715, WR55X10336, 200D4854G013, WR55X10659, WR55X10037, and more.
NOTE: .. If you don't see your model in the list above, please leave a message below, and we will do our best to check and provide the right information for you.
Functions:
Controls the temperature of the refrigerator and freezer
Manages defrost cycle and fan operation
Monitors and regulates power to various components, such as the compressor and lights
Communicates with user interface for settings and displays
Common Symptoms:
Inconsistent temperature in the refrigerator or freezer
Not cooling or freezing at all
Ice and frost buildup
Lights not working
Unresponsive control panel
Compare Prices on eBay:
Search for "GE WR55X10942" on eBay and sort by price to compare different listings
Be sure to check the seller's feedback and return policy before purchasing
Look for listings that offer a warranty or guarantee for added protection
Other Home Appliance Parts:
More Information
If you need assistance finding the right part for your specific model of GE refrigerator, please don't hesitate to leave a message below. We will quickly check and let you know how we can help. Thank you for considering our services.