Compare the best prices for the WR60X10185 GE Refrigerator Evaporator Fan Motor that fits various models: WR23X10364, AP3875639, 197D2039P007, WR60X10068, WR60X10059, WR23X10405, WR60X10099, WR23X10406, WR23X10353, and more. Fast shipping available here.
WR60X10185 GE Refrigerator Evaporator Fan Motor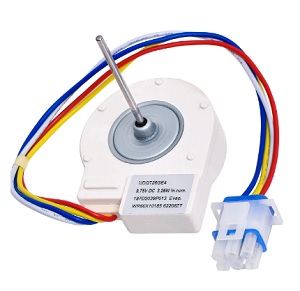 The WR60X10185 is a refrigerator evaporator fan motor manufactured by GE. It is designed to circulate cold air throughout the refrigerator compartment to keep food fresh. This fan motor is compatible with various GE refrigerator models.
Descriptions:
Part Number: WR60X10185
Replacement Parts: WR23X10405, WR23X10364, WR60X10154, EAP1019114, WR23X10346, WR60X10083, WR60X10043, WR23X10404, WR23X10353, WR60X10068, PS1019114, WR60X10185-24PK, WR60X10084, WR23X10406, AP3875639, WR23X10350, WR60X10157, WR60X10099, WR60X10059, WR60X10152, 1170107, 197D2039P007, WR23X10355, WR60X10149, 197D2039P008
Part Types: Refrigerator Evaporator Fan Motor
Compatible Brands: GE, General Electric, Hotpoint
Fits Appliance Models: Please see the list below.
Price: Check price on eBay.
Fits Appliance Models
This part fits the following GE and Hotpoint fridge models:
A4425GDTAWW, BSS25JFTAWW, BSS25JSTCSS, ESF25KGTABB, ESF25KGTACC, ESH25JFWBBB, ESL22JFXJLB, ESS23XGSAWW, ESS25LGNACC, ESS25LGNAWW, GCE21YETAFWW, GCE23LHTBFBB, GCG21SISAFSS, GCK21LEMAFCC, GSA20IEMCFWW, GSA22KBMCFBB, GSE22KETEFWW, GSE22KEWHFSS, GSE22KEWJFSS, GSG20IEMCFBB, GSG22KBMBFBB, GSG25MIMBFWW, GSG25MIPHFWW, GSH22JFTCBB, GSH22JFTCCC, GSH22JFTDBB, GSH22JFXJWW, GSH22JFXKWW, GSH22JFXPBB, GSH22JGBBBB, GSH22JSCBSS, GSH22KGMBBB, GSH25JFREWW, GSH25JFXNWW, GSH25JSRIBB, GSH25JSTASS, GSS20GEWNCC, GSS20GEZAWW, GSS20IETGWW, GSS22SGRFSS, GSS25JEMACC, GSS25JEPHCC, GSS25JETDBB, GSS25JETNCC, GSS25JFPDBB, GSS25KGMBAA, GSS25LGMBWW, GSS25PGMBWW, GSS25QFMABB, GSS25QGPJWW, GSS25UFMACC, GSS25VGMAWW, GTS22KBMARWW, PFSE5NJWBDBB, PFSF5PJXAWW, PFSS5PJXBSS, PSC21MGMBWW, PSC23MGMBBB, PSC23NHMDCC, PSC23NSTESS, PSE29NHTCCBB, PSE29NHTCCSS, PSF26MGWABB, PSG22MIMBFBB, PSG22MIPDFBB, PSH23PSTASS, PSH25PSTBSS, PSI23MCLABB, PSI23NGMAWW, PSI23NGMDWW, PSI23SCMAFBS, PSS25NGMABB, PSS25NGMCBB, PSS27MGMBBB, PSS27NGMAAA, PSS27NGMCBB, PSS27NGMCWW, PSS27NHNAWW, PSS29NGMABB, PSS29NHMACC, PSS29NHMAWW, PSS29NHMBWW, PSW26PSTBSS, RCK23MGMAFCC, RSG20IDMCFWW, RSG20IDPDFWH, RSG22IBPHFWW, SSS25KFPDWW, ZISB420DRH, ZISB480DKB, ZISB480DRB, ZISB480DRC, ZISB480DRH, ZISP480DKBSS, ZISS480DMA, ZISS480DMC, ZISS480DMD, ZISS480DRJSS, ZISS480DRKSS, ZISW480DRH, and more.
NOTE! .. If the model you are searching for is not mentioned in the above list, please leave a message below, and we will diligently check and provide you with the correct information.
Functions
The WR60X10185 GE Refrigerator Evaporator Fan Motor performs several essential functions, including:
Circulating cold air: The fan motor circulates cold air throughout the refrigerator compartment, ensuring that food stays fresh and at the appropriate temperature.
Regulating temperature: The fan motor helps regulate the temperature in the refrigerator by distributing cold air evenly.
Preventing frost build-up: By continuously circulating cold air, the fan motor helps prevent frost from building up on the evaporator coils, which can cause cooling issues and affect the efficiency of the refrigerator.
Maintaining consistent humidity levels: The fan motor helps maintain consistent humidity levels in the refrigerator, which is important for keeping certain foods fresh for longer periods.
Overall, the WR60X10185 GE Refrigerator Evaporator Fan Motor plays a crucial role in ensuring that your refrigerator operates at peak efficiency, keeping your food fresh and safe to eat.
Common Symptoms
Here are some common symptoms that may indicate an issue with the WR60X10185 GE Refrigerator Evaporator Fan Motor:
Loud or unusual noises coming from the refrigerator.
Failure of the refrigerator to cool sufficiently.
Frost buildup in the freezer compartment.
If you experience any of these symptoms, it may be necessary to inspect or replace the fan motor to ensure proper functioning of your refrigerator.
Compare Prices on eBay
There are many sellers on eBay offering the WR60X10185 GE Refrigerator Evaporator Fan Motor, with varying prices and conditions.
Before purchasing, it's important to check your appliance model number to ensure compatibility with this part.
Review the part details and warranty policy, and compare prices from different sellers to find the lowest price available on eBay.
Other Home Appliance Parts:
More Information
If you need other replacement parts for your home appliances or if you can't find the right part for your specific model, feel free to leave a message in the comment box below. We will do our best to quickly find the part you need and let you know.
Fixing your appliances can save you money in the long run, and we're here to help make it easier for you.