Get Best Price GE Refrigeration Main Control Board WR55X10560 Parts. Replaces WR55X10433 PS1021960 200D4862G004 WR55X10383 AP3885943 1194661 EAP1021960 WR55X10400 home appliance parts and others. Order Now!

GE Refrigeration Main Control Board WR55X10560 Parts
Item: GE Refrigeration WR55X10560
Part Number: WR55X10560
Replaces Part No: 200D4862G004 WR55X10433 WR55X10400 WR55X10383 1194661 EAP1021960 PS1021960 AP3885943
Compatible Brands: GE, General Electric
Type: Refrigerator Replacement Parts, Fridge Electronic Circuit PCB Main Control Board Assembly Replacement Parts
Item Location: Carol Stream, Illinois, United States
Ship To: United States
Return Policy: 14-day returns. Buyer pays for return shipping
Condition: Manufacturer refurbished
Item Price: US $95.80
View more item descriptions and Compare the Best Prices Below.
==> Click Here to Check Best Prices on eBay Today! <==
Fits Models:
The fridge control board WR55X10560 suits the following GE models. Press Ctrl-F to search your specific model listed as follows.
ZIS480NRF ZIC360NRBRH ZISB420DRE ZISW480DRI ZIC360NRARH ZISS420NRFSS ZISS360DRFSS ZICP360SRDSS ZISS420DRESS ZISB480DRB ZICS360NRHLH ZICP360SLASS ZISS360NRJSS ZISS360NRCSS ZIS360NRK ZIS420NRE ZISB480DRF ZISS480DRCSS ZICS360NRFRH ZIC360NRGLH ZIS420NRD ZISS420DRJSS ZISB480DRH ZISS480NRJSS ZISB420DRK ZISW420DRF ZISS480NRASS ZICP720ASBSS ZICP360SLCSS ZIS360NRC ZISW360DRB ZISW360DRI ZICP720BSCSS ZISB360DRF ZICP360SRESS ZIC360NRDRH ZISB360DRI ZISW360DRC ZISB420DRJ ZICS360NRGRH ZISS420DRHSS ZICS360NRGLH ZISS360DRESS ZIS360NRB ZISS420DRCSS ZISW480DRA ZISS360NRKSS ZISS420DRFSS ZIS480NRE ZIS480NRJ ZISS420NRBSS ZISS360DRDSS ZICS360NRALH ZISW360DRH ZISB360DRC ZISB480DRJ ZICP360SRCSS ZISW360DRE ZICP720BSASS ZIS480NRC
ZISB360DRD ZISW420DRC ZICP360SRBSS ZISS480NRGSS ZISB420DRD ZISB360DRE ZISS480DRDSS ZISB360DRB ZISS480NRCSS ZIS360NRA ZISB360DRK ZISS480NRESS ZISB480DRA ZISW360DRG ZIS360NRH ZIS480NRG ZISB420DRH ZIC360NRBLH ZISW360DRD ZISS360NRDSS ZIS480NRA ZISB480DRC ZISW480DRE ZISS360DRCSS ZISS480DRJSS ZISW480DRG ZIS420NRH ZIC360NRCLH ZISS360DRASS ZISS480DRFSS ZIS420NRJ ZISS420NRGSS ZICP360SLESS ZISW420DRE ZISS420DRBSS ZICS360NRHRH ZIS480NRH ZISW480DRD ZICP720ASCSS ZISS360DRKSS ZICS360NRARH ZISS480DRKSS ZIS480NRK ZIC360NRCRH ZICS360NRCRH ZISS420NRKSS ZISS360NRHSS ZISB420DRA
ZISS480DRISS ZISW420DRA ZISS420DRGSS ZICS360NRERH ZISW480DRH ZISS360NRBSS ZISS480NRFSS ZISW360DRF ZISS420DRDSS ZIS420NRF ZIS360NRF ZISB420DRC ZISS360NRFSS ZISW420DRG ZISS420NRJSS ZIS360NRE ZISW480DRC ZISW420DRJ ZISS360DRISS ZISW420DRB ZISB360DRH ZISW480DRJ ZIS480NRD ZISW480DRB ZISW420DRH ZIS480NRB ZISW480DRF ZIS420NRI ZICS360NRDRH ZISB420DRG ZISB480DRE ZIS360NRJ ZISS360DRHSS ZIC360NRERH ZICS360NRELH ZISS360NRASS ZISW360DRJ ZISS360NRGSS ZISS420NRASS ZISS480DRHSS ZISS420DRASS ZICS360NRDLH ZISB480DRI ZISS420NRCSS ZISW360DRK ZICP720BSBSS ZISS480NRKSS ZICP360SLBSS ZISS420NRDSS ZIC360NRALH ZIS360NRD ZIC360NRHRH ZISB480DRD ZICS360NRFLH ZIS420NRA ZISB420DRF ZISS420NRESS ZISS360DRGSS ZISW420DRI ZIS420NRG
ZIC360NRELH ZISS360NRESS ZISW420DRD ZISB360DRA ZISS480DRGSS ZICS360NRCLH ZICS360NRBLH ZIS420NRB ZISW420DRK ZICP360SRASS ZISB360DRJ ZISS480NRBSS ZISS480DRESS ZISS360DRJSS ZISP420DTASS ZIC360NRHLH ZIC360NRGRH ZISS420DRISS ZIS420NRC ZICS360NRBRH ZISS480NRDSS ZISW360DRA ZISW480DRK ZISS420DRKSS ZIS420NRK ZISB480DRK ZISS480DRASS ZIS360NRG ZISS480NRHSS ZISB480DRG ZISS360DRBSS ZICP720ASASS ZISS480DRBSS ZISB360DRG ZISB420DRB ZIC360NRDLH ZISS420NRHSS ZICP360SLDSS ZISB420DRI
Compare Best Deals
Learn how to test and change a repair part for your home appliance. Look at more WR55X10560 product description, customer reviews, terms and conditions, delivery information, parts warranty, and other useful details. Many sellers offer this pre-owned part on the market. Please view the prices below.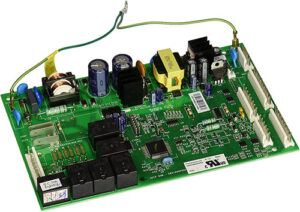 ==> Click Here to Compare Prices on eBay! <==
Other Appliance Information
In the stores online, there are many sellers selling a number of appliance parts, e.g. Dacor Oven Door Hinge Replacement, Dacor Convection Oven Parts, Whirlpool Gold Refrigerator Control Board, Maytag Refrigerator Defrost Control Board, Dishwasher Pump Gasket Replacement parts, also covering the GE Refrigeration Main Control Board WR55X10560 Parts.
For other leading home appliance brands, for example, KitchenAid, you can view its products, parts, accessories, and services on the Internet.
Other Replacement Parts:
Please do not hesitate to leave your information in the comment section if you can not find the compatible part for your model. We will search for the part and give some advice to you soon. Fix-It Today!