Best Price new refrigerator fresh meat pan works for GE Hotpoint Americana RCA GSH25GGCBWW GSG22KEPHFWW GSS22IFPHWW GST25KGPABB GSS25KGPDCC HSS25GFTBCC HSS25GFPHWW and more.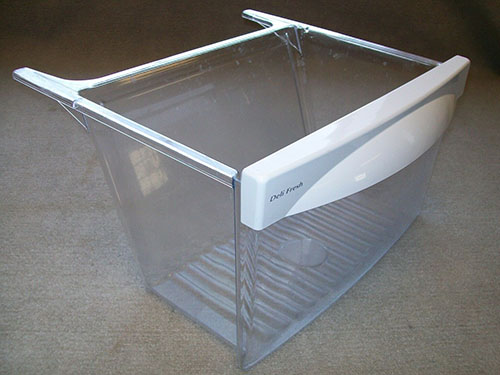 Refrigerator Meat Drawer
Product: Refrigerator Fresh Meat Drawer Pan
Part Number: WR32X10835
Replace Parts: WR32X10131 1812381 AP4981597 EAP3487933
Fits Brands: GE Hotpoint Americana RCA
Fits Refrigerator Models
This refrigerator meat pan part fits the following GE Hotpoint Americana RCA models.
GSF25JGCBWW BSS25GFPDWW BSS25JSTGSS DSS25JFPEWW ESS25XGMBBB GSE22ESHBSS GSE25ETHB CC GSG22KBPAFBB GSG25IEPAFWW GSG25IEPCFWW GSH22JFPHCC GSH22JFXLWW GSH22JSTASS GSH25GGBBWW GSH25JGBCWW GSH25VGPDWW GSS22IBMCWW GSS22IFRFBB GSS22JEMBBB GSS22JFPDCC GSS22KGMBWW GSS22QGPBBB GSS22UFMCWW GSS22UFPJCC GSS22WGMBBB GST22JEMBWW GST22KGPACC GST25KGPHCC GSH22JFZBCC GSH22SGRBSS GSH25JFXLBB GSH25JSTDSS GSL25IGXNLS GSS22SGRESS GSS25IFREWW GSS25JEPHWW GSS25JETIBB GSS25JFPCWW GSS25KGPCCC GSS25QGMDWW GSS25SGMFBS GSS25UFPHCC GSS25WGPJWW PSA25MIMCFWW SSL25KFPHBS HSH22IFTEWW HSM25IFTBSA HSS22IFPCCC HSS25IFPACC HST25IFMDWW HSM25GFTASA and more.
Compare Lowest Prices
Shop Now! The part number is WR32X10835. Read the refrigerator fresh meat pan part information, item condition, shipping & payment methods, return & warranty policy, and shop this product on eBay.