Great Price refrigerator crisper pan drawer fits GE Hotpoint RCA DSS25KSRBSS GSE26HSECHSS GSL25KGSCBS GSS25GGHFCWW GSS25WGSABB PSW26MSRBSS
and more.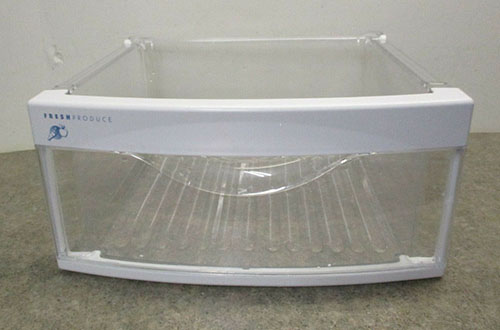 Refrigerator Crisper Pan
Product: Refrigerator Vegetable Middle Crisper Drawer Pan
Part Number: WR32X22927
Replace Parts: WR32X10343 WR32X10370 WR32X10574 4454554 AP6027007 PS11759183 EAP11759183
Fits Brands: GE Hotpoint RCA
Fits Refrigerator Models
This refrigerator crisper drawer product works for the following GE Hotpoint RCA models.
DSE25JGHECBB DSE25JSHECSS DSHS6VGBBCSS DSS26DHWASS ESF25LGRDWW ESHS5MGXGESS ESS23XGSABB ESS25XGSBCC GCG21IESAFBB GCG23YHSAFSS GSE23GSEFCSS GSE25GGHECBB GSE25HGHJHBB GSE25MGTBCSS GSE26HSEDHSS GSF25TGTABB GSHF3KGXCCCC GSHF5KGXDCBB GSHF5KGXFCCC GSHF6NGBBHBB GSHL6PHXIELS GSHS6KGZBCSS GSK25LCWACCC GSK25LHWICCC GSS23HMHKCES GSS23QGSBBB GSS23QSWKSS GSS23WGTJBB GSS25GGHGCBB GSS25GMHFCES GSS25KGSBWW GSS25PGMFWW GSS25QGTIBB GSS25SGSCSS GSS25TSRDSS GSS25WGSAWW GSS25WGTMWW GSS25XSRCSS LSS25XGTBBB PSE25KGHBHWW PSE26KSEGESS PSK25MGSECCC PSR26LGPABB PSR26MSPDSS PSS25MCNABB PSS25MGNACC PSS27NGPCCC PSSF3RGXDCC SSL27RGTEBS HSK27MGWJCCC HSS25ATHBCWW
and more.
Compare Best Prices
Your correct product number is WR32X22927. See the refrigerator crisper drawer part information, and compare lowest prices on eBay below.