Buy new refrigerator meat pan for GE Hotpoint Americana RCA GSE22KETBFBB GSG22KEPHFWW GSS22JEREBB GST25KGPHBB GSS25JFPDCC PSG22SIRBFSS HSS25GFPAWW and more.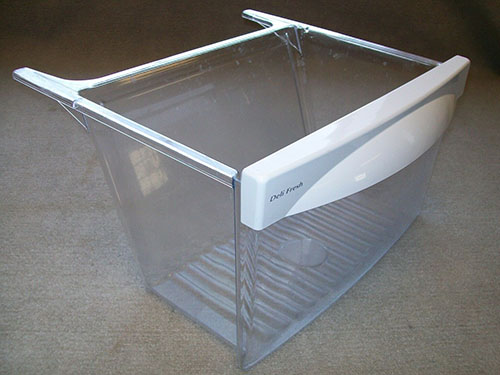 Refrigerator Meat Drawer
Product: Refrigerator Fresh Meat Drawer Pan
Part Number: WR32X10835
Replace Parts: WR32X10131 1812381 AP4981597 PS3487933 EAP3487933
Fits Brands: GE Hotpoint Americana RCA
Fits Refrigerator Models
This refrigerator meat drawer pan product works for the following GE Hotpoint Americana RCA models.
GSH25JGDCBB BSS25JFTBWW BSS25JSTPSS ESL22XGRBBS ESS25XGMDBB GSE22ESHBSS GSE25ETHB WW GSF25IGXJWW GSG22KBSAFWW GSG25MIMBFBB GSH22JFTDBB GSH22JGBBBB GSH22KGPABB GSH25GGCEBB GSH25KGMAWW GSH25VGPACC GSS22IBPCCC GSS22JEBBWW GSS22JEPDBB GSS22JFPDWW GSS22KGMDCC GSS22QFMDBB GSS22UFMCWW GSS22VGMDCC GSS22WGPCWW GST22IBMDCC GST22KGMAWW GST25KGPACC GSH22JFZBCC GSH22KGMCCC GSH25JFRFBB GSH25KGRBCC GSH25VGRECC GSS25IFPCWW GSS25IFRFCC GSS25JEPEWW GSS25JETDWW GSS25JFPDWW GSS25KGPCCC GSS25QGMDWW GSS25SGPEBS GSS25VFPJCC PSA22MIPDFWW PSA22SIRBFSS PSG22SIMCFBS HSH22IFTACC HSM25GFBBSA HSS25GFTGWW HSS25GFTNWW HST25IFPCCC RSG25IEMDFWW and more.
Compare Best Prices
Best Deals! The correct part number is WR32X10835. Read the refrigerator fresh meat pan drawer item details, item condition, delivery & checkout methods, and compare prices on eBay here.