Great Price refrigerator meat drawer for GE Hotpoint Americana RCA GSE22KETCFWW GSH22JGBBCC GSS22JEBBBB GST25KGPABB GSS25IFPHWW HSM25IFTDSA RSG25IEMDFWW and more.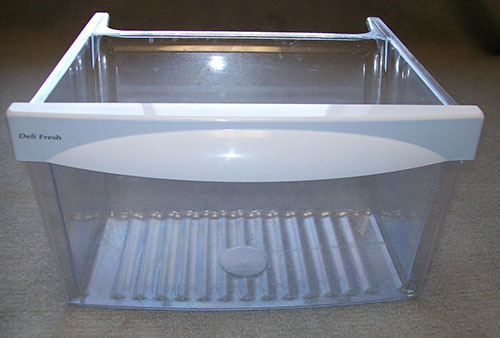 Refrigerator Meat Pan
Product: Refrigerator Fresh Meat Drawer Pan
Part Number: WR32X10835
Replace Parts: WR32X10131 1812381 AP4981597 PS3487933 EAP3487933
Fits Brands: GE Hotpoint Americana RCA
Fits Refrigerator Models
This refrigerator meat pan item works for the following GE Hotpoint Americana RCA models.
GSF25JGCBBB BSS25JFTDWW BSS25JSTASS ESL22JFWDBS GSA22KEPAFWW GSA22KEPDFBB GSE25ETHDWW GSF25IGZDWW GSG22KBPAFWW GSH22JFBBBB GSH22JFXJCC GSH22JFXNWW GSH22KGMBAA GSH25JFTCCC GSH25KGMCWW GSL22JGBBLB GSS22IBTAWW GSS22IFRFBB GSS22JEPDCC GSS22JFPCCC GSS22KGMABB GSS22QFMDBB GSS22SGMCBS GSS22UFPDCC GSS22WGPAWW GST22IFPDCC GST22KGPABB ESL25JFWABS DSS25PFMDCC GSH22VGPDWW GSH25JFXBWW GSH25SGPASS GSS22IBPAWW GSS22JETEBB GSS25IFREBB GSS25JERFWW GSS25JETDCC GSS25JFPDWW GSS25KGMDBB GSS25QFMCWW GSS25SGMABS GSS25UFPABB GSS25WGMBBB PSG22MIMBFWW SSL25KFPEBS SSS25SGPESS HSM25GFTPSA HSS25GFPMWW HST22IFMBCC HST22IFMCCC HSS25GFTCBB and more.
Compare Lowest Prices
Your product number is WR32X10835. Read the refrigerator meat pan drawer part details, item condition, shipping & payment methods, and compare prices on eBay below.