The Best Price Appliance Parts – GE Dishwasher Drain Pump Kit WD19X25180. Compatible with GDT545PGJ0BB CDT835SMJ2DS GDF610PMJ5ES GDF540HGD2BB GDT590SSJ7SS GDF540HGD4BB GDF510PGD6WW GDF620HGJ4WW PDT720SSH5SS models and others. Buy Here on eBay!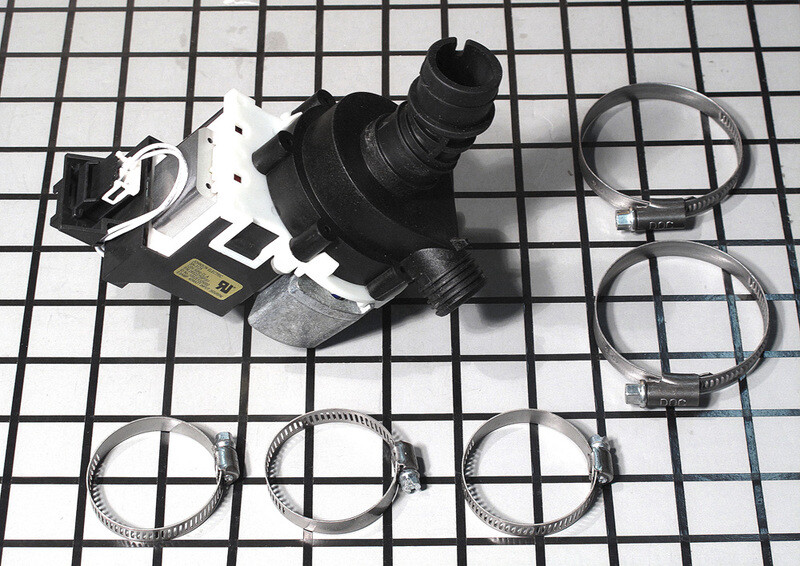 GE Dishwasher Drain Pump Kit WD19X25180
Item: Genuine New GE Dishwasher Drain Pump Kit WD19X25180
Part Number: WD19X25180
Replaces Parts: WD35X20878 265D2756P001 WD26X20423 WD26X21254 SN-3125 WD26X23236 WD26X21697 WD35X10384 WD26X10060 WD26X20740 WD35X20553
Fits Brands: GE, General Electric
Item Type: Dishwasher Replacement Parts, Dishwasher Drain Pump Motor Kit Assembly
Item Location: Irvine, California, United States
Ship To: United States
Policy: 30-day returns. Buyer pays for return shipping
Item Condition: New
Price: US $117.00
See more descriptions and Check Price Below.
Fits Models:
Check the right replacement part. The dishwasher drain pump WD19X25180 fits the following GE models. Press Ctrl-F to search your appliance model listed as follows.
ADT521PGJ2WS GDT720SSF2SS PDT750SMF7ES PDT720SGH7BB ADT521PGJ0WS GDT625PSJ5SS CDT835SMJ0DS GDF520PGJ6BB PDT720SGH6WW GDF570SGF4BB GDF570SGF6BB GDT545PFJ6DS GDT695SGJ2WW DDT575SMF6ES GDT680SGH6WW GDT655SBL2TS GDF520PGJ6CC GDF620HMJ0ES DDT595SBL3TS ADT521PGF2BS GDF510PMJ0SA GDT655SMJ2ES ADT521PGJ2BS GDF510PMJ5SA GDT625PGJ2BB GDF510PSJ0SS PDF820SGJ0BB GDF540HMF4ES GDT680SSH2SS GDT635HGJ4WW GDT535PSJ2SS GDF620HSJ2SS GDF610PMJ5ES GDF520PGJ5BB GDT655SFL3DS DDT575SMF7ES GDT635HGJ5BB GDF610PGJ0BB GDT580SMF2ES GDF570SSF7SS DDT595SSJ2SS GDF520PMJ6ES GDT720SGF2BB GDF510PSD6SS GDF570SGD0BB DDT595SBL2TS DDT595SGJ0BB GDF510PMJ4SA DDT575SSF7SS GDT535PSJ4SS
GDF570SGF2WW GDT580SGF8WW CDT835SMJ2DS GDF540HSF6SS GDF520PSF6SS GDF620HSJ6SS PDT825SSJ2SS ADT521PGF4BS GDF520PSD2SS GDF570SGF2BB GDT655SBL3TS GDT635HSJ4SS CDT725SSF6SS GDF520PMJ2ES GDT530PGD6WW GDT580SGF2WW GDT695SFL3DS GDF650SSJ2SS GDF510PMD2MB GDT580SMF6ES GDF540HSF4SS GDT580SMF5ES DDT595SGJ0WW CDT835SSJ2SS GDF520PGJ0WW GDT580SGF4BB GDF570SGJ2WW GDT535PGJ5BB DDT575SMF2ES GDT550HSD2SS GDF520PGJ4BB GDF620HGJ4BB GDF520PGJ6WW GDT550HSD6SS GDT545PGJ0WW GDT550HGD2BB DDT595SSJ0SS GDT545PSJ2SS GDT625PGJ5BB GDT545PGJ0BB PDT825SGJ2WW GDT580SGF5BB GDF650SGJ0BB GDT580SSF6SS GDF520PGJ4WW GDF610PGJ5BB GDT655SGJ2WW ADT521PGF6BS GDT550HSD4SS GDT680SGH4BB GDF510PMD2SA GDT680SSH4SS GDT625PGJ4WW PDT825SGJ0BB GDT580SGF8BB
GDF650SMJ0ES DDT575SMF4ES PDT720SGH5WW GDF510PGJ4WW GDT655SMJ0ES GDT720SGF4BB GDT625PSJ6SS GDT530PSD4SS GDT580SGF4WW GDT635HMJ0ES GDF610PMJ2ES GDT580SSF4SS PDF820SSJ0SS DDT595SMJ0ES GDT535PGJ5WW GDT680SGH2BB GDF570SGJ0WW GDT680SGH4WW GDF540HGD6WW GDF570SGJ2BB ADT521PGF6WS GDF540HMF6ES GDT655SGJ0WW GDF510PGD2WW GDT550HGD4WW GDT535PGJ2BB GDT590SSJ7SS GDT545PGJ6BB GDF510PGD6BB GDT530PSD2SS GDT535PGJ4WW GDT680SGH8WW GDF620HGJ5BB GDT550HGD6BB GDT625PGJ5WW GDT740SSF2SS GDT580SGF2BB GDT545PSJ6SS GDF610PMJ6ES DDT575SGF8BB ADT521PGF4WS GDT680SGH2WW GDF610PSJ4SS GDF520PMJ4ES GDF650SGJ2WW DDT575SSF5SS PDT720SSH5SS GDF620HSJ0SS GDF620HGJ6WW GDF520PGJ0BB GDT550HGD4BB GDT655SGJ2BB GDF610PMJ4ES GDF620HGJ6BB GDF520PSJ0SS
GDF510PGD6WW GDT625PGJ0WW GDF620HGJ0BB GDT535PGJ0WW GDT580SSF5SS GDF620HGJ4WW GDT680SGH7WW GDT580SSF2SS GDT535PGJ6BB GDF570SGF6CC GDF510PMJ2SA GDF570SSJ2SS GDT625PGJ6BB GDT695SMJ0ES PDF820SGJ2WW DDT575SGF7WW GDF650SGJ2BB GDT635HSJ6SS GDT580SSF8SS GDF520PSJ2SS DDT575SSF4SS GDF650SGJ0WW GDT695SSJ2SS GDT635HMJ4ES GDF510PMD4SA GDF510PSD4SS GDF570SGJ0CC GDF570SGF7BB GDT535PGJ2WW GDT545PGJ2BB PDT720SSH7SS DDT575SSF2SS PDF820SSJ2SS GDF570SGF7WW GDF510PSJ2SS GDT655SGJ0BB GDT695SGJ2BB GDF520PSF2SS GDT580SGF6BB GDT530PGD4WW GDF650SSJ0SS DDT575SGF8WW GDF540HGD6BB GDT535PSJ6SS GDF520PGD2CC GDT635HGJ5WW GDT625PSJ0SS GDT635HGJ2WW GDF510PGJ4BB GDF520PSJ6SS GDF520PSF4SS GDF610PGJ2BB GDT695SGJ0BB GDT545PSJ5SS GDT545PGJ5WW
GDT695SGJ0WW GDT545PSJ4SS GDT530PGD6BB GDF510PGJ0WW ADT521PGF0WS GDF510PGJ5BB GDT625PSJ4SS GDT625PGJ6WW GDF610PSJ6SS GDF540HGD2WW GDT580SGF6WW GDT635HGJ6BB DDT575SGF6WW GDT695SBL2TS GDT535PGJ4BB DDT575SGF6BB GDF520PGJ5CC GDT635HMJ5ES GDF520PGJ4CC GDF570SGF8CC GDT545PGJ4WW GDF570SGF6WW PDT750SSF2SS GDF610PGJ4BB GDT550HGD6WW GDF570SSJ0SS GDF620HMJ6ES DDT575SGF5WW GDF610PGJ0WW GDF620HSJ4SS GDT680SGH8BB PDF820SGJ0WW DDT575SGF7BB GDF570SSF8SS GDF510PSJ4SS DDT575SSF6SS GDT680SSH7SS GDF570SGF8WW GDF610PMJ0ES GDT535PGJ6WW GDF570SGF2CC GDT545PGJ6WW GDF510PGJ2WW GDF540HSD2SS GDF520PGJ2BB GDF570SSF6SS GDF510PMJ6SA GDT635HGJ0WW GDF520PGJ0CC DDT595SFL3DS
PDT720SSH6SS GDT625PSJ2SS GDF510PGJ6WW GDT545PGJ4BB GDF650SMJ2ES GDF570SGJ2CC GDF570SGF8BB DDT575SGF2WW GDT635HSJ2SS GDT635HMJ2ES GDF540HGD4WW GDF620HMJ5ES GDT580SMF8ES GDT590SGJ7WW DDT595SMJ2ES PDT720SGH6BB GDT530PGD2BB CDT835SSJ0SS GDF510PSJ5SS GDT720SGF2WW GDF620HSJ5SS GDT635HGJ0BB ADT521PGF2WS GDT680SSH6SS DDT575SGF2BB GDF520PGD2BB GDF620HGJ2WW GDF570SGF7CC GDT740SIF2II GDT580SGF5WW GDF610PGJ5WW GDT590SMJ7ES GDT680SGH6BB DDT575SGF4WW GDT635HGJ6WW GDT635HGJ4BB ADT521PGJ0BS GDF520PGJ2WW GDF520PGJ2CC GDF570SGJ0BB GDT580SGF7BB GDT580SMF4ES GDF620HMJ2ES GDF620HGJ0WW DDT595SGJ2BB GDT720SSF4SS GDF540HGD2BB DDT575SMF8ES GDT635HSJ0SS GDT720SGF4WW GDT655SSJ2SS PDT720SGH5BB CDT725SSF4SS GDT545PSJ0SS GDF510PGD4WW
GDF510PGJ2BB PDT825SGJ0WW GDF570SGF4WW GDF620HGJ5WW ADT521PGF0BS GDF520PGD6WW GDT635HGJ2BB GDF610PSJ0SS DDT575SGF4BB GDF610PGJ2WW GDF540HSF2SS GDF520PGD6CC GDT530PGD4BB GDF510PGJ0BB GDF540HGD4BB GDT655SSJ0SS GDF610PGJ6BB GDF520PGJ5WW GDT535PSJ0SS GDF570SGF4CC PDT750SSF7SS GDF610PGJ4WW GDF570SSF2SS GDF540HMF2ES GDT625PGJ0BB GDF610PGJ6WW GDT590SGJ7BB PDT825SGJ2BB GDT535PGJ0BB GDT680SGH7BB DDT575SSF8SS GDT635HMJ6ES GDT530PSD6SS GDT695SBL3TS GDF520PSJ4SS GDT580SSF7SS GDF520PMJ0ES DDT575SMF5ES CDT725SSF7SS PDT825SSJ0SS GDF510PGJ5WW GDF510PGJ6BB GDF510PSJ6SS CDT725SSF2SS GDF510PGD4BB PDT720SGH7WW GDT635HSJ5SS GDT680SSH8SS GDF520PSJ5SS GDT580SGF7WW
GDF620HMJ4ES GDT550HGD2WW GDF520PGD6BB DDT575SGF5BB GDT535PSJ5SS GDF610PSJ2SS GDF520PGD4BB GDF510PMD6SA GDF610PSJ5SS PDT750SMF2ES GDF650SFJ2DS GDF570SSF4SS GDF520PGD4WW GDT695SMJ2ES GDT545PGJ2WW PDF820SGJ2BB GDT530PGD2WW GDT695SSJ0SS GDF520PMJ5ES GDT625PGJ4BB GDF510PSD2SS GDF510PGD2BB GDT625PGJ2WW GDF520PGD2WW GDF620HGJ2BB GDT545PGJ5BB DDT595SGJ2WW GDT580SMF7ES
Compare Best Deals
Get the Best Price! View features more WD19X25180 product description, terms and conditions (new, used, or refurbished), shipping information, return and customer satisfaction policy, and other useful information. There are a number of sellers offering this used part at the store online. You can compare the best prices below.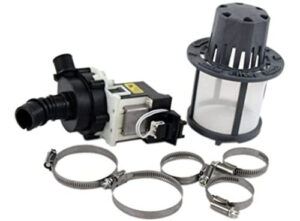 ==> Click Here to Compare Best Prices on eBay! <==
More Information
In the market online, many sellers sell a variety of appliance parts, including washer drive pulley, washer suspension rod, washing machine electronic control board, range glass main cooktop, affinity washer control board, and range cooktop griddle, also including the GE Dishwasher Drain Pump Kit WD19X25180.
For other big appliance brands, for instance, Kenmore, you can search for its products, parts, and services on the store online.
Other Replacement Parts:
Don't give up! If you can not find the right part for your specific appliance model or have any message, please do not hesitate to contact us at any time. We will check the part and respond to you as soon as possible. Thank you so much.