Great Price Oven Stove Control Board Replacement for Frigidaire CGEF3055MFC CGEF3055MWD CGEF3058RFD CGEF3055MFD FGEF3055MFE FGEF3055MFG and more.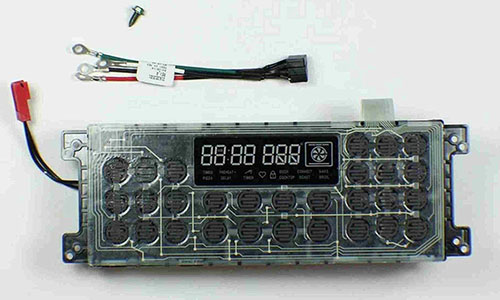 Oven Control Board Repair
Product: Oven Range Stove Electronic Circuit Main Clock Timer Control Board PCB Assembly
Part Number: 5304495521
Replace Parts: 316560117 3436760 AP5807224 EAP9494056 PS9494056
Fits Brands: Frigidaire Electrolux
Fits Range Oven Models:
This item 5304495521 fits the following Frigidaire oven stove models. Use Ctrl+F to find your particular model listed below.
CGEF3055MBA CGEF3055MFB CGEF3055MFE CGEF3055MFF CGEF3055MWA CGEF3055MWB CGEF3055MWC CGEF3055MWD CGEF3058RFA CGEF3058RWA CGEF3059RFA FGEF3058RBA FGEF3058RWA CGEF3055MFA FGEF3058RFA CGEF3058RFB CGEF3058RWB CGEF3059RFB FGEF3058RBB FGEF3058RFB FGEF3058RWB CGEF3058RWC CGEF3058RWD CGEF3059RFD FGEF3058RBC FGEF3058RFC FGEF3058RFD FGEF3058RWD CGEF3058RFE CGEF3058RWE FGEF3058RBD FGEF3058RFE FGEF3058RWE CGEF3055MFD CGEF3055MFG CGEF3059RFC FGEF3055MBA FGEF3055MBB FGEF3055MBC FGEF3055MFA FGEF3055MFB FGEF3055MFC FGEF3055MFD FGEF3055MFE FGEF3055MFF FGEF3055MFG FGEF3055MWA and more.
Compare Lowest Price
Please Check! Your correct part number is 5304495521. View more Electric Stove Oven 5304495521 Circuit Board product description, return & warranty services, and Compare Lowest Prices on eBay HERE!
Other Appliance Replacement Parts:
If you have any questions please leave your message in the comment box below. We will get back to you ASAP. All the best!