Appliance Part Replacement! Home Appliance Parts KitchenAid Refrigerator Freezer Fridge Door Handle Assembly WPW10314517K. Compatible with KBFS25EWMS3 KSF26C4XYY03 KBFS25EWMS5 KFFS20EYMS02 KSC23C8EYB02 KBLS22EVMS3 KBRS20EVMS1 KBFS25EVWH0 models and more. Secure Shopping.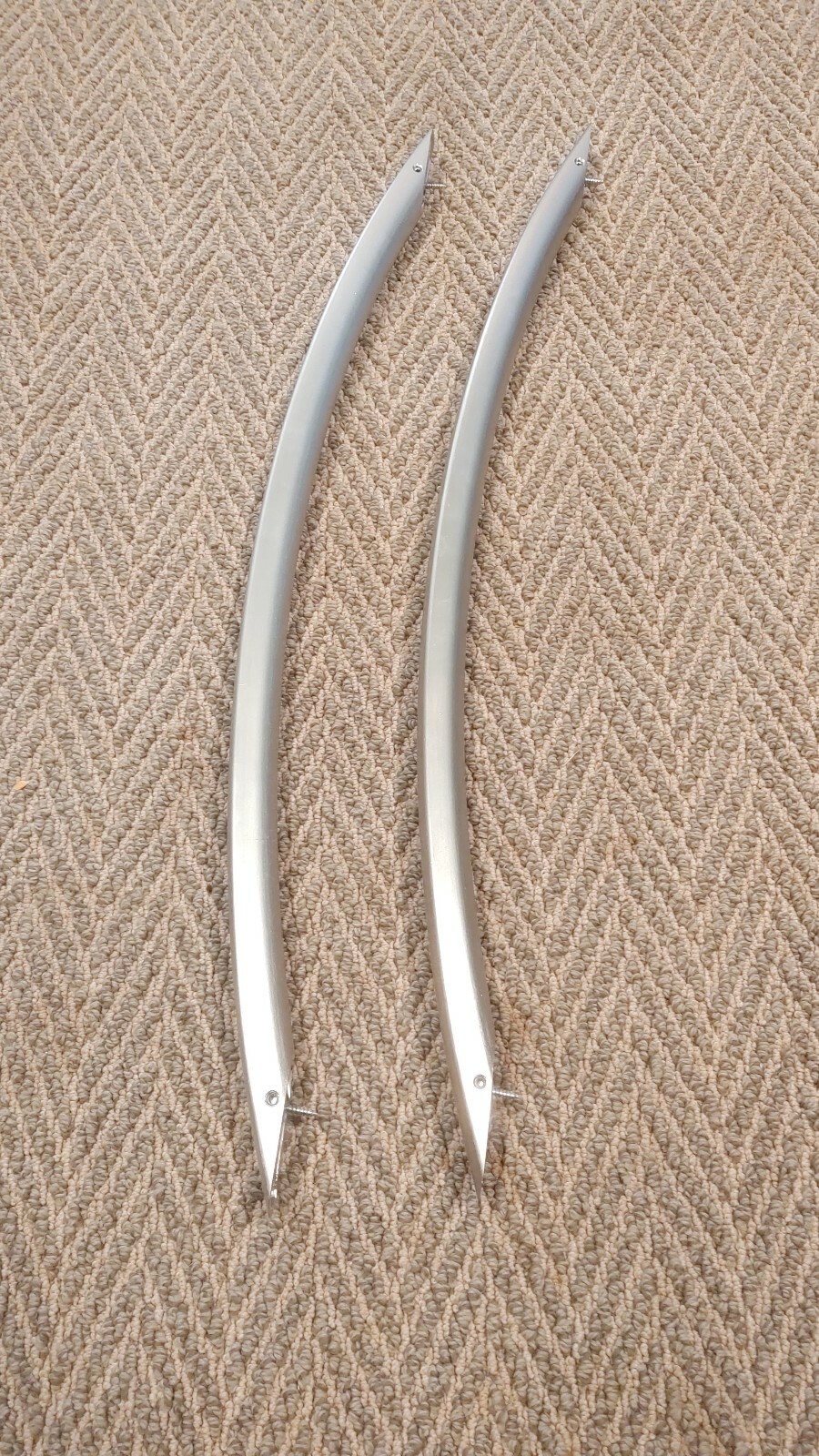 KitchenAid Refrigerator Freezer Fridge Door Handle WPW10314517K
Product: KITCHENAID WHIRLPOOL REFRIGERATOR DOOR HANDLE WPW10314517K
Item Location: Atlanta, Georgia, United States
Ship To: Local pick-up only
Policy: Seller does not accept returns
Condition: Used
Price: US $40.00
See more part details and Purchase on eBay or Get Lowest Price Below.
Fits KitchenAid Freezer Models:
This Fridge Door Handle WPW10314517K assembly part fits the following Kitchen-Aid models. Use Ctrl-F to find your appliance model below.
5KRFX9000M00 7KSC24C8EY00 7KSF26C6YY00 KBFL25EVMS00 KBFL25EVMS1 KBFL25EVMS2 KBFS20EVBL00 KBFS20EVBL1 KBFS20EVMS00 KBFS20EVMS1 KBFS20EVMS11 KBFS20EVMS13 KBFS20EVMS2 KBFS20EVMS3 KBFS20EVMS4 KBFS20EVMS5 KBFS20EVMS6 KBFS20EVMS7 KBFS20EVMS8 KBFS20EVMS9 KBFS20EVWH00 KBFS20EVWH1 KBFS22EWBL1 KBFS22EWMS1 KBFS22EWMS3 KBFS22EWMS4 KBFS22EWMS5 KBFS22EWMS7 KBFS22EWMS9 KBFS22EWWH1 KBFS25EVBL0 KBFS25EVBL00 KBFS25EVBL1 KBFS25EVMS0 KBFS25EVMS00 KBFS25EVMS1 KBFS25EVMS2 KBFS25EVMS3 KBFS25EVMS4 KBFS25EVSS0 KBFS25EVSS00 KBFS25EVWH0 KBFS25EVWH00 KBFS25EVWH1 KBFS25EWBL0 KBFS25EWBL1 KBFS25EWBL2 KBFS25EWBL3 KBFS25EWBL4 KBFS25EWMS0 KBFS25EWMS1 KBFS25EWMS10 KBFS25EWMS2 KBFS25EWMS3 KBFS25EWMS4 KBFS25EWMS5 KBFS25EWMS6 KBFS25EWMS8 KBFS25EWWH0 KBFS25EWWH1 KBFS25EWWH2 KBFS25EWWH3 KBFS25EWWH4 KBLS19KTMS0 KBLS19KTMS1 KBLS19KTMS2 KBLS19KTMS3 KBLS19KTSS00 KBLS19KTSS01 KBLS19KTSS2 KBLS19KTSS3 KBLS19KTSS4 KBLS19KTSS5 KBLS20EVMS00 KBLS20EVMS1 KBLS20EVMS2 KBLS20EVMS3 KBLS20EVMS4 KBLS20EVMS5 KBLS22EVMS00 KBLS22EVMS1 KBLS22EVMS2 KBLS22EVMS3 KBLS22KVSS00 KBLS22KVSS1 KBLS22KVSS2 KBLS22KVSS3 KBLS22KVSS4 KBLS22KWMS4 KBLS22KWMS5 KBLS22KWMS6 KBRL22EVMS4 KBRS19KTBL00 KBRS19KTBL01 KBRS19KTBL2 KBRS19KTMS0 KBRS19KTMS1 KBRS19KTMS2 KBRS19KTMS3 KBRS19KTSS00 KBRS19KTSS01 KBRS19KTSS2 KBRS19KTSS3 KBRS19KTSS4 KBRS19KTSS5 KBRS19KTWH00 KBRS19KTWH01 KBRS19KTWH2 KBRS20EVBL00 KBRS20EVBL1 KBRS20EVMS00 KBRS20EVMS1 KBRS20EVMS2 KBRS20EVMS3 KBRS20EVMS4 KBRS20EVMS5 KBRS20EVMS6 KBRS20EVWH00 KBRS20EVWH1 KBRS22EVBL00 KBRS22EVBL1 KBRS22EVMS00 KBRS22EVMS1 KBRS22EVMS2 KBRS22EVMS3 KBRS22EVMS4 KBRS22EVWH00 KBRS22EVWH1 KBRS22KVBL00 KBRS22KVBL1 KBRS22KVSS00 KBRS22KVSS1 KBRS22KVSS2 KBRS22KVSS3 KBRS22KVSS4 KBRS22KVWH00 KBRS22KVWH1 KBRS22KWMS4 KBRS22KWMS5 KBRS22KWMS6 KFCS22EVBL1 KFCS22EVMS1 KFCS22EVMS2 KFCS22EVMS3 KFCS22EVMS4 KFCS22EVMS5 KFCS22EVMS6 KFCS22EVMS7 KFCS22EVMS8 KFCS22EVWH1 KFFS20EYBL00 KFFS20EYBL01 KFFS20EYBL02 KFFS20EYBL04 KFFS20EYMS00 KFFS20EYMS01 KFFS20EYMS02 KFFS20EYMS04 KFFS20EYWH00 KFFS20EYWH01 KFFS20EYWH02 KFFS20EYWH04 KFIL27CXMS0 KFIL27CXMS1 KFIL27CXMS2 KFIL27CXMS3 KFIL27CXMS4 KFIL27CXMS5 KFIS20XVBL00 KFIS20XVBL1 KFIS20XVBL2 KFIS20XVMS00 KFIS20XVMS1 KFIS20XVMS10 KFIS20XVMS11 KFIS20XVMS2 KFIS20XVMS3 KFIS20XVMS4 KFIS20XVMS5 KFIS20XVMS6 KFIS20XVMS7 KFIS20XVMS8 KFIS20XVWH00 KFIS20XVWH1 KFIS20XVWH2 KFIS25XVBL00 KFIS25XVBL1 KFIS25XVMS00 KFIS25XVMS1 KFIS25XVMS10 KFIS25XVMS2 KFIS25XVMS3 KFIS25XVMS4 KFIS25XVMS5 KFIS25XVMS6 KFIS25XVMS7 KFIS25XVMS8 KFIS25XVMS9 KFIS25XVWH00 KFIS25XVWH1 KFIS27CXBL0 KFIS27CXBL2 KFIS27CXMS0 KFIS27CXMS1 KFIS27CXMS2 KFIS27CXMS3 KFIS27CXMS4 KFIS27CXMS5 KFIS27CXMS6 KFIS27CXWH0 KFIS27CXWH2 KFXL25RYMS0 KFXL25RYMS1 KFXL25RYMS2 KFXL25RYMS4 KFXS25RYBL0 KFXS25RYBL1 KFXS25RYBL2 KFXS25RYBL4 KFXS25RYBL5 KFXS25RYMS0 KFXS25RYMS1 KFXS25RYMS2 KFXS25RYMS4 KFXS25RYMS5 KFXS25RYWH0 KFXS25RYWH1 KFXS25RYWH2 KFXS25RYWH4 KFXS25RYWH5 KRK55BRANA3 KSC23C8EYB00 KSC23C8EYB02 KSC23C8EYW00 KSC23C8EYY00 KSC23C8EYY01 KSC23C8EYY02 KSC23C8EYY03 KSC23C9EYB00 KSC23C9EYB02 KSC23C9EYW00 KSC23C9EYW02 KSC23C9EYY00 KSC23C9EYY01 KSC23C9EYY02 KSC23W8EYB00 KSC23W8EYW00 KSC23W8EYY00 KSC24C8EYB00 KSC24C8EYB02 KSC24C8EYP00 KSC24C8EYW00 KSC24C8EYW02 KSC24C8EYY00 KSC24C8EYY01 KSC24C8EYY02 KSC24C8EYY03 KSC24C8EYY04 KSF26C4XYB00 KSF26C4XYB02 KSF26C4XYB03 KSF26C4XYW02 KSF26C4XYW03 KSF26C4XYY00 KSF26C4XYY01 KSF26C4XYY02 KSF26C4XYY03 KSF26C4XYY04 KSF26C6XYY00 KSF26C6XYY02 KSF26C6XYY03 KSF26C6XYY04 KSF26C6XYY05 KSF26C7XYY00 KSF26C7XYY02 KSF26C7XYY04
Compare Lowest Prices
Find out more Freezer Door Handle WPW10314517K product details, item conditions, shipping options, exchange, return & refund policy, and shop on eBay HERE!

Further, the fridge door handle WPW10314517K, if you can not find the correct part for your appliance model or have any message, please leave a message at the comment box below. We will search the part and get back to you soon. Thank you very much.
Related Door Handle Parts: