Compare Prices Whirlpool Refrigerator Freezer Fridge Door Handle Assembly 4388949. Suits for GT1SHTXMT00 ET18CKXHB01 ET9AHTXMQ02 GT1SHTXMQ03 ET1CHEXST01 ET1CHMXKB04 ET9FTTXLB11 ET8FTEXVT02 models and more. Shop Now!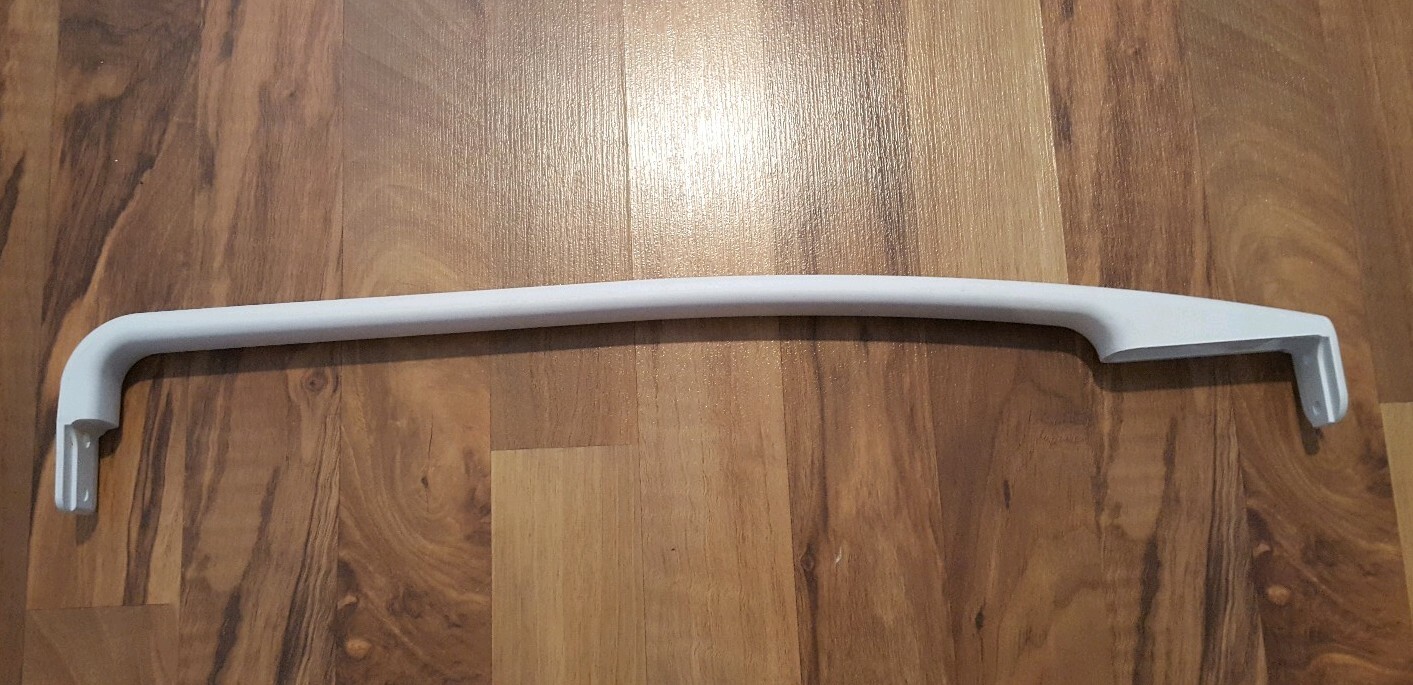 Whirlpool Refrigerator Freezer Fridge Door Handle 4388949
Product: WHIRLPOOL REFRIGERATOR FREEZER HANDLE 4388949 WHITE USED 112819
Type: Freezer Door Handle
Item Location: Moline, Illinois, United States
Ship To: United States
Policy: Seller does not accept returns
Condition: Used
Price: US $19.99
Read more details and Save Today on eBay Here! or Get Best Price Below.
Fits Whirlpool Refrigerator Models:
This Fridge Door Handle 4388949 assembly part fits the following Whirlpool top-mount refrigerator models. Use Ctrl-F to find your specific model below.
8ET1FTKXKT00 8ET1FTKXKT01 8ET1FTKXKT02 8ET1FTKXKT04 8ET1FTKXKT05 8ET1FTKXKT06 8ET1FTKXKT07 8ET8FTKXKT00 8ET8FTKXKT01 8ET8FTKXKT03 8ET8FTKXKT04 8ET8FTKXKT05 8ET8FTKXKT06 8ET8WPKXKQ00 8ET8WPKXKT00 8ET8WPKXKT01 8ET8WPKXKT03 8ET8WPKXKT04 8ET8WPKXKT05 8ET8WPKXKT06 8ET8WPKXKT07 8GT9FTKXST00 8GT9FTKXST01 8GT9FTKXST02 ET18CKXHB00 ET18CKXHB01 ET18CKXHN00 ET18CKXHT00 ET18CKXHT01 ET18CKXHW00 ET18CKXHW01 ET18CMXJB00 ET18CMXJB01 ET18CMXJT00 ET18CMXJT01 ET18CMXJW00 ET18CMXJW01 ET18LKXHB00 ET18LKXHB01 ET18LKXHN00 ET18LKXHT00 ET18LKXHT01 ET18LKXHW00 ET18LKXHW01 ET18MMXJT00 ET18MMXJT01 ET18MMXJW00 ET18MMXJW01 ET18PKXGN01 ET18PKXGT01 ET18PKXGT02 ET18PKXGW01 ET18PKXGW02 ET19RKXGN02 ET19RKXGT02 ET19RKXGT03 ET19RKXGW02 ET19RKXGW03 ET1CHEXSB01 ET1CHEXSQ01 ET1CHEXST01 ET1CHEXVB00 ET1CHEXVB01 ET1CHEXVB02 ET1CHEXVB03 ET1CHEXVB04 ET1CHEXVQ00 ET1CHEXVQ01 ET1CHEXVQ02 ET1CHEXVQ03 ET1CHEXVQ04 ET1CHEXVT00 ET1CHEXVT01 ET1CHEXVT02 ET1CHEXVT03 ET1CHEXVT04 ET1CHKXKB00 ET1CHKXKB01 ET1CHKXKB03 ET1CHKXKB04 ET1CHKXKQ00 ET1CHKXKQ01 ET1CHKXKQ03 ET1CHKXKQ04 ET1CHKXKT00 ET1CHKXKT01 ET1CHKXKT03 ET1CHKXKT04 ET1CHMXKB00 ET1CHMXKB01 ET1CHMXKB02 ET1CHMXKB03 ET1CHMXKB04 ET1CHMXKB05 ET1CHMXKB06 ET1CHMXKB08 ET1CHMXKB09 ET1CHMXKB10 ET1CHMXKQ00 ET1CHMXKQ01 ET1CHMXKQ02 ET1CHMXKQ03 ET1CHMXKQ04 ET1CHMXKQ05 ET1CHMXKQ06 ET1CHMXKQ08 ET1CHMXKQ09 ET1CHMXKQ10 ET1CHMXKT00 ET1CHMXKT01 ET1CHMXKT02 ET1CHMXKT03 ET1CHMXKT04 ET1CHMXKT05 ET1CHMXKT06 ET1CHMXKT08 ET1CHMXKT09 ET1CHMXKT10 ET1FHMXMQ00 ET1FHMXMQ01 ET1FHMXMQ02 ET1FHMXMT00 ET1FHMXMT01 ET1FHMXMT02 ET1FHTXMB00 ET1FHTXMB01 ET1FHTXMB02 ET1FHTXMB03 ET1FHTXMB04 ET1FHTXMQ00 ET1FHTXMQ01 ET1FHTXMQ02 ET1FHTXMQ03 ET1FHTXMQ04 ET1FHTXMT00 ET1FHTXMT01 ET1FHTXMT02 ET1FHTXMT03 ET1FHTXMT04 ET1FTEXLQ00 ET1FTEXLQ01 ET1FTEXLQ02 ET1FTEXLT00 ET1FTEXLT01 ET1FTEXLT02 ET1FTEXMQ00 ET1FTEXMQ01 ET1FTEXMQ02 ET1FTEXMQ03 ET1FTEXMT00 ET1FTEXMT01 ET1FTEXMT02 ET1FTEXMT03 ET1FTEXSQ00 ET1FTEXST00 ET1FTEXVQ00 ET1FTEXVQ01 ET1FTEXVT00 ET1FTEXVT01 ET1FTKXKQ00 ET1FTKXKQ01 ET1FTKXKQ02 ET1FTKXKQ03 ET1FTKXKQ04 ET1FTKXKQ05 ET1FTKXKT00 ET1FTKXKT01 ET1FTKXKT02 ET1FTKXKT03 ET1FTKXKT04 ET1FTKXKT05 ET1FTTXKB01 ET1FTTXKB02 ET1FTTXKB03 ET1FTTXKQ00 ET1FTTXKQ01 ET1FTTXKQ02 ET1FTTXKQ03 ET1FTTXKT00 ET1FTTXKT01 ET1FTTXKT02 ET1FTTXKT03 ET1LFKXKB00 ET1LFKXKB01 ET1LFKXKB02 ET1LFKXKB03 ET1LFKXKB04 ET1LFKXKB05 ET1LFKXKB06 ET1LFKXKB07 ET1LFKXKB08 ET1LFKXKQ00 ET1LFKXKQ01 ET1LFKXKQ02 ET1LFKXKQ03 ET1LFKXKQ04 ET1LFKXKQ05 ET1LFKXKQ06 ET1LFKXKQ07 ET1LFKXKQ08 ET1LFKXKS02 ET1LFKXKS03 ET1LFKXKS04 ET1LFKXKS05 ET1LFKXKS06 ET1LFKXKS07 ET1LFKXKS08 ET1LFKXKT00 ET1LFKXKT01 ET1LFKXKT02 ET1LFKXKT03 ET1LFKXKT04 ET1LFKXKT05 ET1LFKXKT06 ET1LFKXKT07 ET1LFKXKT08 ET1NHMXKQ00 ET1NHMXKQ01 ET1NHMXKQ02 ET1NHMXKT00 ET1NHMXKT01 ET1NHMXKT02 ET1RHMXKQ00 ET1RHMXKQ01 ET1RHMXKQ02 ET1RHMXKQ03 ET1RHMXKQ04 ET1RHMXKQ05 ET1RHMXKT00 ET1RHMXKT01 ET1RHMXKT02 ET1RHMXKT03 ET1RHMXKT04 ET1RHMXKT05 ET21CKXHB00 ET21CKXHB01 ET21CKXHN00 ET21CKXHT00 ET21CKXHT01 ET21CKXHW00 ET21CKXHW01 ET21CMXJB00 ET21CMXJB01 ET21CMXJT00 ET21CMXJT01 ET21CMXJW00 ET21CMXJW01 ET21LKXHB01 ET21LKXHB02 ET21LKXHT01 ET21LKXHT02 ET21LKXHW01 ET21LKXHW02 ET21MMXJT00 ET21MMXJT01 ET21MMXJW00 ET21MMXJW01 ET21PKXGT02 ET21PKXGW02 ET21PKXGW03 ET21UKXJT01 ET21UKXJW01 ET22RKXGT02 ET22RKXGW02 ET2AHTXLQ00 ET2AHTXLQ01 ET2AHTXLT00 ET2AHTXLT01 ET2AHTXMQ00 ET2AHTXMQ01 ET2AHTXMQ02 ET2AHTXMT00 ET2AHTXMT01 ET2AHTXMT02 ET8CHEXSB02 ET8CHEXSQ02 ET8CHEXST02 ET8CHEXVB00 ET8CHEXVB01 ET8CHEXVQ00 ET8CHEXVQ01 ET8CHEXVT00 ET8CHEXVT01 ET8CHKXKB00 ET8CHKXKB01 ET8CHKXKB02 ET8CHKXKB04 ET8CHKXKB05 ET8CHKXKB06 ET8CHKXKB07 ET8CHKXKQ00 ET8CHKXKQ01 ET8CHKXKQ02 ET8CHKXKQ04 ET8CHKXKQ05 ET8CHKXKQ06 ET8CHKXKQ07 ET8CHKXKT00 ET8CHKXKT01 ET8CHKXKT02 ET8CHKXKT04 ET8CHKXKT05 ET8CHKXKT06 ET8CHKXKT07 ET8CHMXKB00 ET8CHMXKB01 ET8CHMXKB02 ET8CHMXKB03 ET8CHMXKB04 ET8CHMXKB05 ET8CHMXKB06 ET8CHMXKB07 ET8CHMXKQ00 ET8CHMXKQ01 ET8CHMXKQ02 ET8CHMXKQ03 ET8CHMXKQ04 ET8CHMXKQ05 ET8CHMXKQ06 ET8CHMXKQ07 ET8CHMXKT00 ET8CHMXKT01 ET8CHMXKT02 ET8CHMXKT03 ET8CHMXKT04 ET8CHMXKT05 ET8CHMXKT06 ET8CHMXKT07 ET8FTEXKB03 ET8FTEXKQ00 ET8FTEXKQ01 ET8FTEXKQ02 ET8FTEXKQ03 ET8FTEXKT00 ET8FTEXKT01 ET8FTEXKT02 ET8FTEXKT03 ET8FTEXMB00 ET8FTEXMB01 ET8FTEXMB02 ET8FTEXMB03 ET8FTEXMQ00 ET8FTEXMQ01 ET8FTEXMQ02 ET8FTEXMQ03 ET8FTEXMT00 ET8FTEXMT01 ET8FTEXMT02 ET8FTEXMT03 ET8FTEXSB01 ET8FTEXSQ00 ET8FTEXSQ01 ET8FTEXST00 ET8FTEXST01 ET8FTEXVB00 ET8FTEXVB01 ET8FTEXVB02 ET8FTEXVQ00 ET8FTEXVQ01 ET8FTEXVQ02 ET8FTEXVT00 ET8FTEXVT01 ET8FTEXVT02 ET8FTKXKQ00 ET8FTKXKQ01 ET8FTKXKQ02 ET8FTKXKQ03 ET8FTKXKQ04 ET8FTKXKT00 ET8FTKXKT01 ET8FTKXKT02 ET8FTKXKT03 ET8FTKXKT04 ET8LFKXKB00 ET8LFKXKQ00 ET8LFKXKQ01 ET8LFKXKQ02 ET8LFKXKQ03 ET8LFKXKQ04 ET8LFKXKQ05 ET8LFKXKQ06 ET8LFKXKQ07 ET8LFKXKT00 ET8LFKXKT01 ET8LFKXKT02 ET8LFKXKT03 ET8LFKXKT04 ET8LFKXKT05 ET8LFKXKT06 ET8LFKXKT07 ET8NHMXKQ00 ET8NHMXKQ01 ET8NHMXKQ02 ET8NHMXKT00 ET8NHMXKT01 ET8NHMXKT02 ET8RHMXKQ00 ET8RHMXKQ01 ET8RHMXKQ02 ET8RHMXKQ03 ET8RHMXKQ04 ET8RHMXKQ05 ET8RHMXKT00 ET8RHMXKT01 ET8RHMXKT02 ET8RHMXKT03 ET8RHMXKT04 ET8RHMXKT05 ET9AHTXLQ00 ET9AHTXLQ01 ET9AHTXLQ02 ET9AHTXLT00 ET9AHTXLT01 ET9AHTXLT02 ET9AHTXMQ00 ET9AHTXMQ01 ET9AHTXMQ02 ET9AHTXMT00 ET9AHTXMT01 ET9AHTXMT02 ET9FHTXMQ00 ET9FHTXMQ01 ET9FHTXMQ02 ET9FHTXMQ03 ET9FHTXMT00 ET9FHTXMT01 ET9FHTXMT02 ET9FHTXMT03 ET9FTKXKQ00 ET9FTKXKQ01 ET9FTKXKQ02 ET9FTKXKQ03 ET9FTKXKQ04 ET9FTKXKT00 ET9FTKXKT01 ET9FTKXKT02 ET9FTKXKT03 ET9FTKXKT04 ET9FTTXLB00 ET9FTTXLB10 ET9FTTXLB11 ET9FTTXLB12 ET9FTTXLB13 ET9FTTXLQ00 ET9FTTXLQ10 ET9FTTXLQ11 ET9FTTXLQ12 ET9FTTXLQ13 ET9FTTXLT00 ET9FTTXLT10 ET9FTTXLT11 ET9FTTXLT12 ET9FTTXLT13 GT19DKXJT00 GT19DKXJT01 GT19DKXJW00 GT19DKXJW01 GT1NHWXPB00 GT1NHWXPQ00 GT1NHWXPS00 GT1NHWXPT00 GT1SHTXLB00 GT1SHTXLB01 GT1SHTXLQ00 GT1SHTXLQ01 GT1SHTXLT00 GT1SHTXLT01 GT1SHTXMB00 GT1SHTXMB01 GT1SHTXMB02 GT1SHTXMB03 GT1SHTXMB04 GT1SHTXMQ00 GT1SHTXMQ01 GT1SHTXMQ02 GT1SHTXMQ03 GT1SHTXMQ04 GT1SHTXMT00 GT1SHTXMT01 GT1SHTXMT02 GT1SHTXMT03 GT1SHTXMT04 GT1SHWXPB00 GT1SHWXPB01 GT1SHWXPB02 GT1SHWXPQ00 GT1SHWXPQ01 GT1SHWXPQ02 GT1SHWXPS00 GT1SHWXPS01 GT1SHWXPS02 GT1SHWXPT00 GT1SHWXPT01 GT1SHWXPT02 GT22DKXJB00 GT22DKXJB01 GT22DKXJT00 GT22DKXJT01 GT22DKXJW00 GT22DKXJW01 GT22DMXGB01 GT22DMXGN01 GT22DMXGT01 GT22DMXGW01 GT22DMXJB00 GT22DMXJB01 GT22DMXJT00 GT22DMXJT01 GT22DMXJW00 GT22DMXJW01 GT2MHTXRB01 GT2MHTXRQ01 GT2MHTXRS01 GT2MHTXRT01 GT9MHTXRQ00 GT9MHTXRQ01 GT9MHTXRT00 GT9MHTXRT01 GT9SHTXLB00 GT9SHTXLB01 GT9SHTXLQ00 GT9SHTXLQ01 GT9SHTXLT00 GT9SHTXLT01 W1TXEMFWB00 W1TXEMFWB01 W1TXEMFWQ00 W1TXEMFWQ01 W1TXEMFWS00 W1TXEMFWS01 W1TXEMFWT00 W1TXEMFWT01 W1TXEMMWB00 W1TXEMMWB02 W1TXEMMWB03 W1TXEMMWB04 W1TXEMMWQ00 W1TXEMMWQ02 W1TXEMMWQ03 W1TXEMMWQ04 W1TXEMMWS00 W1TXEMMWS02 W1TXEMMWS03 W1TXEMMWS04 W1TXEMMWT00 W1TXEMMWT02 W1TXEMMWT03 W1TXEMMWT04 W1TXNMFWB02 W1TXNMFWQ02 W1TXNMFWT02 W9TXNMFWB00 W9TXNMFWQ00 W9TXNMFWS00 W9TXNMFWT00 WRT1L1TZYB00 WRT1L1TZYB01 WRT1L1TZYM00 WRT1L1TZYS01 WRT1L1TZYT00 WRT1L1TZYT01 WRT1L1TZYW00 WRT1L1TZYW01
Compare Lowest Prices
See deals more Fridge Door Handle 4388949 product description, item conditions, shipping information, return & refund policy, and view the best prices on eBay HERE!

Need Help? Besides the fridge door handle 4388949, if you can not find the correct part for your specific appliance model, please leave a message at the comment box below. We will check the part and get back to you soon. Thank you.