Compare Prices Hotpoint Refrigerator Freezer Fridge Door Handle Assembly WR12X10332. Suits for CSG28DHCBWW CSG28DHCEWW HSS22IFPDWW CSG28DHCHWW HSS25GFPHWW CSX25GPCCWW HSS25IFMCWW HSS25IFMAWW models and more. Buy and Save.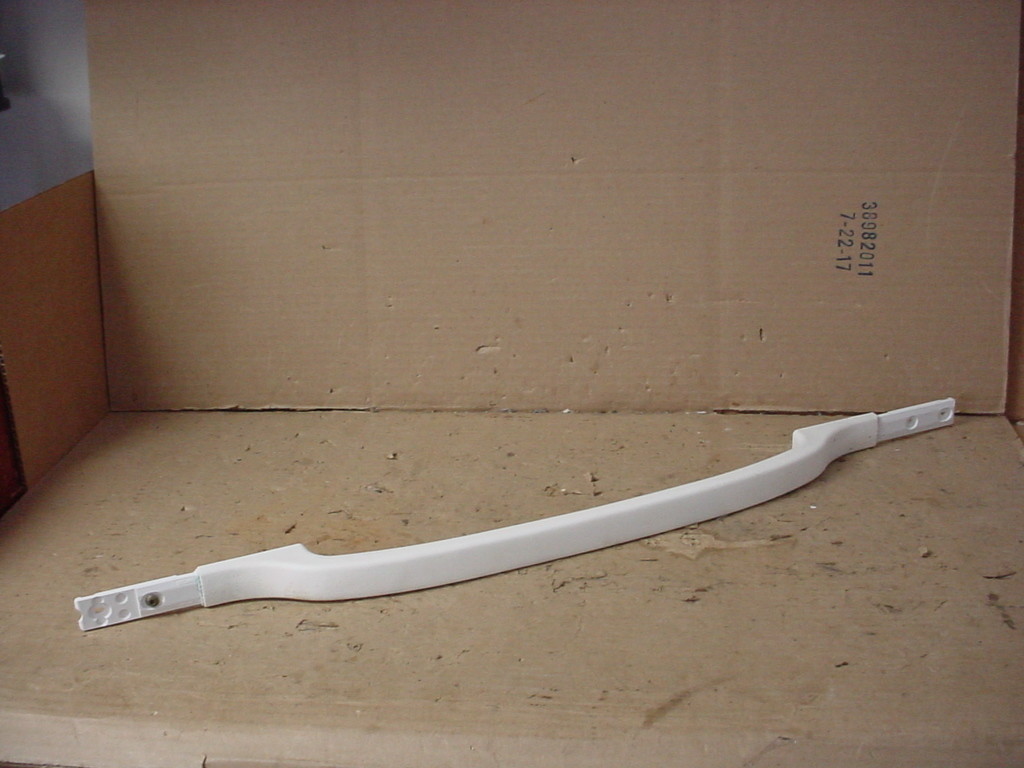 Hotpoint Refrigerator Freezer Fridge Door Handle WR12X10332
Product: GE Refrigerator Door Handle Lot of 2 w/ Mild Yellowing Part # WR12X10332
Item Location: Stockton, California, United States
Ship To: United States and many other countries
Policy: 30 day returns. Buyer pays for return shipping
Condition: Used
Price: US $24.27
Read more details and Buy Now on eBay Here! or Compare Best Prices Below.
Fits Hotpoint Fridge Models:
The Freezer Door Handle WR12X10332 assembly part fits the following Hotpoint models. Use Ctrl-F to find your specific model below.
CSG28DHCBWW CSG28DHCCWW CSG28DHCEWW CSG28DHCGWW CSG28DHCHWW CSM22GRBCWW CSM22GRBEWW CSM22GRBGWW CSM22GRDAWW CSM25MRCBWW CSM25MRCEWW CSM25MRCGWW CSM26MRDAWW CST25GRBAWW CST25GRBBWW CST25GRBCWW CST25GRBEWW CST25GRBGWW CST26GRDAWW CSX22GABAWW CSX22GABBWW CSX22GABCWW CSX22GABEWW CSX22GABGWW CSX22GRBAWW CSX22GRBBAA CSX22GRBBWW CSX22GRBCWW CSX22GRBEAA CSX22GRBEWW CSX22GRBGAA CSX22GRBGWW CSX22GRBKAA CSX22GRBKWW CSX25DPBAWW CSX25DPBBWW CSX25GPCCWW CSX25GPCEWW CSX25GPCGAA CSX25GPCGWW CSX25GRBAWW CSX25GRBBWW CSX25GRBCWW CSX25MRCAWW CSX25MRCBWW CSX25MRCEWW CSX25MRCGWW CSX26MRDAAA CSX26MRDAWW HSS22IFMAWW HSS22IFMBWW HSS22IFMCWW HSS22IFMDWW HSS22IFPAWW HSS22IFPCWW HSS22IFPDWW HSS22IFPHWW HSS25GDMDWW HSS25GDPAWW HSS25GDPCWW HSS25GDPEWW HSS25GDPHWW HSS25GFPAWW HSS25GFPCWW HSS25GFPDWW HSS25GFPEWW HSS25GFPHWW HSS25GFPJWW HSS25GFPMWW HSS25IFMAWW HSS25IFMBWW HSS25IFMCWW HSS25IFMDWW HSS25IFPAWW HSS25IFPCWW HSS25IFPDWW HSS25IFPEWW HSS25IFPHWW HST20DBMAWW HST20DBMBWW HST20DBMCWW HST20DBMDWW HST22IFMAWW HST22IFMBWW HST22IFMCWW HST22IFMDWW HST22IFPAWW HST22IFPCWW HST22IFPDWW HST22IFPHWW HST25IFMAWW HST25IFMBWW HST25IFMCWW HST25IFMDWW HST25IFPAWW HST25IFPCWW HST25IFPDWW HST25IFPEWW HST25IFPHWW
Compare Lowest Prices
View more Refrigerator Door Handle WR12X10332 product details, item conditions, shipping information, return & refund policy, and buy on eBay HERE!

Need Help? If you need any help with finding the right part for your specific appliance model or have any information, please leave a message at the comment box below. We will check the part and get back to you soon. Thank you.