Find Oven Circuit Board for Crosley Frigidaire Kenmore Tappan CRG3150LWD CRG3160GQQA FFLF3015LMA FGF337GCJ 79075193300 Free Shipping!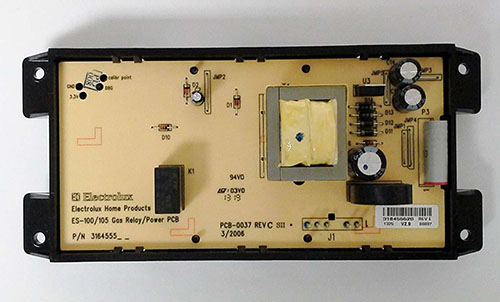 Oven Range Control Board Replacement
Product: Oven Range Stove Circuit Control Board
Part Number: 316455410
Replace Parts: 316222800 316222802 316222802R 316455410 5304427745
Fits Brands: Crosley Frigidaire Kenmore Tappan White-Westinghouse
Fits Oven Models:
The part 316455410 fits the following Crosley Frigidaire Kenmore Tappan oven stove models. Use Ctrl+F to find your particular model listed below.
CRG3140GWBA CRG3140GWWA CRG3150LBC CRG3150LWA CRG3150PBA CRG3160GBBA CRG3160GQQB CRG3160GWWD CRP3160GWWB FFGF3012TWD CFGF3017LWB FFGF3011LBB FFGF3011LWG FFGF3012TWA FFGF3013LBC FFGF3015LBA FFGF3015LMD FFGF3016TBB FFGF3017LBC FFGF3017LSD FFGF3017LWH FFGF3019LBE FFGF3047LSF FFGF3051TWA FFGF3052TWC FFLF3047LSF FGF318GCC FGF326ASC FGF326AUD FGF326KBB FGF328FMA FGF328GMD FGF328GMG FGF337ABA FGF337ABJ FGF337ASH FGF337AWA FGF337AWH FGF337EBD FGF337EWA FGF337GCD FGF337GSE FGF337GWD FGF345GSC FGF348KCG FGF348KMB FGFB337GCC FGFB337GCF FGFS36FWF FLF337AUG FLF337ECF FLF337EUD FLF337EWC FLF345HSA 79070419502 79071411400 79071412404 79071420404 79071441600 79071511403 79071514403 79071521403 79071522403 79071524400 79071551600 TGF320DWB TGF328GSD TGF336ASE TGF336AUC TGF336FWC TGFS26CBA TGFS26CSB and more.
Compare Lowest Price
SHOP NOW! The right part number is 316455410. See more Oven 33003028 Electronic Control Board product details, shipping & payment methods, and Compare Best Prices on eBay HERE!