Low Price Oven Electronic Control Board for Crosley Frigidaire Kenmore Tappan CRG3140GBBA FFGF3013LWC FFGF3047LSD FGF348KSC TGF351RBA and more.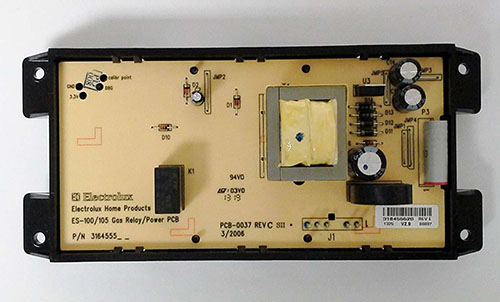 Oven Stove Electronic Circuit Board
Product: Oven Range Stove Electronic Circuit Control Board PCB Assembly
Part Number: 316455410
Replace Parts: 316222800 316222802 316222802R 316455410 5304427745
Fits Brands: Crosley Frigidaire Kenmore Tappan White-Westinghouse
Fits Oven Models:
This product 316455410 fits the following Crosley Frigidaire Kenmore Tappan White-Westinghouse oven stove models. Use Ctrl+F to find your specific model below.
CRG3140GBBA CRG3140GQQC CRG3140GWWE CRG3150LBA CRG3150LQC CRG3150LWE CRG3160GBBA CRG3160GQQB CRG3160GWWD CRP3160GBBB FFGF3012TWD CFGF337GSB FFGF3011LBC FFGF3011LBH FFGF3012TBC FFGF3012TWC FFGF3015LBE FFGF3015LMC FFGF3015LWE FFGF3017LBF FFGF3017LWA FFGF3019LBA FFGF3019LBD FFGF3047LSF FFGF3049LSC FFGF3052TSA FFLF3047LSD FGF318GCC FGF326ASH FGF326AWB FGF326AWF FGF328GBB FGF328GBD FGF328GME FGF337ABC FGF337ASE FGF337AWE FGF337BCB FGF337BCL FGF337EUA FGF337GCG FGF337GSA FGF337GWA FGF337GWF FGF348KCC FGF348KSC FGFB337GCE FGFS36FUC FGFS36FWE FLF337AWD FLF337ECD FLF337EUE FLF337EWH LFGF3014LWC 79071410401 79071412403 79071419401 79071421404 79071452600 79071511403 79071514401 79071521400 79071522403 79071529403 79071552600 79075193300 TGF320DWC TGF336ASH TGF336AWD TGF336AWH TGFS26CBA TGFS36FWA and more.
Compare Lowest Price
SHOP NOW! Your correct part number is 316455410. View more Oven 33003028 Electronic Control Board part information, return & warranty policy, and Compare Lowest Prices on eBay HERE!