Buy Best Price Electrolux Refrigerator Control Board EI27BS16JS8 EI28BS36IS1 Replacement Parts. Replaces EI28BS51IS0 E23BC78IPS6 EI28BS65KS6 EI23BC36IB1 EI23BC30KW1 E23BC68JPSAA EI28BS51IW6 EW28BS70IW0 EI23CS55GW7 EI28BS51IS5 EI23BC30KS4A EI23BC56IBD repair parts and more. Fast Shipping.
Electrolux Refrigerator Control Board EI27BS16JS8 EI28BS36IS1
Part Number: 241577505
Replacement Part No: 241577505 7241577505 1512577 AP4393275 PS2361242 EAP2361242
Fits Brands: Frigidaire, Electrolux, Crosley, Kenmore
Product or Service Type: Refrigerator Inverter Control Board Replacement Parts
Product Price: View more part information and Check the Price Below.
Fits Fridge Models:
Check the right replacement item. This 241577505 Electrolux Refrigerator Control Board EI27BS16JS8 EI28BS36IS1 can be used for the following models. Press Ctrl-F to find your specific model shown below.
EI23BC51IS1 EI27BS16JS8 EI28BS36IS1 EI23BC56IS1 EI28BS51IS0 E23BC78IPS6 EI28BS65KS6 EI23BC36IB1 EI23BC30KW1 E23BC68JPSAA EI28BS51IW6 EW28BS70IW0 EI23CS55GW7 EI28BS51IS5 EI23BC30KS4A EI23BC56IBD E23BC68JPS7 E23BC68JPS9 EI27BS26JB5 EI23CS55GW5 EI27BS26JWC EI27BS26JW0 EW28BS71IS3 EI23BC35KW5 EI23BC51IB4 EI27BS26JW3 EW28BS71IS4 EI27BS26JB7 EI23BC56IBC EI23BC65KS6 EI27BS26JS7 EI28BS51IB6 EI23BC65KS5 EI23BC56IW6 EI27BS26JBC EI28BS51IB0 EI23BC56IB4 EW23BC71IW0 EW23BC71IW4 EI23BC37SS0 EI23BC35KS7 EW28BS85KS3 EI28BS65KS3 E23BC68JPS4 E23CS78HSS3 EW28BS71IW6 EW28BS85KS7 EW28BS70IS1 EW23BC71ISA EI23BC35KB5 EI28BS36IW1 EW23BC71IB4 EI27BS16JB6 E23BC68JPS5 EI28BS56IB2 EI27BS26JW9 EI23BC30KB1 EI23BC30KB3
EW23BC85KS6 EI23BC36IW6 EI23BC36IW2 EI23BC55IW1 EI28BS56IWD EW23BC71IS3 EI23BC35KSDA EI23BC80KS1 EW23BC70IW0 EI23BC51IB0 EI23BC80KS2 EI23BC35KW8 EI23BC36IS0 EI27BS26JBB EI27BS16JW4 EI27BS26JW7 EW28BS71IWA EI27BS16JB3 E23CS78HSS4 EI23BC51IB1 EW28BS71IW8 EI28BS36IB4 EI28BS51IW5 EI28BS80KS1 EI23BC36IB0 EW23BC71IS9 EW23BC85KS8 E23CS78HPS5 EI23BC56IS6 EI23BC35KB6 EI28BS56IS7 EI23BC36IB6 EI27BS26JS3 EI23BC56IS4 EI23CS55GS9 EW28BS71IBB EW28BS71IBC EW23CS65GB3 EI23CS55GS6 EI28BS51IW1 EW23BC70IB1 EI27BS16JS0 E23CS78HPS2 EI23BC56IB1 EI27BS16JW1 EI23BC35KB7 EW28BS70IB1 E23BC68JSS1 EI28BS56IS3 EI23BC36IS3 EI23BC36IS1 EI27BS16JW8 EW28BS71IW0 EI23BC51IW6 EI23BC51IB5 EI23CS55GW8 EW23CS65GW3 EW23BC71IW1
EI23BC36IW4 E23BC68JPS1 EI28BS51IW0 EI27BS26JS9 EI28BS65KS8 EI28BS36IW0 EI23CS55GW4 EI27BS16JS2 EI23BC51IS5 EW28BS71IS2 EW28BS71IB3 EW28BS70IB0 EI23BC35KS4 EW28BS71IS1 EI28BS56IB1 EI28BS36IB0 EI23BC56IS5 EI23BC35KB8 E23BC78ISS4 EI23CS55GB4 EI28BS56IS5 EI23CS55GW6 EI28BS56IWB EI28BS55IW0 EI27BS16JS1 EI23BC51IW0 EI23BC60KS3 EI23BC56IW8 EI27BS26JW6 EI23BC56IW9 EW28BS71IS8 EW23BC71IW2 EW23BC71IS5 EW23BC85KS7 EI23BC35KW6 EI23BC56IW2 EW28BS71IB0 EI23BC55IS1 EI27BS26JS5 EI28BS51IS6 EI23BC56IS2 EI27BS16JB5 EI27BS16JB4 EI28BS56IBA EI23BC35KS3 EW23BC71IB6 EI28BS51IB2 E23CS78HPS6 E23BC78IPS4 EI23CS55GB7 E23BC78IPS9 EW28BS71IB4 EI27BS16JB2 EI23BC65KS4 EI23BC56IS8 EI23BC36IB5 EI23BC56IB9
E23BC78IPS3 E23BC78IPS0 EI28BS51IB1 EI28BS56ISE EI23BC60KS1 EI28BS56ISB EI27BS16JB0 EW23CS65GW4 EI23BC35KS8A E23BC78IPSH EI23BC30KS3 EI23BC35KW3 EI27BS26JS8 EW23BC85KS3 EW28BS71IS5 EI28BS51IW2 EW23BC70IS0 EI23BC56IB2 EI28BS56IW0 EI28BS56IB8 EI28BS65KS7 EI28BS56IW8 EI28BS56IBE EI27BS26JWB EW28BS71IW5 EI28BS56IS8 EI23BC51IS4 EW23BC71IS0 EI23BC36IS2 EI28BS65KS4 EI28BS51IS1 EW23BC71IW9 EW23BC71IWA EI28BS56IS6 EW23BC71IB9 EI28BS56IWC EI23BC36IW1 E23CS78HSS2 E23CS78HPS3 EI28BS51IS2 EI23CS55GS5 EI23CS55GB3 EI27BS26JB0 EW23BC71IS4 EI27BS16JS5 EW23BC71IB0 E23BC68JSS2 EI28BS51IS3 EW28BS71IW3
EI23BC60KS2 EW28BS85KS5 EI27BS26JW5 EI27BS26JW4 EW23CS65GS3 EI28BS56IBB EI28BS56IWA EW28BS71IB2 EI28BS51IB4 EI28BS56IB0 EI23CS55GS4 EI28BS56IW2 EW23BC71IW3 EI23BC35KS8 EI28BS56ISF EW28BS71ISC E23BC68JPS0 E23CS78HSS5 EW28BS71IB1 EW28BS71IB5 EI27BS26JB3 EI23BC56ISC EI23CS55GB5 EI23BC51IW5 EI28BS56IS2 EI23BC56IB6 EI28BS56IW1 EI23BC80KS3 EI28BS36IW4 EW23BC70IS1 EI28BS56IS4 EW23BC71IW8 EI28BS36IW2 EI27BS16JW6 EW23BC85KS4 EI28BS55IB0 EI27BS16JW0 EI23BC30KS1 E23BC78IPS1 E23BC78IPS5 E23BC78IPSB EI23CS55GS8
EI27BS26JB8 EI23BC51IW1 EW28BS70IS0 E23BC78ISS5 EI28BS80KS2 EI23BC56IS3 EW23BC71IS1 EW23CS65GB4 EW28BS85KS6 EI23BC30KW2 EW23BC70IB0 EW23BC71IBA EI27BS26JS1 EW23BC71IB8 E23BC78IPSC E23BC78IPSG E23BC78IPS7 EI27BS26JBA EI23BC36IS6 EI27BS16JS3 EI27BS26JB1 EI28BS56IS1 EI28BS56IW5 EI28BS56ISC EW23CS65GS4 EI28BS55IB1 EI27BS16JS6 EI28BS36IB2 EI23BC56IWB E23CS78HPS7 EI27BS16JW2 EI23BC56ISD EI23BC56IB3 EI23BC51IW4 EI27BS26JB6 EW28BS71ISD EI23BC36IS4 EI23BC56IW3 EI27BS16JW3 EW28BS71IW4 EI27BS26JB9 EI23BC51IS2 EI27BS26JSB EI28BS55IW1 EW23BC71IB3 EW28BS71IS6 EI28BS56IB5 EI23BC30KB2 EW28BS85KS8 E23BC78IPS8
EW23BC71ISB EI27BS26JS4 E23BC78IPSA EW28BS71ISE EW28BS71IS0 EI23BC56ISA EI23CS55GW3 EW28BS71IB8 EI23BC56IWA EW28BS71IW2 EI23BC35KW7 EI23BC36IW5 EI23BC51IS0 EI28BS56IW3 EW28BS71IWB EI23BC30KS2 EW23BC85KS5 EI23BC36IW0 EI28BS56IB4 EI28BS55IS1 EI23BC35KS6 EW28BS71IW1 EI28BS56IBD EI23BC30KW3 EW23BC71IB2 EI28BS56ISD EI27BS16JB8 EI23BC56IW0 EI28BS36IS2 EI28BS80KS3 EI23BC35KS5 EI27BS26JW8 EW28BS85KS4 EI28BS56IS0 EI27BS16JS4 EI23CS55GB6 EI23BC55IB1 EW28BS70IW1 EW28BS71ISA EW23BC71IS2 EI28BS51IB5 EI23BC36IB4
EI23BC36IW7 EI28BS56IB3 EW28BS71ISB EW28BS71IBA EI28BS56IBC EI23BC56IWC EI27BS16JB1 EW23BC71IW6 EW23BC71IS6 EI23BC65KS3 EI23BC56IBA EI28BS56ISA E23BC68JPS3 EI23BC36IB7 EI28BS36IS3 EI27BS26JSA EI23CS55GB8 EI23BC35KW4 EI23BC56IBB EI28BS56IW4 EW23BC71IS8 EI23BC51IB2 EW28BS71IWC EI28BS56IB6 EI23BC35KB4 EI28BS51IS4 EI27BS26JWA EI23BC56IB0 EI27BS26JSC EI23CS55GS7 EI27BS26JWD EI27BS16JW5 EI27BS26JB4 EI23BC51IS6 EI23BC36IS5
E23BC68JPS6 EW28BS71IB6 EI23BC56IS0 EI23BC56IB8 EW23BC70IW1 EI23BC51IW2 EI27BS26JW1 EI27BS26JSD EI28BS36IS4 E23BC68JSS0 EW28BS71IS7 EI23BC56IS9 E23BC78IPSD EI23BC36IB2 E23BC78ISS0 EI28BS51IW4 E23BC78ISS6 EI23BC56IW1 EI28BS56IWE EI23BC51IB6 EI23CS55GS3 EI23BC36IS7 EW23BC71ISC EI28BS36IB1 EI27BS26JS0 EI27BS26JS6 EW23BC71IB1 EW28BS71ISF EI28BS55IS0 EI23BC51IS3 EI27BS26JBD EI28BS36IS0 EI23BC56IWD EI23BC35KB3 and more.
Compare Lowest Prices – Electrolux Refrigerator Control Board EI27BS16JS8 EI28BS36IS1
Check the Best Deals! See deals more product details, item conditions, delivery information, exchange, returns & refund policy, and other important information. There are a number of sellers promoting this new or used part online. Please view the prices below.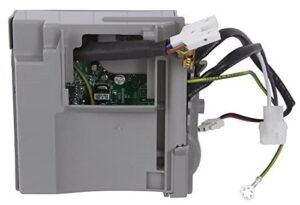 ==> Click Here to Compare Prices on eBay TODAY! <==
More Home Appliance Information
In addition to the Electrolux Refrigerator Control Board EI27BS16JS8 EI28BS36IS1, there are a number of appliance replacement parts offered on the market, such as Maytag Neptune Washer Control Board Problems, GE Profile Harmony Dryer Control Board, Frigidaire Electric Range Control Board, and Dacor Oven Element Replacement.
For other top appliance brands, like Crosley, you can see its products, parts, accessories, and services on its website.
More Appliance Parts:
Do you need support? If you have any problem with finding the correct part for your specific appliance model or control board repair service or have any message, please write a message in the comment box down below. We will find the part and give some advice to you soon. Thank you very much.