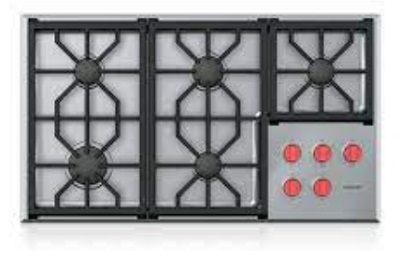 Upgrade your kitchen with the unbeatable CG365P/S Wolf Range Gas Cooktop Burner – delivering exceptional performance and style. Don't miss out on the best price – ignite your culinary passion today!
CG365P/S Wolf Range Gas Cooktop Burner
Descriptions:
Part Number: CG365P/S
Replacement Parts: CG4304P/S, CG365P/S/LP
Part Types: Wolf Range Cooktop, Gas Cooktop Burner, High-Performance Cooktop, Professional Kitchen Appliance, Precision Cooking Equipment
Compatible Brands: Wolf, Sub-Zero
---
Functions of CG365P/S Wolf Range Gas Cooktop Burner
Precise Heat Control: The CG365P/S Wolf Range Gas Cooktop Burner offers precise temperature control, allowing you to effortlessly adjust heat levels to achieve the perfect cooking results.
Multiple Burner Configurations: With a variety of burner sizes and configurations, this cooktop provides flexibility for different cooking tasks, from simmering delicate sauces to searing meats.
High BTU Output: The high BTU (British Thermal Units) output of the burners ensures quick heating, reducing cooking times and enhancing efficiency in the kitchen.
Continuous Grates: The continuous grates provide a seamless and stable surface for moving pots and pans, making it easy to slide cookware across the burners without lifting.
Dual-Stacked Burners: Dual-stacked burners offer both high and low flame options, accommodating various cooking techniques from high-temperature searing to gentle simmering.
Easy-to-Clean Design: The cooktop features a sleek and easy-to-clean surface, minimizing the effort needed to maintain its appearance and functionality.
Flame Recognition System: Equipped with a flame recognition system, the burners automatically reignite if the flame is accidentally extinguished, ensuring a safe and uninterrupted cooking experience.
Seamless Integration: Designed for seamless integration into your kitchen countertop, the Wolf Range Gas Cooktop Burner provides a professional and stylish appearance.
Simmer and Melt Settings: Specific simmer and melt settings allow you to achieve low and consistent heat for delicate tasks like melting chocolate or simmering sauces.
Durable Construction: Crafted with high-quality materials, this cooktop is built to withstand the rigors of daily cooking and deliver lasting performance.
Individual Spark Ignition: Each burner has its own spark ignition system, enabling quick and reliable ignition without the need for an external lighter.
Bridge Functionality: Some models may offer bridge functionality, allowing you to combine two burners to create a larger cooking area for griddles or oversized cookware.
LED Indicator Lights: LED indicator lights provide visual cues for burner activation and heat levels, enhancing user convenience and safety.
Efficient Heat Distribution: The burners are designed for efficient heat distribution, ensuring even cooking across the surface of your pots and pans.
Professional-Grade Cooking: With its advanced features and performance, the CG365P/S Wolf Range Gas Cooktop Burner brings a touch of professional-grade cooking to your home kitchen.
---
Compare Prices on eBay
"Ready to transform your kitchen? Compare prices on eBay for the CG365P/S Wolf Range Gas Cooktop Burner and unlock a new level of culinary excellence in your home. Don't miss out on the best deals – explore now!"
---
Other Appliance Parts: